three trees
friday, april 5
th

, 2013

once there were three trees on a hill in the woods.

They were discussing their hopes and dreams when the first tree said, "Someday I hope to be a treasure chest. I could be filled with gold, silver and precious gems. I could be decorated with intricate carving and everyone would see the beauty."

Then the second tree said, "Someday I will be a mighty ship. I will take kings and queens across the waters and sail to the corners of the world. Everyone will feel safe in me because of the strength of my hull."

Finally the third tree said, "I want to grow to be the tallest and straightest tree in the forest. People will see me on top of the hill and look up to my branches, and think of the heavens and God and how close to them I am reaching. I will be the greatest tree of all time and people will always remember me."

"Friends are quiet angels, who lift us to our feet, when our wings have trouble remembering how to fly."

After a few years of praying that their dreams would come true, a group of woodsmen came upon the trees.

When one came to the first tree he said, "This looks like a strong tree, I think I should be able to sell the wood to a carpenter," and he began cutting it down.

The tree was happy, because he knew that the carpenter would make him into a treasure chest.

At the second tree the woodsman said, "This looks like a strong tree, should be able to sell it to the shipyard." The second tree was happy because he knew he was on his way to becoming a mighty ship.

When the woodsmen came upon the third tree, the tree was frightened because he knew that if they cut him down his dreams would not come true. One of the woodsmen said, "I don't need anything special from my tree, so I'll take this one", and he cut it down.

When the first tree arrived at the carpenters, he was made into a feed box for animals. He was then placed in a barn and filled with hay. This was not at all what he had prayed for.

The second tree was cut and made into a small fishing boat. His dreams of being a mighty ship and carrying kings had come to an end.

The third tree was cut into large pieces and left alone in the dark.

The years went by, and the trees forgot about their dreams. Then one day, a man and woman came to the barn. She gave birth and they placed the baby in the hay in the feed box that was made from the first tree.

"Though no one can go back and make a brand new start, anyone can start from now and make a brand new ending."

The man wished that he could have made a crib for the baby, but this manger would have to do. The tree could feel the importance of this event and knew that it had held the greatest treasure of all time.

Years later, a group of men got in the fishing boat made from the second tree. One of them was tired and went to sleep. While they were out on the water, a great storm arose and the tree didn't think it was strong enough to keep the men safe. The men woke the sleeping man, and He stood and said "Peace," and the storm stopped. At this time, the tree knew that it had carried the King of Kings in its boat.

Finally, someone came and got the third tree. It was carried through the streets as the people mocked the man who was carrying it. When they came to a stop, the man was nailed to the tree and raised in the air to die at the top of a hill.

When Sunday came, the tree came to realize that it was strong enough to stand at the top of the hill and be as close to God as was possible, because Jesus had been crucified on it.

The moral of this story is that when things don't seem to be going your way, always know that God has a plan for you. If you place your trust in Him, He will give you great gifts.

Each of the trees got what they wanted, just not in the way they had imagined.

We don't always know what God's plans are for us. We just know that His ways are not our ways, but His ways are always best.

(Long-circulating story, via World Wide Web, aka InterNet... Author Unknown.)
A Day In The Life
I was up at 5:30am on Friday, 37°F outside, turned-up the Condo heat, disarmed the building, made coffee and Texas Red Grapefruit sections, and a simple bowl of Cream of Wheat w/ Keller's Butter. Beautiful, sunny and forecast to be in the upper-50s. It was Good Friday, with Easter coming on Sunday, and a wonderful Glazed, Spiral-Cut, Ham Dinner, with Dad. I had a list for Sunday morning shopping, which I'd get done today, since I have a ton of other things to get done in preparation for the Monday – Friday GC&N Clean-Up Project, and Saturday's Open House. It's going to be a filthy, dirty, ugly, nasty, long and hard project to get done in 5 short days. That will disrupt my entire week's schedule, providing my hip pain problem doesn't sideline me for a day or two. I'll be eating Bayer® 325mg Aspirin by the handful – and taking long, hot showers to get the crud/dirt/dust off – so another bottle of 500 aspirin was also on my list. I'll work thru the pain, however bad it is. This unpleasant but necessary stuff, has to be done by 5pm on Friday. No fail.
Never borrow from the future. If you worry about what may happen tomorrow and it doesn't happen, you have worried in vain. Even if it does happen, you have to worry twice.
I listened to the Chris Plante Show, streaming live from 9-12, and decided to go to the local Weis Market to get a few things needed for Easter Sunday's Ham Dinner with Dad. With the stock markets closed, and all local/state/federal offices already closed, the roads were packed/clogged with people taking-off
early at 12noon, for a long Easter Weekend. I pick-up the Honeybaked Ham at 1pm, tomorrow, at the old store location, as it'll be reefer-trucked-in from Timmonium, MD, for us poor York schlubs, now that our local store is "closed/out-of-business". Dad and I'll have many pounds of left-over ham for all kinds of meals and sandwiches for weeks, afterward. The traffic was so bad that I had to take back roads, make shortcuts thru stores' parking lots and it took 3-4x longer to make the 5-6 mile trip than it normally would. I decided to stay-in for the rest of the day. I had an 8pm Church Meeting to attend, so I had a quick
Classic BLT w/ Avocado
, left at 7:15 for the meeting, and the
historic 1894 Church
building filled with Good Friday Services worshippers. I was home by 10:15, re-opened the computer to check email and listen to Talk Radio and wind-down for the evening. By 11pm, I was ready for sleep.
It was nice to sleep-in until 6:30 on Saturday morning; although only 27°F outside, temps rapidly rose with the bright sun and cloudless sky. I ate a handful of aspirin, made coffee, OJ and Ham and Egg Crepe Squares, for breakfast. After scanning the weather and news sites, and a quick shower, I left at 10am to run a couple of errands, remembering that I had to pick-up the Glazed, Spiral-Cut, 8.5-lb Half, Bone-In Ham between 1-4pm, at the closed store's shopping center lot. I showed-up at the shopping center, picked-up my ham, went home and weighed it on my digital bathroom scale, at 4.2-lbs ("Mini-Ham", no bone). I drove back, and they gladly exchanged it for the correct weight ham. Their error, but very nice people. Delicious ham. By 5:45pm, it was 58°F and I went out for a nice leisurely walk around the neighborhood.
Since I'd be working at the GC&N from 8am-4pm all next week, including Saturday's Open House, I had to get laundry done tomorrow, change bed linens and get some other chores done. I'd skip my usual Sunday morning shopping trip. I planned-out the final Easter Dinner Menu – Glazed, Spiral-Cut Ham with Pineapple Sauce, sweet Peeled Baby Potatoes, steamed, French-Cut Green Beans and Talenti Tahitian Vanilla Gelato sprinkled with Turkish-Ground Coffee – set the Dining Room Table, and called it quits at 10pm.
There's no "catching-up on sleep", either. Sleep is like time: once you've lost it, you can never get it back.
Although I wanted to sleep-in until 7am or later on Sunday, I woke-up at 5am, 29°F outside, so after grabbing my Turkish Bathrobe and turning-up the Condo heat, I made coffee, OJ and had a bowl of Quaker® Instant Original Oatmeal. I started packing the Jeep's cargo bay with tools, cases of bottled water, electrical cords, particle masks etc etc etc; stuff I'd need to work over the next 5 days with Alan & Arthur, on the GC&N Clean-up Project. I also re-checked everything I'd laid-out for Easter Dinner with Dad. All was in good order on both fronts. After letting the pre-cooked ham sit out for 1½-hrs to come to room temp, I began preparing the pineapple glaze sauce reduction, heated the peeled baby potatoes and French-cut green beans, warmed-up the plates in a 250°F oven, and got the dessert staged, for last. Dad arrived at 12:15pm, and we had an amazing Easter Dinner, a great visit and time, but it just wasn't the same without Mom with us at the table, as in so many previous years. RIP, Mom. If you've lost one or both of your parents, you know what I mean.
On this Resurrection Sunday... take time today... put down all of the news, blogs and all of the cares of this world. Take a walk outside and look upon the beauty of His Creation, or play with your child or pet. Find something to do that is quiet and peaceful and let your soul rest in Him today. And remember that He has overcome the World. Jesus is coming back just as He said and He would, and He will separate the wheat from the chaff and all that are found in Him will be with Him forever. Evil will not triumph... Praise God through Jesus Christ our Lord & Saviour!
Philippians 4:8... "Finally, brethren, whatsoever things are true, whatsoever things are honest, whatsoever things are just, whatsoever things are pure, whatsoever things are lovely, whatsoever things are of good report; if there be any virtue, and if there be any praise, think on these things." Happy Resurrection Day! He Is Risen!
I spent the rest of the afternoon doing laundry, getting extension cords, WD40, a case of bottled water, and all kinds of stuff together I'd need for the next few days of work at the GC&N. I have to stop at Ace Hardware and get a couple of cheap $22 push brooms and straw-sweep brooms, as I don't want to ruin my Condo's sets of push or straw-sweep brooms, for cleaning-up the Main Bldg's floor and the Main GH, along with the commercial Shop-Vac, already there from my 6-7 week mega-cleanout project in Jan-Feb 2012. I'll get pizza and Italian food for my helpers, at the local Frank's Pizza, just down the road. I have to leave by 7am, to make the stops and get the gate open by 8am, as Hellam Twp
will also be arriving to finish digging the last of their just-paid-for plant material. Alan & Arthur are due-in at 8:30am. I listened to "
Gun Talk
" from 8-10pm, and set my alarm for 5am.
Apparently, 7-hrs of sleep on Monday was enough; I got-up at 3:30am, turned-up the heat – a "balmy" 44°F outside – made coffee, OJ and had some Cap'n Crunch w/ blueberries, for breakfast. I put a couple of banannas in the Jeep to snack-on, checked the weather and news sites, got ready, finished loading the Jeep's cargo bay and back seat, and left at 7am. Awww crap, a ***SPECIAL WEATHER STATEMENT*** was issued for heavy, dense fog for the area until well-after sunrise. That would mean slow-going and fender-benders, delaying things. It was already up to 49°F outside, so the warm air/cold ground were fighting each other. I ate plenty of aspirin, plus took an extra bottle along, just for good measure, as I knew I'd need it before the day was over. This project would be ugly, dirty, nasty and involved, considering my "list" of tings-to-do to get the place ready. I left at 7am. The hardware store on the route didn't open until 8am, so I went directly to the Complex, opened-up, found 7 old brooms and began sweeping the Main Bldg. Alan & Arthur arrived at 8:45, and worked in the Main GH and 4 Quonset GHs, and Sherry arrived around 10 and worked with me, and then in the front gardens. She was a whirlwind. I was eating aspirin by the handful, by then. Dad arrived at 10:45, and helped out with various projects, including a pizza for lunch. We got a lot done, but there's an easy 4 more days worth of work remaining. A cold front was moving thru, and the win picked-up considerably, so we couldn't light-off the growing burn pile. We'll have to wait until we get a "still day" to do the "controlled burn". By 2pm, we called it a day, since Alan had a 3pm Dr's app't. We'll start again tomorrow at 9am. I went home, took a shower and grabbed some clean clothes (that felt good), listened to the morning's missed Chris Plante Show Podcast, and rested my hip. Scott from Freedom Armory called and said that my CTC "Master Series" Laser Grips were in, and I'd go over with both Kimber 1911 .45cal ACPs at 10am, and get them installed. Temps were forecast to drop into the mid-20s tonite, so I garaged the Jeep, as usual, and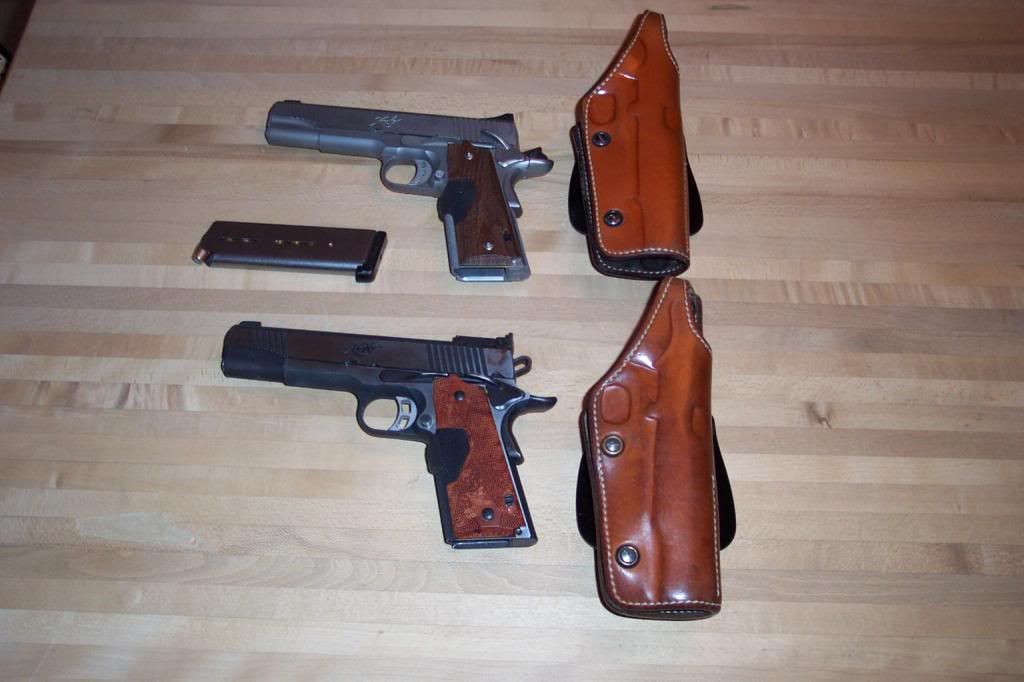 reloaded it w/ items for tomorrow's work. I managed to stay-up until 8:30, wile listening to the
Mark Levin Show
, but gave it up early, as I needed the extra sleep.
9-hrs of great sleep! I got up at 5:30 on Tuesday morning. 25°F and frosty. Wowzer, I was tired last night. I made coffee, OJ and had a quick bowl of Honey Smacks w/ blueberries. I scanned the weather and news sites, and with another few "breezy/windy" days ahead, we weren't going to get the burn pile project done, and there were ***RED FLAG WARNINGS*** for any outdoor burning or fires. Dammit. I packed the Jeep with what I'd need for the day, left the condo unarmed for my cleaning lady, and left at 8:15am. Windy, cold, and at only 41°F for a high for the day, it was bone-chilling. I left at 9:45am to go to Freedom Armory to get my Rosewood and Burled Walnut CTC Red Laser Grip Sights installed on my 2 Kimber 1911 .45cal ACPs. Back by 11:15, I helped-out for a while, but was only getting in their way in such a small building, I left it to them to finish. Then, they started on emptying-out and cleaning the truck & equipment storage bldg, again with all debris going on to an ever-growing burn pile. It's huge, now. Sherry wet-mopped the Main Retail Building spotless, and did a wonderful job. What a great friend she is; she's got a ton of stuff on her plate, but is always willing to help. I owe her bigtime. I locked-up, armed the buildings, closed the gate and we left around 1:30pm. Tomorrow's another day. I listened to the morning's missed Chris Plante Show Podcast, and rested my hip. After inhaling the 2 sandwiches Sherry'd gotten for me, I grabbed a shower, clean clothes, did laundry, ate more aspirin, did more paperwork, and listened to the Mark Levin Show,
from 6-9pm. That was enough; time for sleep.
Up at 5am on Wednesday, I knew it was going to be a cold day, at 26°F and frosty. I made OJ, coffee and had Ham, Eggs & Hash Browns, for breakfast. I began loading the Jeep at 7am, needing to leave by 8:15, again. Final cups of coffee and I left at 8. I got "school-bussed" the whole way to the GC&N Complex, behind a frequently-stopping group of yellow busses, and a long, long line of cars, so the trip took a full hour. Alan & Arthur arrived a few minutes after I did, and we re-reviewed "The List", and with the ***RED FLAG WARNINGS*** about fire danger in the unusually-dry region, the priorities changed considerably. I had to drive over to Eshbaugh's Mulch Co in Wrightsville, to pick-up 15 2" x 2" x 6' oak stakes, so we could mark the 20ac property's boundary corners. We'll paint them orange so they can easily be seen, marking both the 14ac & 6ac parcels. We worked on the Main Building's gardens all-day – I had a bananna and cheese crackers for "lunch" – and finally left around 2:30. Alan & Arthur were staying to work until 3:30-4pm, but I needed to get back and get an ice-pak on my aching left hip. Plus, I'd forgotten to take along the Bayer adult 325mg aspirin, and only had some 85mg St Joseph Children's orange-coated aspirin crap along, which I had to eat 15-20, at-a-time. The place is looking 100% better than it did just last week, and should appeal to potential buyers. I hope.
I finally got home around 3:45pm, showered, clean clothes, had 2 Easter Ham & Swiss on Rye Sandwiches, listened to the morning's missed Chris Plante Show Podcast, and rested-up while doing more laundry from Monday's,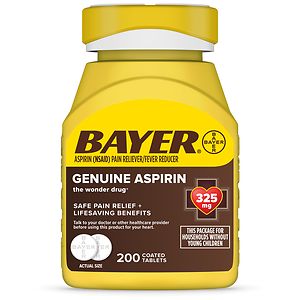 Tuesday's and today's work, and listened to the
Mark Levin Show
, from 6-9pm. I bagged it for the day at 10pm; 5am would come early.
And it did; I felt like sleeping for many more hours, but got-up to 20°F outside, turned-up the heat, made coffee and OJ, and Soft-Boiled Eggs w/ Toast in a bowl, for breakfast. While scanning the weather and news sites, I noticed that the forecast rain for Friday had disappeared, and the drought would continue, yet the ***RED FLAG WARNINGS*** had also disappeared from all the weather sites. Go figure. I packed the Jeep, backed it out, let it warm-up for 5-6mins, and left at 8:15am. I didn't get "school-bussed", so it was a quick 25min trip, and Alan & Arthur were already at work. They finished-up the Main Bldg's front display gardens, worked on the driveway and driveway entrance gardens. Dad arrived around 9:45 and Sherry around 10. I made a run to Rite Aid to get 3 500-ct bottles of Bayer® 325mg Aspirin, painted the 25 oak stakes I'd picked-up yesterday, with Sherry, for the property corners, for tomorrow's usage, spent some time with my long-time friend, the North Hopewell Twp Police Chief, and finally left right after Sherry, at 3:15. With a high of only 46°F, it was brisk when the winds increased. Tomorrow, we mark the property corners with the painted stakes, move my remaining office furniture to my Condo's basement along with the Main Bldg's 6½-ft x4½-ft oval, sandblasted redwood sign, and we're finished. The "Burn Ban" is still in effect, so it'll have to wait for another week or two, until we get some serious rain days.
I got home by 4pm, put-out the garbage for Friday pick-up, made a Chicken Salad Sandwich on Croissant w/ Chips,
and had some of Sherry's delicious "Purple Cole Slaw". My left hip wasn't bothering me nearly as much as the past few days, so the aspirin must be helping reduce the inflammation, I'm guessing. I listened to the morning's missed
Chris Plante Show Podcast
, had a pint of
Talenti Gelato Mediterranean Mint
, grabbed a shower, clean clothes, and just relaxed. It's been a long, damned day. And there's still tomorrow and Saturday to go, until the clean-up/rehab work is finished and the 1st Open House is over. Two more Open Houses – Thu 4/11, Sat 4/20 – and The Fri 4/25 Auction, and it'll all be over.
I planned for the move of the oval sign, 2 filing cabinets/butcher block desktop and massive leather office chair into the basement, and listened to the usual Mark Levin Show, from 6-9pm. Tomorrow starts a new week here in the "Journal", and all that's scheduled right now is another GC&N Complex Open House, on Thursday the 6th, from 10-12. But it'll get busy. I owe Sherry a visit to check her landscaping and get a plan together for dealing with the plant material she inherited when she purchased the beautiful home, and some areas where she needs new material installed for privacy. I shut down around 9:30pm, and set my alarm for 5:30am.
You Own It, demokkkRATs!
ongratulations to the asswipe demokkkRATs, irrelevant "Free Shit!" minorities and stupid young people on the Truly-Shitty Economy you've created and inherited. You now own it 100%, and you can't blame Bush, anymore. Bathhouse Barry ∅bummer did it all by himself. You voted for it, dumbassed idiots. Time to suffer with the rest of us, as your actions have dire consequences for the entire country. Nice going, low-information voter morons.
The next terrorist attack, you own it.
∅bummer voter
Can't get a job after graduation, you own it.
Sky-rocketing energy prices due to ∅bummer's corrupt EPA shutting down the energy producing states, you own it.
A nuclear Iran, you own it.
Bowing to Russia, you own it.
Another severe recession, you own it.
A volatile border with Mexico, you own it.
Trouble getting good health care, you own it.
Higher health insurance costs and health care costs, you own it.
No budget, you own it.
Our allies mistrust us, you own it.
Another trillion-plus of debt, you own it.
More Benghazi Massacre situations, you own it.
No one willing to join the military, you own it.
Trouble getting a loan to buy a home, you own it.
More dependency on food stamps, you own it.
Trouble finding good employment, you own it.
Several part time jobs instead of one good job, you own it.
A One-World Government, you own it.
The UN governing the United States, instead of us governing ourselves, you own it.
A Senate that will not bring any legislation to the table, even if it is "Dead On Arrival", you own it.
China controlling our world trade, trampling all over us, you own it.
Loss of our freedoms as we have known them in the past, you own it.
A dictatorship, instead of a democracy that follows the Constitution, you own it.
Less take home pay and higher living costs, you own it.
Driving a car that looks like a child's toy, you own it.
Unending islamic shitfilth wars in the Middle East and Africa, you own it.
More government corruption and lies, you own it.
More toleration of extreme, fanatical and subhuman islamo-nazi fascist filth, you own it.
Terrorist attacks called "workplace violence incidents", you own it.
Your "revenge" instead of love of country, you own it.
President George W Bush is out of it now, and there is not another good man for you to villify and lie about.
Shit-for-brains, ∅bummer-asshole is a liar, traitor, racist, muslim, coward, bathhouse fag and doper, can't take responsibility for the damage he's inflicted upon America. It's 100% his fault. Prove me wrong, anyone!
In a way, I am relieved that another good man will not be blamed when it becomes impossible to clean-up this mess that YOU voted for. Yes, moronic ∅bummer-asshole idiots: YOU!
Your TSHTF Survival
Are you truly ready for when, not if, TSHTF (The Shit Hits The Fan). And a lot of my "Journal" Readers have emailed and called me to discuss what preparations they should take for that "coming awful event". Believe me, "it" IS coming. Based upon what's happening around the world and here in the US, I have a terrible, terrible *gut feeling* that TSWHTF (The Shit Will Hit The Fan), sometime in late-2012 or sometime in 2013. Don't ask why; I just do.
First, Israel is preparing for war, after being attacked for years on many fronts, and not fighting back as she should have. This war will truly have "Biblical implications" around the world. The Middle East is rapidly-collapsing under the subhuman, murderous muslim/islamic riots (muslim Brotherhood) and rule ("arab Spring"), with world crude oil prices projected to hit $200+/bbl, or even higher into the $300-$400 range,
Europe is on the verge of insolvency and collapse
, no thanks in great part
to Germany
, teetering-and-tottering Asia and
South America
will quickly-follow, then comes the downfall of
Canada
, and The
USA won't be far behind
, in late 2012 and into 2013. Watch
this video
; be sure you're sitting-down, and don't have any food or liquid in your mouth upon which to choke.
Just Google "survival" and see what comes-up. Damned-near everything you ever wanted to know how to prepare for this for-sure-coming "hellish holocaust", some of it in easy-to-download *.PDF format. Tens-of-thousands of websites are devoted to the topic of "survival". Do the same with "You Tube", and watch the thousands of videos. This is *NOT The Phony Y2K Crappola*; this is for real. I said numerous times that Y2K was a waste of time and money to prepare for, and that came true. I'm reading that "survival stores" are reporting a huge upswing in sales and preparations, and for good reason.
I'm also one of the very, very few who "predicted a 9-11 type event", 2 years and 8 months before it happened. Read down that "Journal" entry to the "Scary Stuff" section, and it was done by the subhuman, murderous muslim/islamic shit/filth/trash, NOT the US Gov't as some morons and idiots (Alex Jones & Co), have and still It's interesting you mention when an old paradigm dies and a new one takes its place. There are people who are still connected to the old one and can't conceive of life without that old paradigm. I think you saw that in the Great Depression. A lot of people never recovered from it because once that hit it was the end of their lives. claim. Need I say more about those certifiable and murderous, subhuman muslim/islamist wackos who are determined to kill all of us Proud Infidels?
Am I an "conspiracy alarmist" or one of those "crazed survivalists", sequestered in a Montana, Idaho, Utah or Wyoming compound or bunker? Not hardly; I'm simply a mid-State Pennsylvanian, retired small businessman, an Eagle Scout, Class of 1963, Order Of The Arrow/ Vigil Honor, and our BSA Motto was then, and still is now, "Be Prepared". Need I say any more?
Forget all of the "buy gold and silver" bullshit commercials; buy "brass and lead" for your guns. They're a far, far superior investment, IMO. Ammo is truly a "fungible" item; gold & silver aren't at all. They may be "intrinsic", but they're utterly-useless in a collapsing/collapsed society or world. Do the requisite research, as I've done. 'Nuff said on that subject.
BTW, how are you stocked-up for incandescent light bulbs? Within 4 weeks, manufacturing and using 100w incandescent will become "a crime", thanks to stupid-assed, liberal moron chimp, shit-for-brains, George W Bush & Co, in 2007. You'll be forced, under penalty-of-law, to use the very expensive,
dangerous and short-lived CFLs (Compact Fluorescent Light bulbs). Better
stock-up NOW
on 60w, 75w and 100w incandescents, where and when you can find them, before they become unavailable and illegal!
This government's ***CRIMINALLY NUTS***, in trying to regulate our use of anything and everything! It's fascism, socialism, Leninism and communism, dammit, and it won't stand! Where is that in The US Constitution? The US Government isn't empowered to force us to do or buy anything, and has overstepped its legal authority in The ENUMERATED Commerce Clause. The Commerce Clause is quite specifically an enumerated power listed in the United States Constitution (Article I, Section 8, Clause 3). The Contemporary Commerce Clause debate, When "decided by the SCOTUS in the Summer of 2012", will cause CWIII, if upheld. Stockpile NOW, because TSHTF before/during/after the November General Election!
Gold is NOT the way to go; lead and brass (aka ammo) ARE. Mark my words!
TSHTF this or next year, and members of the corrupt, criminal US Congress are helping racist, commie, lowlife scumbag Barry "Fuck America!" Obama (SAMBO-IL), by either collaborating with him or cowering before him, on his You are going to see, in metro areas, the absolute worst in humanity, as the people that are most dependent upon a collectivist system, whether they're these Occupy Well Street people, or people who are loaded up with debt, they are totally unprepared for an economic reality where their paradigm does not function. As a result they're going to go through the absolute most disgusting inhumanity that I think any American has ever seen as they go through this anger phase – and it's going to result in riots, and starvation and bloodshed. It has to happen. You don't have people's life savings disappear and people become desperate, and not have that happen. coming "Race War" plan.
We are *at war with Iran*; no doubt about it. Get used to it. And shit-for-brains, racist, commie, lowlife scumbag Barry "F•ck America!" Obama (TRAITOR-IL) has politely "asked" for our formerly Top Secret RQ-170 Sentinel Drone "to be returned". What a dumbf•ck Obama is! He should be charged, tried and imprisoned for *treason*, IMO.
I've been saying, for the past 2-3 years, that no one should buy any gold or silver; it's worthless crap if TSHTF (The Shit Hits The Fan). Instead, buy guns and ammo; they're a far, far better investment, IMO. Any questions?
Uh-oh, it's beginning to happen in Europe. Better get ready for it to come over here, soon, as The Fed f•cks America, once again. Time to abolish The Fed and its corrupt, criminal influence on America's economy!
Here's a very useful List of Barter Items, for when TSHTF. Get and stockpile those and more, if you know what's good for you and your family! Think I'm kidding? Better read this and think VERY carefully about it.
With the FBI already considering many US Citizens as "sovereign citizen extremists", are you ready for "Rex 84" & The FEMA Camps? A new bill has been introduced in the US House of Representatives called the National Emergency Centers Act or HR 645. This bill if passed into law will direct the Secretary of Homeland Security to establish
national emergency centers otherwise known as FEMA Camp Facilities on military installations. Some more detail on "Rex 84",
right here
, written by, very disappointingly, USMC Lt Col Oliver North.
"Economic chaos" ahead? You betcha. Are you and your family ready for it? It IS coming, at out current rate of out-of-control government spending.
Before TSHTF, here are 20 Lessons From The Streets of Cairo. Worth reading, if you plan to survive.
And before TSHTF, here are Innumerable Lessons From The Collapse of Bosnia, in 1992. Also worth reading, if you plan to survive.
Do you live near a "terrorism hot-spot"? Check the map. Here's DHS' recently-issued "White Paper (*.PDF)" on it, from 1970-2008, published by the University of Maryland.
Do you know what an "EMP Attack" is? Now you do. *When* it happens, not *if*, we're all f•cked, unless we're prepared to live in the early-1800s. That's why I write this stuff.
Are you ready for Obama's (TRAITOR-IL) "October Surprise"?
What about access to land and fresh water? Right here's an article to address those concerns.
Are you worried and prepared for the coming paradigm shift? How's your preparation work coming along?
The end of the dollar is coming; are you prepared for it? Here's a guide to a few canned foods.
Looks like a "race war" is coming, thanks to the hate-filled nigga race-pimps Jackson, Sharpton, Farrakan and New Black Pampers®, and time is growing shorter and shorter before TSHTF.
Don't let the possibility of DHS watching your every move deter you in preparing for TSHTF; do it regardless. Your and your Family's safety & survival always comes first. Beware of what your neighbors will do if you're prepared and they're not.
State and local resistance to the detention provisions contained in the 2012 National Defense Authorization Act (NDAA) continues to grow, rapidly-emerging as a nationwide movement against the illegal and unconstitutional Federal Jack-Booted-Thugs' powers.
America is already being turned into a giant prison camp, and 90% of Americans either go along with it or don't see it happening. I do.
When prepping, always plan your survival purchases first on paper; buy them afterward.
Here's another good preparedness/precious metals website, 321 Gold. No, I don't believe in gold & silver, for what's coming. I believe in *lead & brass*/*food & water* for that situation; the other stuff comes much, much later.
Here's a new "warning" about a solar-based EMP event. If it happens, TSHTF.
If Iran attacks America's infrastructure, we've got major problems. Are you prepped and ready for it, when it happens?
Are you on a tight budget, in a apartment of small house? Try these link resources.
What happens to a non-Prepper? Read it at your own edification.
Good, solid Prepping information and related links? Right here.
Canned, excellent quality meats for long-term storage and use? Right here.
Shhhhhhhhhhh, don't tell anyone about your "prepping" activities. Keep it quiet, and read this.
Here are the 5 Warning Signs that America is in decline.
What if you're a "Beginning Prepper"?
Ever wonder what "the new normal" might look like? Read it, in chapters. Prepped yet?
What are the 5 symptoms of SHTF happening?
The US is headed for a "fiscal cliff"? Gosh, all of the articles posted at the link in this section, have been saying that for many months. And the "geniuses" in DC are just figuring that out? Well, slap me silly!
Did you know that when the trucks stop, it's over?
Here's Part 1: Preparing For Disaster. And here's Part 2: Preparing For Disaster. Have you ever thought about what happens to Security During A Breakdown?
Here's "The A-to-Z List" of what you'll need to survive. It's daunting, but you may already have much of it, in-house and not realize it.
There's a new Preparedness Manual, available in *.pdf form, right here. Get it, please.
In case you missed it, here's the "Granddaddy" of Preparedness Manuals.
And here's yet another (condensed) Preparedness List, to compare against the previous two lists, just so you don't miss anything important.
Here are "120 powerful pieces of advice for preppers", to read and take-to-heart.
After Hurricane Sandy, is there any doubt in your mind that you ought to be "prepping" for disasters, before everything is stripped from the stores' shelves? Does this look familiar to you?
If you were in an area heavily-affected by Sandy, you might have seen some looters running rampant. IMO, they should be shot on sight, not arrested. KILL ALL OF THE LOOTERS!
What happens in the first 12 hours, after the US Dollar fails?
Watch The Day the World Ended [Part 1 of 2].
Watch The Day the World Ended [Part 2 of 2].
Is your city a gang-infested hellhole, yet? It will be, all too soon.
Here are an easy 25 DIY Weekend Preparedness Projects, for anyone wanting to be a little more prepared at the end of the day.
How much food storage do you have?
What will the streets of America look and be like, in the coming months and near future? In a word: ugly.
Good article, which answers many questions you mught have about "prepping": "Time To Plan For The Worst Rather Than Hope For The Best".
Another good article: "7 Surprising Reasons Why Americans Aren't Prepared for What's Coming".
Even left-wing liberal PBS "Frontline" did a series on the coming "Apocalypse".
Can you guess How Many Times Has the World Ended, so far?
Things Which Make Your Head Explode
They're "criminal illegal aliens" and "wetbacks", Rep. Don Young R-Alaska; don't apologize and grovel for telling the truth, you cowardly piece-of-RINO-shit! Fuck the lib-dem shitheads and pubbie assholes!
CNN host Soledad O'Brien signed off on Friday with a call for the network not to back away from "tough and honest conversations". Fuck-off you ignorant, lying, lib-dem, racist, wetback asshole bitch, and rot in hell, skank whore!
Fuck you, Mark Kelly! I spit on your time at NASA and your US Navy Service. Get a fucking job and stay out of The 2nd Amendment, you empty-headed asshole. You're a criminal straw buyer for a firearm, asswipe!
WETBACK! WETBACK! WETBACK! Fuck you, Ruben Navarrette wetback punk dirtbag asswipe!
Some People Just Need Killing
It's not my intentions to be the judge here — that's God's "job" — but rather to "hasten the meeting" so that He can send the following subhuman filth to the "Fires of Hell", "River or Lake of Sulphur", or whatever He deems appropriate. I'd gladly/happily volunteer, at no cost to any of my Hard-Working, Fellow US Taxpayers, to gladly/gleefully/happily headshoot these murderous, lowlife dirtbags of all stripes — their skin-color doesn't matter one whit to me, at all — and rid American Society's innocents — especially our too-vulnerable, "Whosoever shall shed man's blood, his blood shall be shed: for man was made to the image of God."
– Genesis 9:6 precious children and the frail, defenseless elderly — of the subhuman criminals who prey upon them, once-and-for-ever. And yes, I'd rather see one innocent man convicted and executed, than 10 murderers, robbers, child rapists-murderers freed, to rob, rape and murder again. Hey, call me an "Old Fashioned Conservative"! Too harsh? Nah. Someone needs to take out the trash! I volunteer.
Society's innocents — our precious, defenseless children and the frail, defenseless elderly — must be protected from predators, murderers, rapists, robbers and other subhuman filth, at all times and at any cost, IMO.
Yes, I agree with the premise of this article, that "the death penalty is a Noahic Covenant with God, in a post-flood world", and America should apply it every-damned-day, to those deserving death for their crimes against society and its innocents.
The 6th Commandment actually says: "Thou Shalt Not Murder". It does NOT say, "Thou Shalt Not Kill." I personally don't consider any summary-execution — except by subhuman, murderous muslim/islamic pigshit — as murder, in any way, shape or form. It's "Due-Justice-For-Crimes-On-This-Earth", IMO.
The Death Penalty is The Foundation of Government.
"100 years from now, I want the filthy, stinking subhuman islamic/muslim filth's childrens' childrens' childrens' children to cower and cringe in fear whenever they hear the sounds of jet engines overhead because their legends tell of fire from the sky. I want them to hide in wet, dark caves and hellish-holes in the earth, shivering with terror whenever they hear the roar of diesel engines because the tales of their ancestors talk about metal monsters crawling over the earth, spitting-out death and destruction. I want their mothers to be able to admonish them with "If you don't behave, the Pale Destroyers will come for you", and that will be enough to reduce them to quivering obedience. I want the annihilation to be so complete that their mythology will tell them of the day of judgment when the stern gods from across the sea – the powerful Americans – destroyed their forefathers' wickedness."
The mentally-ill, idiotic, bellicose, fat, turd-sucking NORK punk shithead, Kim Jun Un, needs assassination, ASAP. And the entire commie shithole country – all of it; no exceptions – needs to be nuked into oblivion. Then, wait 10-15yrs, and start-over to re-populate it with normal South Koreans.
Rot and burn in hell, Roger Ebert, you hate-filled leftist, dirtbag asshole! You won't be missed by anyone with a cogent, thinking brain, scumbag.