"???" (opens in separate window)
dumb camp
friday, april 23
rd

, 2021
Universities continue to churn out a poor product.
Here we go again. It's the time of year when we have to muster the energy to pretend to be happy when a friend tells us their child is headed off to college.
It's a sad perennial ritual in which a sometimes unique and interesting young person departs and an overconfident, woke and melodramatic clone returns, just months later.
They preen in the glow of their nonconformity, trumpet their individualism and relish in their distinctive worldview, too intoxicated by their self-perceived uniqueness to notice that they are exact facsimiles of millions of other mass-produced units coming off the factory floor.
In short, they are monotonous.
Way too many kids go to college. We're not talking about the people with their ducks in a row. Trade schools, nursing schools, the fields of engineering and medicine are generally home to kids who are in it to win it.
We're talking about the millions of utterly clueless college students who are only in school because mom and dad value credentials over everything else and though Junior may be a mindless dolt by all outward appearances, his diploma speaks to some hidden value somewhere.
For example.
Over the last month at Albion College in Michigan, racist graffiti has been found on campus. There were references to the Ku Klux Klan and pentagrams and other little nasty scribblings.
The college wasn't having it. They enlisted the FBI and pledged to throw the book at the racist once they got their hands on him:
"We stand together with our Black students, alumni, faculty, staff and broader community members in condemning the recent acts of racism on campus. Hatred and injustice have no place at Albion, and will not be tolerated. We are currently investigating who is responsible for the racist graffiti in our residential buildings and we will seek criminal charges against those involved."
Albion College President Mathew Johnson knew what was behind these vile attacks. "As institutions have moved to diversity and inclusion and embraced an anti-racism approach, people act out," he said.
The brave students mobilized.
The student body spent last week boycotting classes and making a list of demands including transparency from the school and a day off for "wellness," so they "can process everything that has been happening on campus," according to a CBS news station. All in the name of racial justice.
In jumped the NAACP.
"We want the Black students, and all students on campus to know that our NAACP branch will not tolerate this example of racially motivated hatred," stated Albion NAACP President Robert Dunklin in a press release.
Then, a breakthrough!
Using video footage and good old fashioned sleuthing, authorities caught the white supremacist responsible for the hateful graffiti.
Wednesday night a statement was posted to Twitter:
"Earlier today, we identified the individual responsible for the racist and anti-Semitic graffiti in Mitchell Towers. The student, who was acting alone, acknowledged their responsibility for these incidents.
·They have been immediately removed from campus and placed on temporary suspension while we conduct a full investigation as part of our student judicial process."
Sounds great. Was this racist wearing a MAGA hat? Did he belong to Steven Crowder's Mug Club?
"But we know the acts of racism that have occurred this week are not about one particular person or one particular incident."
Oh so this white supremacist is part of a network of racists.
"We know that there is a significant history of racial pain and trauma on campus and we are taking action to repair our community."
Seems a little overwrought. Why not just prosecute this jerk?
"We will change and heal together as a community, because we are committed to doing the work."
Who has to change? Why does everyone, not just the white supremacist vandal, need to do any work?
"Right now, we encourage all members of our community to listen, respond and care for one another, and lean on the faculty, staff, and community members who have been gathering today to make sure we are supporting you. We have your back."
Good talk, team! Anything we are leaving out that might be pertinent to this racist incident that has rocked the campus, the community and the state, and made ripples around the country in these racially-charged times?
Anything?
Yes.
One tiny thing.
This from the Michigan Live news site:
"Albion College and the Albion Department of Public Safety say a student is responsible for racist graffiti found in a dorm last weekend.
Albion police brought the 21-year-old Black male in for questioning on April 6, according to Chief Scott Kipp."
Yes. It was a hoax.
There are many, many such hoaxes perpetrated around the country and lots of them happen on college campuses.
You've probably heard or seen one version or another of this saying and it is absolutely true: "The demand for racism in the US is greater than the supply."
But here's the real punchline.
Even after the hoax was discovered, students continued to boycott classes and make demands of the administration and insist on getting their wellness day off. Somehow, they were still victims of a racist attack even though it never happened.
"Silence is violence!"
Despite the white supremacist graffiti turning out to be a #HateHoax by a black student, people at @albioncollege are boycotting classes again for a third day. They have a list of race-related demands.
It's all make believe. Young know-nothings drift aimlessly across campus looking for meaning and purpose. They engage in performance art while the faculty validates their juicebox activism as bravery.
And why would the colleges encourage vacuous excursions into fantasy land?
Ding! Ding! Ding!
Almost fifty grand a year.
For that price, inane American kids - most of whom are bound for mediocrity - get to wrap themselves in glory pretending to be noble warriors, making lists of demands (to be fed directly into the shredder by the administration like they were last year, and the year before and the year before etc. etc.) and marching bravely from one corner of their cushy college terrarium to the other.
Even when their entire cause was based on a fiction – in this case the hate crime hoax – their dull minds are trained to reprocess events so as to make their foolish behavior make sense.
And they won't need a "wellness day" to do it. The college has their back. It's included in the $50K sticker price.
Sure, this time it was a hoax says the administration but it's "not about one particular person or one particular incident."
In other words, colleges will play along with any imagined crime or harm out of which woke students want to make hay. Every "ism" is welcome.
Back to the original point.
Why send your kid off to be coddled, woke-ified, victim-minded, privilege-minded, and most of all, in debt? It's the perfect recipe for a miserable outlook and in 2021 when they bring these characteristics into the workforce, they make the world a much worse place.
We've all seen it.
There is nothing worse than being stuck next to a college student on Thanksgiving (which they believe celebrates genocide anyway) who has something to say.
Correction: Has something to teach us.
I don't need to know that the house we're dining in was "built on and benefits from the stolen land of the Haudenosaunee, Mohawk, and Mohican people." I just need the frigging turnip.
At least the dumb college grads who spent their four years perfecting the arts of getting wasted, hooking up and sending regrettable videos of themselves around the internet don't want anything from the rest of us. What we're seeing now is destroying the rest of society.
The time has come to turn off the spigot of cash to these institutions and stop letting them ruin everything.
© April 9, 2021 by Tom Shattuck
A Day In The Life.
Up at 8a on Friday, with a painful l/s leg, I did the finger-stick to check BSL (Blood Sugar Level), made Hawaiian Kona 'Volcanic Estate' Coffee and had a simple English Muffin for breakfast. I took my usual 20 pill regimen, plus 2 Gabapentin, and the Neuropathy pain suddenly abated. Mirable dictu!. Sherry was coming by at 1p to drive us to nearby Hallam, where her daughter, Hollie, and her business partner, Chastity, were getting their shop ready for a coming Grand Opening. We spent some time together and left for Hallam at 2:30p.
Most people don't have trouble seeing what's right and what's wrong; doing it is sometimes complicated, but knowing what's right usually isn't so hard.
We enjoyed the visit and tour of Hollie's & Chastity's new shop, and we'll be at their Grand Opening to visit and to help out, if needed. Back at my condo by 3:45, Sherry dropped me off, so I could get some things done, and she could get home to make dinner for herself and son, Corey. I had a large bowl of Bar Harbor Lobster Corn Chowder, watched "Gold Rush" for the evening, until 11p, and shut down for the night.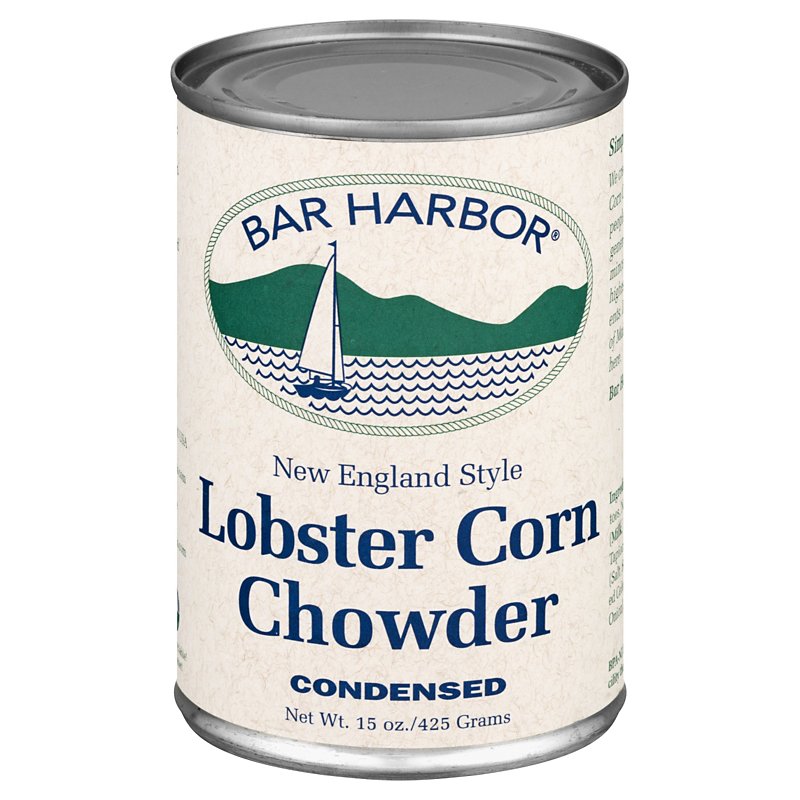 c
Bar harbor makes some of the very best soups I've ever had, bar none.
Up at 9a on Saturday, it was a raw 47° outside, so I fired-up the furnace to 77°, from 68° inside, did the usual morning finger-stick for a BSL check, made coffee and breakfast. My left hip/thigh/knee and shin was hurting again, so I took 3 Gabapentin after lunch and laid down on the LR couch, for 3½ hours. After a light dinner, I watched Discovery's "Gold Rush: Dave Turin's Lost Mines" until 10p, did my nightly DR (Diabetic Lantus Shot Routine) and continued watching until 11:30. Lights out.
I slept-in until 9:30a on Sunday, missing the first half-hour of the 2hr F-1 Italian Grand Prix Race. Dammit. I streamed the rest of it on my 82" Samsung TV, while I made coffee and had a light breakfast, grabbed a shower and started a load of laundry. I caught the middle and end of the race; it was a rainy, wet track with lots of spin-outs and a few accidents. After lunch, I ran a few errands, and got back in time for the 3-6p IndyCar GP Race in Alabama. Boring, except for the massive crash on the first lap.
After dinner, I did some paperwork, watched History's series, "The Foods That Built America" until 11p, and shut down.
Up at 7:30a on Monday, to a cloudy, nippy 38°, with rain coming in the afternoon. My knee was hurting, so I took 2 Gabapentin with my morning's usual 20-pill regimen. I called Sherry and made an app't to come over to her home at 10a tomorrow, to dig-in the perennials she bought a week ago, and if I can, help edge the rest of the front garden bed, before the rain comes on Wednesday. She'll still need to get 5-6 cu yds of bark mulch delivered and spread, pleas fertilizer spread, to finish it off. I worked on my front and back garden a little, and removed the front lawn's new Stewartia's tree stake. I also loaded-up the Jeep's cargo bay with tools for tomorrow's work at Sherry's.
Happy National Garlic Day! Get it fresh and peeled in 3-lb bags or in 5-lb bags and roast it. Watch this. So simple and delicious.
After lunch, I slept for an hour or so, on the LR couch to rest my aching knee. Storms blew thru the York area, dropping temps 15-20°, but it still was comfortable when the sun reappeared. I called Sherry to let her know that I'd be over around 10a tomorrow, to work on her front garden, since temps would be in the low-70s. There was bumpkiss on TV, so I watched some more of Tom Selleck's "Jesse Stone" series into the late evening, and quit around 11:30p.
Awake at 6:15a on Tuesday, I had coffee, a couple of smokes and a light breakfast, and a quick meeting with a neighbor and our mower/landscape crews. I posted the "CP Show" early, and left for Sherry's to help her get 10-12 perennials installed in the front of her home. It quickly hit 80° and I began shedding my wool shirt and woven straw hat. We got it all done by 12:15p, and while I left for Weis market and home, Sherry left for her stint at The Tea Room in Hallam. My back and left hip were hurting, so I took a Valium, had a quick lunch and just as I was preparing to get some rest on the LR couch, 3 neighbors showed-up and wanted me to come to their condo units to help with landscaping ideas, and plant/weed identification.
I watched TV for the GUILTY verdict on the Minneapolis Cop Derek Chauvin. TOTAL FUCKING BULLSHIT! The Floyd nigger was OD-ing on Fentanyl and other drugs, massive heart disease and stupidity. He deserved what he got! Fuck you niggers and white trash filth in Minne-crapolis and Nation-wide.
I got an hour rest on the couch, and after dinner, watched "The Curse of Oak Island", until 11p. Lights out.
Awake at 8:30a on Wednesday, I hurried to get coffee going, got the daily "CP Show" thread posted to FR, did the obligatory finger-stick, and had breakfast. Temps were in the mid-60s, but began dropping into the 50s very quickly around 11:30a, as t-storms blew thru the York area. It was snowing to our west in Pittsburgh, and a massive cold air front was heading this way, with freeze warnings posted everywhere. I had some errands to run, and even with a very sore and hurting left hip/thigh/knee and shin, I took a half-Valium and left to get them done.
Back by noon, I had a quick lunch, and laid down on the LR couch. Some 5hrs later, I woke and it was headed to dusk. I garaged the Jeep, closed the condo windows, front & back screen doors, and settled-in to watch some more of the "Jesse Stone" (Tom Selleck) movies on DVD until 11p, then shut down.
I slept-in until 8:30a on Thursday, thankfully woken by some machinery outside doing work in the condo complex. I quickly posted the "CP Show" to FR, made coffee and had an English Muffin with poached eggs. While listening to the "CP Show" and enjoying coffee, it started snowing heavily outside, but at 40° not much stuck, as cells passed thru the area. For us here in PA, it's called an "Onion Snow". I had a light lunch, got the recyclables and garbage bag ready to take out tonite for tomorrrow morning's p/u, and caught 3hrs of sleep on the couch.
I watched more of my DVDs of the "Jesse Stone" series: "Benefit of The Doubt", "Innocents lost", "Death in Paradise", with Tom Selleck, had dinner, and contued watch the DVDs until 11:30p. Lights out. Tomorrow starts another day here in the "Journal".
???
???