Delayed Due to 4/26 Auction at 1:00pm
the auction
friday, april 26
th

, 2013

it was both an excruciating event and a time of great relief, after 22yrs of blood, sweat & tears.

I both dreaded and looked forward to today. It would finally be over.

After many meetings and conversations with my Dad, attorney, realtor, auctioneer, 3 Open Houses and many friends, it's taken me a while to get my mind around the fact that it'll be gone, for good.

Memories, especially the good ones, are what count. For when we are ultimately gone from our all-too short stay on this earth, that's all we'll have in the endless void of time: our memories of others, and the memories others have of us.

I have taken home 95% of my "momentos" – Pickle (1990-2005) stays where he's buried, at the left-side top of the front steps, per the Sales Agreement – which I created and I'll always cherish them, but not having "the place" anymore, is more-than-difficult to get used to, after so long a time.
Even after I closed on Oct 28, 2011, I frequently went down and sat on the steps, next to Pickle's Grave, spent time with him, had a smoke and took-in the beauty of the seasonal Display Gardens. (Pictures of Dec 17th, 2011, Buildings' Contents Auction in this "Journal" entry.)
I also had to check the GHs'/buildings' security, change outdoor lightbulbs, and check the waterpipes weekly. I didn't like doing that for all those weeks, but now that it's over with, I wish I had it back to do, once again.
A Family Business with Mom & Dad, a very special cat, over 604 employees in 22yrs, many hundreds of friends, and tens-of-thousands of customers over the years, is always hard to "say goodbye" to, especially in this case.
The Auction went-off at 1:15pm, and within 25mins, John Shelley's Garden Center & Nursery, Inc, was ***PENDING***. Details to come, later.
Another Sad Day In The Life
I slept-in until 6:30 on Friday morning, 53°F outside, still 75°F inside the Condo, so I made Fresh-Squeezed OJ w/ lots of pulp, French-Roast, Turkish-Grind Coffee (from whole, freshly-ground Starbuck's® Dark French Roast Fresh Ground Beans) with my Chemex® Drip System, and had a bowl of Shredded Wheat w/ Fruit, for breakfast. I scanned the news and weather sites, grabbed a quick shower, fresh clothes, and went down to listen to the live stream of the Chris Plante Show, with several news sites opened in various Windows to keep abreast of developments of the murderous muslim filth brothers, of the Boston Marathon Massacre. Didn't I bet $10 last week,
that it would be muslims
, and
NOT a Christian, US Vet, NRA, White Male
? Meanwhile, the rescue and recovery efforts in West (TX)
continue
.
By 11am, it was already 68°F outside, with massive t-storms approaching from the west and south, and forecast to hit this area later this afternoon and
evening. Swell. A ***TORNADO WATCH *** was posted until 11pm. I drove over to Dad's to try to get his
John Deere riding mower
started, but even though we jumped the battery and refilled the gas tank, but we still couldn't get it started. I'll go back tomorrow after the 3rd Open House with my toolbox and try to find the spark plug – you now need a mechanic's *.PDF manual to just find the damned plug! – and change it, but it doesn't sound like it's getting any gas, even though the battery now cranks, since we jumped-it. The engine isn't firing or even misfiring, to give me a clue. I don't know if he used a "gas winterizer" or not, so the fuel lines may be all gummed-up, and it'll require service from the
local John Deere Dealer in Shrewsbury
, further delaying his "grass-cutting season". I used to be able to fix those things, but like cars, they've become so complicated, I don't even know where to begin. It's always something. By 4:30, I'd come home, eaten 12 aspirin, and laid-down on the LR couch with an ice-pak, to alleviate my left-hip pain.
I turned-on the Mark Levin Show, at 6pm and by 6:50pm, a ***SEVERE THUNDERSTORM WARNING*** replaced the tornado watch, and it poured, as temps began dropping quickly outside. The news channels broke-in with live coverage of the Boston Marathon Murderer #2; muslim shitfilth #1 is quite dead. I muted Mark Levin and went over to FNC live coverage on CATV. By 9:30pm, it was all over; muslim shitfilth suspect #2 arrested and in custody, and on the way to a hospital, me nodding-off, and I shut-down and went to bed. The rain continued as the front moved thru the area. I had a 10am Open House at the GC&N Complex tomorrow, and needed some sleep.
Up at 5am on Saturday, I made OJ, coffee and Sunny-Side-Up Eggs, Sausage & Hash Browns, for breakfast. 47°F outside, and a ***FREEZE WARNING*** was posted for tonite thru Sunday mid-morning. After scanning the weather reports of cooler days/nights ahead, I checked the news sites' coverage of the capture of the BMM #2 (Boston Marathon Murder Suspect #2), since last evening. This is only he preliminary beginning of murderous muslim terrorist cells going after "soft targets" – which I said would happen back in 2001 after 9-11-01 – and we'd better get used to it; it's coming to our shores, now. I got my GC&N files and paperwork together, ate a handful of Bayer® 325mg Aspirin, and left at 8:45am.
I opened-up the Complex at 9am; Brad (auctioneer) arrived at 9:15 and Terry (realtor) arrived at 9:30, and we spent nearly 2hrs talking about the upcoming Auction tactics/strategy, had 3 visitors,
and I finally closed-down at 12noon. Temps hit a high of 53°F, and after getting home at 1pm, I had a PB&J Sandwich, I went out for a short walk. While working on some gun-cleaning projects downstairs on my
basement workbench
, I listened to some missed
Mark Levin Show Podcasts
until 9:30, re-checked my morning's shopping list, and called it a day. I have to load my toolbox, go to Dad's tomorrow and to try to get his
John Deere riding mower
started, now that he's found the Mechanic's Manual and bought 2 new spark plugs. Somehow, I don't think that's the problem.
Sunday morning felt more like Winter at 29°F than Spring, but I was up at 4:30am, turned-up the heat, made coffee, OJ and had Soft-Boiled Eggs w/ Toast in a bowl, for breakfast. The weather sites forecast th next 3 days as colder-than-normal, with Spring temps re-arriving at the end of the week. The new was just the SOS from the past 3-4 days. I checked my shopping list, got ready, backed-out the Jeep to let it warm-up, walked-over to get the week's mail, and left for Weis Market at 7:15am, after the scheduled Back-Up/Restore program had started. I got thru my food shopping list and out in 20mins, back home and unpacked, and headed-over to Dad's to give the mower another try. No go; no gas getting thru to the spark plugs or cylinders. He's calling the local John Deere dealer">, who'll come and pick it up, repair it and return it within 3-4 days. Taking the entire fuel system apart is beyond me, at this point. We visited for a while, Becky called from SF, and I went home around 12:15pm.
I worked in the basement for most of the afternoon, loading and unloading almost 100 new 30 & 40 round AR-15 (5.56mm/.223cal) and AR-10 (7.62x51mm/.308cal) magazines, to "loosen-up" the new springs and followers. I played more missed Mark Levin Show Podcasts, until the Gun Talk Radio's live stream came on, until 11pm. Tomorrow's laundry day and Condo "chores", so I'll be busy.
I managed to sleep-in until 7:30 on Monday morning, physically and mentally tired from the past several weeks' activities. I really need a long "rest" from all of this BS. It was 28°F outside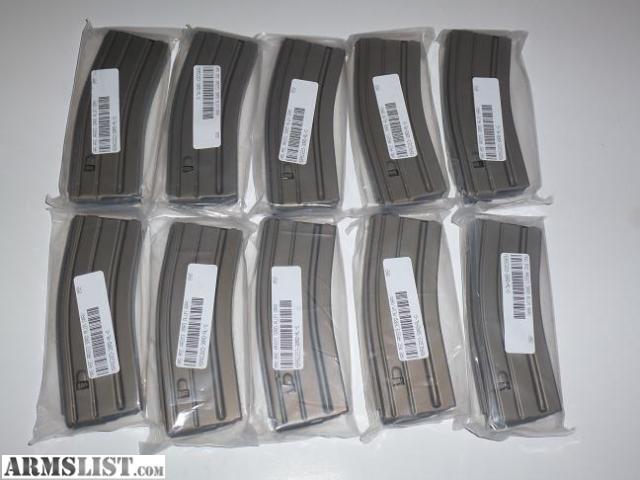 and frosty, so I turned-up the heat, grabbed my bathrobe, made coffee, OJ and just had some
Buttery & Flaky Croissants
for breakfast. I stripped the bed linens, put new ones on, did 3 loads of laundry, folded it all, called Dad to talk, got a call from my corp/personal atty about Friday's Auction Sales Contract addendum, and listened to the live stream of the
Chris Plante Show
(WMAL-DC) until 12noon. My appetite returned for lunch, and I made
Soft-Boiled Eggs w/ Toast
in a bowl, and
Country Sausage
, for lunch.
Back down at my basement workbench, I cleaned my Beowulf® .50cal, rearranged some shelves, and went up at 6pm to listen to the Mark Levin Show until 9:30pm, armed the Condo and went upstairs to bed. I had to meet my realtor's wife at the GC&N Complex at 10am, and dig some pieces of perennials for her and my gardens, as "momentos". This'll be my last chance, since hopefully after Friday, I won't own the place anymore.
These days, in giving everything I had left at my 22 year-old business away, even to friends, I feel like a half-alive, badly-wounded and downed-bull, lying in a pasture, being picked apart piece-by-piece, to-death, by vultures and buzzards. I wish it were over already; that I was finally dead, and didn't feel all this pain at what was happening.
I couldn't sleep past 5am on Tuesday, though it was cloudy and 41°F outside and perfect for sleeping-in, it was still warm in the Condo, but I turned-up the heat, anyway. After making coffee, having some Del Monte® Red Grapefruit Sections, and Sunnyside-up Eggs, Home Fries & Saffon Gravy for breakfast. SOS on the news sites, weather sites forecasting t-storms tomorrow, but we'll get the perennials dug today. I'd loaded my tools and gear, warmed-up the Jeep, and left at 9:15am. I opened at 10am, Brenda & Terry arrived at 10:15, and we toured the gardens looking for perennials to dig and take. I dug 14 pieces of perennials, armed and locked the buildings, and left around 12:30pm, with B&T still digging away. As soon as I got home, I planted and watered-in the pieces; one or two might need to be re-dug on Friday morning before the Auction,
so I'll get there a couple of hours early and dig some more pieces, as back-ups to the 1-2 questionable ones I installed today, plus a couple of small clumps of dwarf Narcissus.
By 3:30 or so, I was finished installing the pieces into my Condo garden's empty spaces, did some weeding while they're small and shallow-rooted, cleaned and put the tools away, washed-up, turned-on the computer to catch-up on the day's news, and Dad called about the White Hut's/Crib's tweeting hoax, bomb explosion report, 0scumbag supposedly "injured", stock market temporarily tanking in the billions of dollars, and the whole phony incident, which spooked the US markets. Yikes, I'm glad that I missed a day's worth of BS. I listened to the morning's missed Chris Plante Show (WMAL-DC) until 6pm, when the Mark Levin Show came on until 9pm, took a handful of aspirin, and went to sleep. I was sore and tired from the day. My cleaning ladies are coming tomorrow between 11am-12noon, to do my Spring windows' cleaning, so I'll go visit Dad, after I get them started.
I was up at 4:45am on Wednesday, but not feeling well at all, so I skipped OJ and breakfast, made only coffee and emailed Joanne to postpone the window cleaning session, until after she gets back from her family's Florida vacation. Her cleaning partner, Rhonda, was also sick, so it was a "wash" until a later date. Sunny and 47°F, with t-storms coming later in the day. It was MS-Update/Patch Tuesday (actually Wednesday, but the MS idiots call it Tuesday; go figure) and one large Win-7 Pro x-64bit Update came down the pipe, installed itself, and wanted to restart my machine, to finish the download/install. I accommodated it, as usual. I just decided to stay-in for the day, and listened to the live stream of the morning's Chris Plante Show (WMAL-DC), from 9-12. By 12:30pm, feeling a little better, I'd eaten some Scrambled Eggs, Sausage & Croissant for lunch, and went out for a short walk and some fresh air. It was 73°F and felt like an early Summer day; nice.
On the way back into the Condo, I stopped to do a little weeding in my front garden, and sit on the front porch in the warm sun, before going inside to listen to Rush on Talk Radio. I called Dad to
chat, did paperwork and wrote-out some checks for bills, and checked the weather forecast. T-storms were headed our way, so I closed-down the Condo, and went back to the dreaded paperwork. The
Mark Levin Show
came on until 9pm, and I called it quits at 9:30pm.
I couldn't sleep late on Thursday morning, as I'd hoped; up at 4am, it was a brisk 40°F outside and 73°F inside. I made OJ, coffee and had a bowl of Shredded Wheat w/ Fruit. The overnight t-storms had moved-out of the area and into NJ, and a decent, sunny but cool day in the mid-50s, was forecast. Ditto, tomorrow for the 1pm Auction. I left at 8:45am and drove over to Dad's to visit and drop-off some paperwork for the GC&N Auction, stopped at Home Depot on the way home to get some flat white and flat black primer paint, got back by 12:45 and made a Roast Beef Sandwich & Fries, for lunch. I resisted taking a 2-3hr afternoon snooze, so that I could get some serious sleep before breakfast, a shower and leaving for the GC&N at 10:15am, to open-up by 11. Instead, I worked out in the Condo garden, listened to some Talk Radio shows, some missed podcasts and finished-up some paperwork and bills. The Mark Levin Show came on until 9pm, and I stayed-up to watch a CNBC CATV show called, "America's Gun: The Rise of The AR-15", until 11pm.
I managed to sleep-in until 6am, a brisk 34°F outside and 70°F inside, made coffee, OJ and Quaker® Instant Original Oatmeal for breakfast. After scanning the news and weather sites, it looked like a nice day ahead. I grabbed a shower, fresh clothes, and more coffee.
I arrived at 11am, opened-up all the buildings & GHs, and got the place ready for tours and inspections, by the bidders. Dad, our corporate/personal attorney, the realtor, auctioneer and the bidders arrived between 11:15 and 12:45pm. The auction went-off at 1:15pm. Details later.
Today starts a new week here in the "Journal", and it's going to be a strange next few weeks/months of meetings, legal papers, finance agreements, escrow accounts, inspections, twp hearings, final settlement, payment of expenses and fees, deed transfers and key hand-overs. Maybe.