the forever stain on the US
friday, august 27
th

, 2021
Nearly 20 years to the day that foreign terrorists took down the twin towers in New York City – when thousands of lives were lost and trillions of dollars were spent -- the Afghanistan War has ended in utter and complete misery. Now, the White House is trying to spin this epic collapse as business as usual. This is an incredible defeat and a national disgrace. So much money, so many dead and thousands more in the Veterans Affairs hospital system, and the Afghan President that the U.S. picked hands over Kabul to the Taliban in front of us? How is this possible?
[FULL TITLE: "The War in Afghanistan Will Forever Stain the U.S."]
What we are witnessing is the product of failed policy, poor leadership and corruption in our system. When arrogance is coupled with ignorance, you have the formula in place for calamity. We have pushed these failed policies and fostered corruption on the American and Afghan sides for 20 years by deliberate actions. In effect, we set the conditions for failure in 2003. We stayed with a failed policy trajectory for the past 18 years, trying to create Philadelphia on the Hindu Kush. We failed for 20 years to understand the Afghan culture, and tried to remake it into something else. The remaking of Iraq and Afghanistan, the "graveyards of empires", into Western-friendly, capitalist, liberal democracies, was a fool's errand.
The exit chaos we see today certainly could have been prevented, had we designed and managed a change in policy and set the conditions for an orderly departure. In the end, the same results would have been produced. We set ourselves and Afghanistan up for this over the last 20 years. A full circle of deeply disturbing events that the modest observer could deduce many years ago.
The bottom line is that, on our current trajectory, we could have stayed for 10 or 20 more years and not have succeeded. We made this mess. There are many factors to explain why we have failed for 20 years, and there is no soft landing for doing this wrong for so long. However, the mistakes over the past six months brought this into focus this weekend. An orderly turnover and exit was possible; more so, it was recommended. However, these immediate events spearheaded by President Joe Biden have brought together our profound lack of good intelligence, objective analysis, planning and leadership to produce this spectacle. Just four days ago, the CIA, the Pentagon and the State Department were all saying that there is no imminent threat in Afghanistan and it was stable. The entire 20 years of feckless effort collapsed in mere days.
One only had to look honestly at the facts on the ground to see the collapse coming fast. Postponing the departure would have delayed this but would not have changed the ultimate outcome. The truth is that we lost this war back in 2003 when we became an occupying army in a country we did not want to be in. Together, we are witnessing the product of our cultural ignorance, and our inability to wage war and understand our limitations. With all three of these key factors in shambles, it only made sense that this catastrophe would occur. Nobody in their right mind should believe anything coming out of the gov't anymore.
We proved in Vietnam we don't understand other cultures. We have still not learned anything. We just repeated April 1975 in Saigon. Not every country is the United States. We are talking about civilizations and cultures that predate democracy and liberal values. What is the point of forcing your identity on people who do not want it? This misguided mentality has only served to fuel and enrich the military industrial complex that has plagued this country for decades. Nation-building and spreading democracy is a fallacy that the American people can no longer support in any capacity. We need to focus on our country's deep internal problems, of which there are many.
There is never a graceful or orderly way to lose a war. There is no soft landing. Your mistakes, arrogance and ignorance combine, and you crash headfirst into reality. Now is the time to introspect and learn from this incredible disaster. We must learn how to be better in the future. Why did this fail? What decisions could have been different? How can we prevent corrupt bureaucracies and incompetent military leaders? Can we hold to account those who waste taxpayer money with no clear vision?
The people of America should demand change, accounting and responsibility. Our leaders in Congress should take a stand against any attempts at stopping introspection and take a deep dive into our current system. Our military, intelligence community and State Department don't know what they are doing. Worse, they failed the American people in the most extravagant of ways. Over 20 years, four presidents, trillions of dollars blown away and over 7,000 American troops dead. Then the entire system collapses, and the Taliban retake their nation and are stronger than they were the day before 9/11? What a true stain on the country.
© 8.19.2021 by Armstrong Williams, "Townhall".
A Day In The Life.
Up at 8a on Friday, I went thru my finger stick to check my BSL (Blood Sugar Level) and recorded it on my Diabetes 2 chart, made coffee and breakfast, had a couple smokes in the humid garage and checked to leftover errands list. Just one, to the cleaners to p/u a dozen shirts. After lunch, I cleaned-up the front and rear gardens from the previous three days of TS FRED's t-storms. A lot of the tall perennials were beat to shit, so I'll just have to wait and see if they stand back up; if not, I'll have to cut them back until they brown-off, and waiting for my buddies at River Rock Landscaping to do the fall cleanout.
Sherry stopped-by on her way back from Hollie's shop in nearby Hallam, to visit, and we had a wonderful time. After dinner, I watched Discovery's "Gold Rush" until 10p, switched to the news channels to get the latest disastrous news from Transcanistan. I said years ago, we should have nuked that shithole back to prehistoric time, especially the vast poppy fields. By 11, I'd had enough of hearing the news of Lunchbucket Joe's stumbling lies, the VP 'Ho has vanished, and had to turn it all off, for the night.
America is a totally different country now, where you can easily fool most of the people most of the time, and many of the people all of the time.
I slept-in until 9:30a on Saturday, a nice but humid 75°, did my morning my finger stick, made coffee and breakfast, and had a couple of Marlboro®s in the garage. Becky called at 10:30a, and let me know to be on "stand by", since she was having minor, intermittent abdominal pain, and might need to go to the York Hospital ER.
I spent the afternoon watching part of the 24 Hrs of LeMans Endurance Race, and called Becky to check on her. An IndyCar Race, the Bommarito Automotive Group 500 from St Louis, came on at 8p, and I watched it, too. By midnight, I'd had enough and bagged it for the night, after the race ended. The F-1 Belgian Grand Prix is on at 9a, tomorrow morning.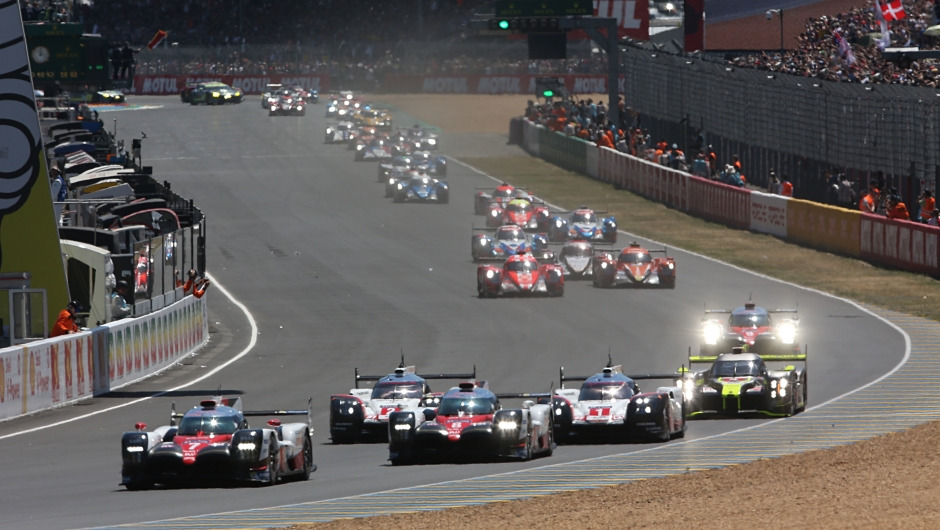 The alarm and pounding rain on the condo's 4 skylights woke me at 6a, and I dutifully got up, to get ready to start the day, and watch the end of the 24 Hrs of LeMans, and the start of the F-1 Belgian GP. Except I screwed-up; the Belgian GP is on next Sunday. Dammit. The last 4hrs of the 24 Hrs of LeMans was exciting, so I had coffee, breakfast and a couple smokes in the humid (72%) garage, and grabbed my usual morning shower. No errands today; it's raining and I'm working on 2 loads of laundry. (2 loads are nothing comparred to what Sherry does each week. Yikes.)
After lunch, I was so tired from getting up too early, I fell asleep on the LR couch for 3+ hrs, and woke almost in time for some light dinner. I watched some car shows – I forget the names – and did some online donations to St Jude Children's Hospital, International Fellowship of Christians and Jews, Tunnel 2 Towers, Samaritan's Purse, and I have some more to do this coming week. After the evening's finger stick, and the news, I unplugged for the night at 10:30p.
Up at 8:30a on Monday, it was a bright, sunny, very humid (75%) day and already 80°. I made coffee, had a few smokes in the now-open garage, and made some light breakfast, as I have little-to-no appetite in the heat and humidity. I ran a couple errands to the pharmacy and Weis Market, and was back by 12:30p. Lee stopped-by with some Kosher Jewish Pastries he got in Pikesville, MD, on his weekly trip down to that bastion of Kosher delis and markets. Good stuff.
I have a real bad feeling about the situation in Kabul, for our Marines, other Americans and foreign passport holders, and the thousands of Afghanis ringing the crap KIA airport. We should NEVER have abandoned the massive, well-guarded Bagram airbase. No, I don't have anymore intel sources, as I once did for many years, but just a gut feeling. Another major Walkaway Biden fuck-up could be in the making. I sure hope I'm wrong.
Get ready for something much worse than 9-11, all around America, as thousands of terrorists enter the country, thru the southern border, alone. Not to mention all the military-aged male Afghani scumbag criminal terrorists coming in, thanks to Walkaway Biden's airlift.
Here's the speech (3:30) that Shit-For-Brains Biden should have given to the world.
After dinner, I watched "American Pickers" until FNC's "Laura" and "Gutfeld" came on, and closed down at midnight.
Up at 8:30a on Tuesday, it was already 84° and very humid (55%), once again, and it'll get worse over the next 3-4 days. Hey, it's Summer in the Mid-Atlantic! I went out to the back patio's shade, where it was 7-8° cooler and had a nice breeze, to have some coffee and a smoke. Much better. I listened to the sub-host on the "Chris Plante Show" until 12 noon, since I had nowhere to go and nothing critical to do. After lunch, Rite Aid called w/ 2 waiting Rxs, and I drove over to pick them up.
By 4:30p, it was 91° and 70% humidity, I just stayed inside, doing paperwork, paying utility bills online and listening to some Talk Radio shows. It was another NBC (Nothing But Crap) day for TV, so I didn't watch anything. I'm too angry, and full of hate, for the lying, criminal Biden Admin for what they're purposefully doing to our US Citizens, our Allies and Afghani partners, by leaving them to die at the blood-soaked, murderous hands of the Troglodyte-From-Hell muslim(SPIT!) Taliban subhumans. On their schedule, not ours. I did watch FNC's "Tucker", "Laura" and "Gutfeld"; then quit at midnight.
Up at 9a on Wednesday, I started coffee, had breakfast after the finger stick, grabbed my daily shower, and checked the weather and news. Near-record heat today at 94° and tomorrow will be the same. Swell. The humidity was already oppressive, and I decided to just stay-in for the day. I postponed my errands until Friday. It was another NBC (Nothing But Crap) day for TV; natch. I caught 3hrs on the LR couch, and got a call from Becky to get her to the York Hospital tomorrow by 12:30p, so she could get a CT-Scan done in Interventional Radiology, about her diverticulitis drainahe tube.
94° and 60% humidity. If I had hair, it'd be on fire. After a light dinner, I watched "Mecum Auto Auctions" on Motor Trend, and new "Expedition Unknown" episodes on Discovery, until 10p. Tired, I called it an early day.
If this can happen to Israel, it can and will happen to us. Be ready for it, this Fall or Winter.
Awake at 5a, I rolled-over and went back to sleep until 8:30. It was already 84° and very humid, naturally, but I had to p/u Becky to get her to York Hospital fror a 12:30p CT-Dcan and meeting with her surgeon. I had coffee, breakfast and a couple smokes, listened to the "Chris Plante Show" (he's back from vacation) until I left for Becky's condo, at 11:15a. A stiffling 99° outside.
Dammit, it happened, as I was on my way back from dropping-off Becky, and running some errands. ISIS-K did it. A predictable leftist, commie, socialsist, hate-America, Walkaway Biden Dumpster Fire! SPJNK!
I brought Becky home to her condo, after she was finished with the tests, came home and stayed inside. I had paperwork to do and some condo chores to get done. After dinner, I watched Fox News to get updates on the ongoing Trashcanistan disaster, until 10p, and called it a night. My anger at our so-called gov't was boiling over.