happy new year!
friday, january 1
st

, 2016

as the year closes out, I thought about a lot of ways to approach a clever wrap-up commentary, but couldn't decide on anything specific. Woe is me.

Dave Barry had already covered most of the quirky things I had on my list. And dozens hundreds thousands millions billions trillions gadzillions many others have also covered the few remaining 7 or 8 weird events.

Well, here's a few I wanted to mention: dumbass, idiot white trash bitch, Rachael Dolezal identifies herself as black, idiot bitch; shit-for-brains Bruce Jenner thinks he's now an ugly, old White woman named Caitland; a 52-yr old father, Stefonknee Wolscht, is now living as a 6 year-old girl with his adopted parents; NYC can fine you $250,000 if you misgender a subhuman tranny piece-of-shit; democrats believe that Christians are a bigger terrorism threat than murderous, troglodyte-from-hell muslims; poor, little college AA sambos are whining for their racism-free, fear-free "safe spaces"; and somewhere, someplace, someone probably identifies as a rutabaga. We condone, encourage and pamper this mental illness bullshit. This country's now totally f•cked with identity politics. Our collective brains have fallen out on a puke-stained and urine-soaked sidewalk.

Even if you don't want to carry a firearm for protection right now, you'll have your valid permit to carry, when TSHTF.

All I can proffer is this: get your CCW/CHL/CHP Permit NOW, even if you don't want to carry a firearm for self-protection, just right now. The information you need is right here. At least you have it in your possession for the next 5 years. Things are going to change radically and drastically, here in America, and NOT for the better. It always starts in Kalifornikkkate, but the rest of the country usually follows in some way, shape or form.

Forget the pyschotically-delusional Dolezal bitch and ignore the mentally-ill Jenner asshole: get your 2nd Amendment Rights secured with your carry permit, before TSHTF, truth becomes a sliding scale, and reality becomes optional, if you haven't already.

But at least they got the Cosby rapist, before the year ended, on a single "sexual assault" felony charge, even after 58+ other women have come forward and accused him. Hey, you idiots: what about the Bubba Jeffy Klintonite serial rapist?

And they caught the White Christian Male Terrorist stinking, subhuman dirtbag muslim sambo who set fire to his own mosque in Houston, on Christmas Day. That follow-up story goes down the corrupt MSM's rabbit hole, doesn't it?

Now, go water your houseplants with some Gatorade®.
A Day In The Life
Up at 6:30am on Christmas morning, a dark, 60°F and rainy day, I checked my stocking hung over the fireplace to see if I'd gotten what I wished for. I didn't. Heh; didn't think so. By 7, I had the Prime Rib out of the fridge to come to room temp, with everything else ready and staged for cooking/serving. The condo complex was a ghost town; not a car in any driveway, nor a creature stirring, not even the tree squirrels. Dad & Becky arrived at 1pm, we had a fine dinner of Prime Rib Au Jus, Baked Potato, and Roasted Potatoes and Peas, and Mediterranean Mint Gelato, and Allegro 1998 Cadenza Cabernet, spent several hours enjoying the time together, and they left around 4pm. Clean-up took under an hour and I caught the evening news, watched some "holiday" episodes of the old Good Eats show, and bagged it for the night, at 11pm.
I hope you had a very Happy, Nondescript, Inoffensive, Micro aggression-Free, Ambiguous Winter Holiday! (Kidding)
I slept-in until 9am on Saturday, a cloudy, rainy 51°F morning, which wouldn't get any better all day. After OJ, and while coffee was steeping, I checked the news and weather sites, my to-do-list, and found 2 messages on my cellphone, from my investment partners. Coffee, grits, sausage, bacon and eggs were outstanding. Uh-oh, real bad weather down in North Texas; I hope my friends down in that North Texas area and in Southern Oklahoma, are OK. I also had a call from the new person who'd expressed interest in the Old GC&N Complex, last week, and was to meet him at 11am at the site, to do an informal walk-through and talk about some things needing clarification for the process and possible proposal, next year. I left at 10:15am. (Can't say anymore about it, yet.) I called my investor friends back, and they wanted to meet early next week about what we'd discussed, last week – here, and here and here – to decide what to do. After the lengthy meeting, I had other things to do and didn't get back home until after 5:30. After unloading the Jeep, I made a quick Chicken Salad Sandwich on Croissant w/ Chips, caught the evening news and weather on TV, and watched Life Below Zero, and Vegas Rat Rods, and The Curse of Oak Island, until 12:30am. Lights out.
If you don't have your CCW/CHL (find your state's concealed carry permit in this Google list) yet, get the application here, even if you don't want to carry a firearm, and then you'll have it if the time comes to arm yourself. Times and laws "change", so get it while you can.
Awake and up at 8:30 on Sunday morning, to another abnormally-warm 58°F (thanks, El Niño), cloudy and drizzly morning, I got the coffee going right away. Switching to Del Monte® Red Grapefruit Sections instead of OJ, I skipped breakfast and got right to the news and weather sites. Near-70° today, and in the mid-40s forecast for tomorrow, with a Winter Storm just around the corner; quite a weather swing for us. North Texas, OK and Missouri were still having a bad time of it. Actually, the toll is a lot worse across 7 states.
Gas and diesel prices at the pump, have all dropped bigtime, just since last Sunday, December 20th: Unleaded Regular (87 oct) is down 6¢ to $2.09/gal, Unleaded Premium (89 oct) is down 6¢ to $2.19/gal, Premium (93 oct) is also down 6¢ to $2.49/gal, and Diesel Fuel/Kerosene K-2 is down 18¢ to $2.49/gal.
I had 3 loads of laundry, change bed linens, various condo cleaning chores and, based upon the coming month's forecast, move light Spring/Fall coats, vests etc upstairs to 2nd BR closet, and heavy Winter parkas and coats downstairs to the front hall closet. My Spring-Summer-Fall Stetson Hilton Outback Hat, will be retired shortly, and the wool-felt Stetson "Indy" Fedora, will be employed for Winter. Otherwise, the condo's prepped and ready. I heated-up some 1" thick slices of leftover Prime Rib & Sides for lunch around 2pm, and kept finding a few other things needing doing. By 6pm, I was watching evening news and The Weather Channel to see what was forecast, for the rest of this wild and
crazy month of
December
, and for the coming
January
. The Discovery series,
Alaska, The Last Frontier
, was having a Christmas Weekend marathon and new episodes, and I watched it until 1:00am. Fading fast, I closed down, armed the place, and called it a day.
Awake from a weird dream on Monday at 8am, I remembered nothing. Grapefruit sections, coffee, an English Muffin w/ Butter, weather and news sites, email was back, and 39°F with rain. Swell. I left for Dad's at 9:45, with stops at the bank, cleaners and Weis Markets, first. Dad needed batteries replaced in 3 smoke alarms, which required a 6ft ladder, which I don't want him climbing at almost 92 years old. I helped with a few other small projects, and left for a realtor meeting at 11am. The possible buyer they had wasn't qualified in my view, and I turned it down. Looks like it'll be a slow Winter, as the economy is getting worse an banks are very difficult to pry commercial loans out of, without 80-95% collateral, and no one/no small business start-up has that kind of resources to gamble with. I drove down to Red Lion to check on a new BBQ shop, but they were closed for Christmas-New Year's Week.
Back at home by 1:30pm, my hip/leg was hurting, so I grabbed a handful of Bayer® 325mg Aspirin, and got the cold-pak out of the freezer, and laid down on the LR couch for a while. After waking-up at 6, with the pain gone, I got back up to watch the evening news, do some more HTML work on next week's/year's "Journal", and clicked on to Discovery's Fast 'N Loud marathon, already in-progress. I watched it until 11:30, and quit for the night.
Tuesday morning was more of the same weather, but warmer in the low-40s, at 8:30am, when I got up. But at least most of the t-storms and rain had moved east into eastern PA and NJ. After grapefruit and coffee, I made some Eggs & Creamy Bacon Grits, checked the weather, news and email. I had an eye dr's app't at 11am, and needed to meet one of my investor friends at his office, in Lancaster, at 2pm. I left at 10:30, and got back at around 4:30pm. The hip/leg pain was back, so I used aspirin and the cold-pak again, and laid down for a short while to rest. By 6, it was mostly gone, and time for the evening news, new episodes of History's The Curse of Oak Island and the season's finale of the well-produced and exceptionally-interesting, Hunting Hitler, until 12 midnight. Lights out.
I got up at 8am on Wednesday with a lot of hip/leg pain, took aspirin and got the cold-pak out as I was making OJ and coffee. Damn. This pain wasn't going away, even after another handful of aspirin. I needed some food in my stomach with all that aspirin, so I made Eggs Benedict, Mushrooms, Tomatoes, Artichokes & Hash Browns for a mid-morning breakfast. I streamed the holiday Best of Chris Plante Show 9-12 on WMAL, from DC, for the morning, while laying on the LR couch, with the left leg pillow-elevated, and with a cold-pak. Foggy, cloudy and 41°F, I fell asleep sometime before noon, and woke around 4:30pm. I hate it when that happens, as it disorients me for a little while, especially since it was getting dark. I went out and got the mail, took a short walk around the block, and came back just as the rain arrived, to watch History's American Pickers marathon, until 11:30, when I packed-it-in for the night.
7:30am came sooner than I'd liked on Friday morning, but I had a meeting to go to, and some errands to run before all the crazy drunks invaded the roads. I want to be off no later than 1pm. After OJ, coffee and an English Muffin w/ Apricot Marmalade, I left at 10am for Lancaster. Cloudy, heavily overcast and looking like rain, a chilly 37°F and damp from last night's downpours, I had the Jeep's heater on. I met one of my investor partners at his business, refilled my coffee, and we left in my Jeep for a 2hr drive northeast to East Stroudsburg, to look at a pre/post-Civil War and early Wild West Revolver Collection, at a collector friend's home. We both carry concealed (CCW) so carrying a large amount of cash to purchase, isn't a problem. Plus, my partner, who has his FFL License, has known the very reputable collector for over 10 years. We first went out to an Italian deli, and then spent 5 hours closely examining the hardware and all substantiating paperwork, providing provenance for each firearm. None were restored; all in original condition and carefully maintained and preserved. We negotiated a mutually-agreeable price, and bought the 8 revolvers, powder flasks, original tools, bullet casting forms and original blacksmith tools. The pistols will have to be federally (BATF) transferred thru our other partner, who's an federally-licensed FFL, so we left a deposit, got a receipt and pics, and left for Lancaster, at 5:30pm.
I dropped-off my partner at his business, after we'd discussed the details of completing the purchase with our FFL dealer, and I headed home. My hip/leg pain had been back since 2pm, but I had a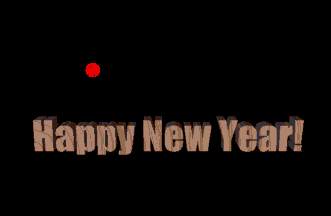 bottle of aspirin along in the Jeep, and that helped. I got the cold-pak out, took more aspirin and checked the news and weather. Dad called and wanted Becky and me to come over for New Year's Day lunch, and since I'd be down in Stewartstown for some errands, I'd pick-up a nice Chinese Dim Sum feast for us, and bring it back to his home by 12:30-1pm. I watched NatGeo's
Wicked Tuna: Outer Banks
and History's
American Pickers
until 12 midnight, switched over to the New Year's Celebrations, and called it a year.
Another day, week, month and year, has come and gone, here in the "Journal", and 2016 starts appropriately tomorrow, on Friday. Lots coming-up next week, but not worth delving into just right now. I wish you and yours a Very Happy, Safe and Prosperous New Year.