joe biden -– a soulless sociopath
friday, july 7
th

, 2023
Shame is the industrial counterpart of probable cause. It's brought about by the self-awareness that some aspect of guilt or crime exists in one's life. Shame is a boundary fencing that sets limits on inappropriate behavior in normal people. True sociopaths, however, suffer from no such limits regarding the godless lengths they will exceed in the blink of an eye as mercenary for themselves. This is the dictionary definition of "politician" and specifically a cognitively impaired, slobbering, dead-from-the-neck-up stuttering and stammering embarrassment like Joe Biden.
As efforts for the missing Titan submersible went from a search-and-rescue mission to a salvage mission, Biden was using the power of his office to purposely mislead the American public. The trickle-down effect of the unconscionable dishonesty further proves my point.
As reports that Titan was missing began, Biden's lapdog media reported with an award-worthy pretense of sobriety.
Suddenly, banging sounds were heard coming from the submersible, Biden and his media reported. These reports were almost too good to be true. Had prayers been answered? It was estimated that there was just enough oxygen to last until Thursday; the reports of banging from inside the Titan were being reported Tuesday and Wednesday. American and the world dared to believe. At least some did at any rate. Others asked the question: "If they hear banging, why can't they find the submersible?"
Then it was over. The salvage teams claimed to have found a debris field. The narrative turned again, although it was no less tautological.
Amidst it all was a Hitchcockian plot twist: Biden's horrible son received a sweetheart deal from Biden's Department of Justice that proved not only is there a multi-tier system of justice in America, but it's a multi-tier system where fewer than a dozen are known to have the cache to benefit at the tier Biden just operated.
Hours after Hunter Biden's deal was inked, it was revealed Joe Biden had been informed and was fully and completely aware that Titan has imploded within two hours of its launch Sunday morning. All on board had been killed. (For now I'll say killed instead of murdered, but I digress).
There's an old adage: You can see fire without smoke, but you don't see smoke without a fire.
This story doesn't stop with Biden's benefiting from corruption that surpasses the role "Otis" Winfrey, who plays "Oprah" when in public (sardonic sarcasm intended), allegedly benefited from in shilling for Obama at the church of Jeremiah Wright Jr.
Arguably the most evil beneficiaries of this scam are also Biden and family. That's because, even though the media were well aware of the agitprop there were pumping out, they took an example from the playbook of a vile old hag named Hillary Clinton and basically let their actions shout: "What does it matter?"
Tens upon tens of millions of dollars are poured into cable and network news outlets collectively by way of advertising around-the-clock and specifically during the prime-time gold hours throughout the day and evening.
The way the game is/was played is "No crisis should ever go to waste"; exploit it for all you are worth.
The money poured into the mainstream media, and the mainstream media laundered it through their banks and sent it bank to Democrats, specifically the Bidens, in the form of campaign donations, donations to Biden foundations and causes he and his crime family support. It's as close to a perfect crime as one can get. And it works every time.
The only thing required is that the person in charge be a sociopath, i.e., that is be completely without care, concern or remorse for everyone you crap on and destroy in the pursuit of your gain. That renders one free of the capacity for shame or embarrassment.
It's a con game with which Capitol Hill is fully aware, but has zero interest in ending – which is one of the chief reasons for the visceral hatred of President Trump. He will end it, along with the Chinese money pouring in through lobbyist fronts and foundation donations, etc.
What I've presented isn't unprovable because it's untrue; it goes unaddressed because if one talks, they wake up dead or they're implicated and indicted in some other corruption they participated in or their close friend(s) are involved in.
It's not that these people, specifically Biden and his family, aren't guilty as sin for everything they're accused and in many instances flagrantly guilty. It's a question of who dares bring them to justice? This is another reason they hate President Trump as they do. They know: 1) He will drain the swamp, and 2) There's nothing on him, or they wouldn't be inventing mickey-mouse crimes.
© 6.26.2023 by Mychal Massie, "World Net Daily". (H/T Pastor Tom).
A Day In The Life.
Up at 6:15a on Friday, I went thru my finger stick to check my BSL (Blood Sugar Level) and recorded it on my Diabetes 2 chart, made coffee and had a light breakfast, took two 50mg Tramadol and a 300mg Gabapentin for various lowqer back/hip/elbow pains, fired-up the Win-7 Pro x64 Pentium HP desktop to let 32 million lines of code load, had a couple smokes in the cool garage and checked the leftover errands list.
It was a damp, cool, smoky, hazy 64°, and *Very Unhealthy Air Quality Alert* morning, with no sun visible, yet. I tuned into the Chris Stigall Show LIVE, 6-9, and then over to the Chris Plante Show LIVE, from 9-12, and left at 8:45 for the New Eastern Farmers' Market, here in East York. I left at 8:45, got my goodies, and was back by 9:30, and uhpacked. Traffic wasn't heavy... yet ... and I had lunch all planned out. The rare ornamental grass I have in the front of the condo's gardens -- Miscanthus sinensis "Morning Light Maiden" Grass -- needede to be tied-up, due to the heavy rain and t-storms we had last week, beating it down. I also called Brownie's Glass Co for a tech to stop by and have a look at one of the three 4ft x 9ft dbl-glass poanels in my office-sunroom, which has a water drip mark from the top center down to near the bottom. Hopefully, they won't have to remove it and the other glass panel and caulk/reposition them. They completely replaced the R/S 4x9 panel, back in 2011, when the lawnmower company broke it, with an ejected stone from one of their riding mowers. My Homeowner's Insurance paid the $1,400 for that jopb, minus the $250 deductible.
Welcome to the Matrix. Orwell's "1984" was a warning, not an instruction manual.
The Supreme Court on Friday struck down President Joe Biden's student loan forgiveness plan, denying tens of millions of Americans the chance to get up to $20,000 of their debt erased. Libtard heads continue to explode, worldwide. Heh.
After a large lunch, I laid down, very tired, on the 96" x 3ft uver-confy couch, and slept for some 3+ hours. I woke-up groggy, well-rested and after going out for a smoke, and having a hard time breathing. The haze and smoke was so bad, so I grabbed my Comvivent Respimat 20mg/120mcg (Ipratropium bromide/salbutamol) Emergency Inhaler, which spews a mist and opens-up my lungs, immediately. I use it 4-5x/ day, anyway, just to keep my COPD under control. By 6p, I'd made dinner, and watched the news, and "Gold Rush" on Discovery. Shit-for-brains Comcast/xfinity screwed-up the ROKU TYV format, making us all jump thru multiple hoops, to re-registerr and simply operate the streaming TV channels. After 18 tries, I got that figured out, and put-off the rest of it until tomorrow. I watched some new episodes of "Mine Rescue: Freddy & Juan", until midnight, and called it a day.
Awake at 7a on Saturday, almost a carbon-copy dupe of yesterday's weather: a very warm 73°, almost 80% humidity, *unhealthy air quality*, smoke-overcast, smells like campfires, dew on all things, BIG t-storm system coming our way from Midwest etc. The air is so bad, that I can't stay out for a smoke, very long. I tuned into yesterday's Tucker on Tw3itter, Ep 8: "Fat Guy In A Halloween Costume", and then to some of Chris Stigall's podcasts from last week, and scanned the morning news and weather pages.
"Like a flamethrower, or maybe a broken greenie wind turbine, France's riots -- which have now spread to Belgium -- aren't really an issue of minority outrage against the police -- they are spinning out of control. Sure, the trigger was a police shooting of a North African-origin youth, which caught the elites off guard with their collective-guilt complex, but the sentiment here was never a call "change," or "justice," or any of the claims in the press -- it's about power -- and burning it all down." France and Europe will pay the deadly price for allowing all those muslim(SPIT!) and black criminal, illegal alien invaders, into their countries, and giving them more perks and benefits than their own citizens. As we will, here in America, real soon; if not this Summer, then surely next year. Get "prepped", arm-up and be ready when it happens. It's coming.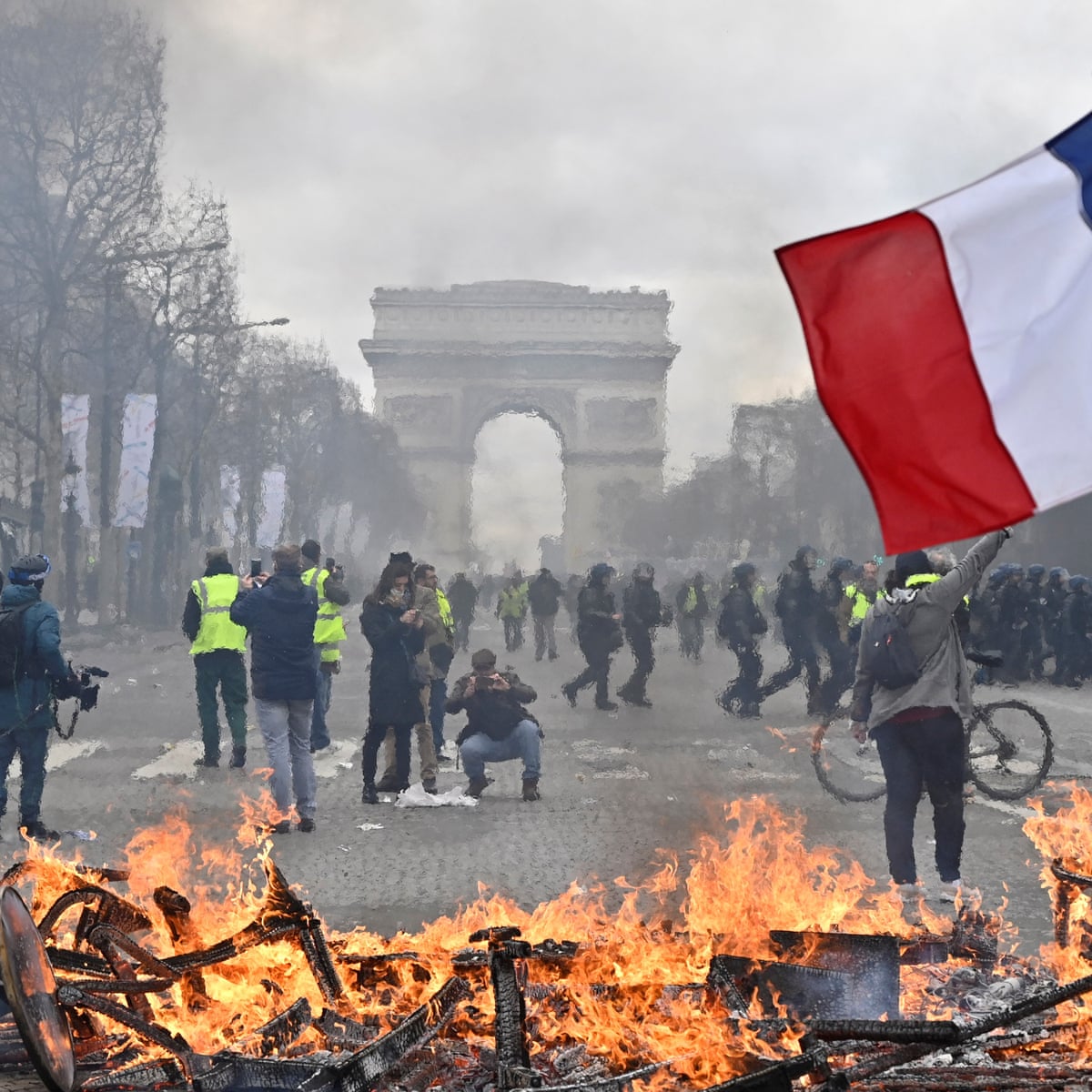 As with California, New York, Illinois, Maryland, Oregon, Washington, Vermont, Massachusettes, Connecticut, Pennsylvania and -- I probably missed a couple -- Michigan has officially gone off the "mental deep end" of the wading pool, so that now'intimidating' an individual, causing someone to feel threatened by words, in regards to their gender identity can result in prison time (5 years) or a $10,000 fine. Somebody slug me, and wake me up.
After lunch, I grabbed a 2hr snooze, did some condo chores and gardening, had dinner and watched more old episodes of "Gold Rush" until 11:30p. The t-storms started late evening and continued into the morning. The F-1 Austrian Gran Prix is on tomorrow from 9a-11, on both F-1 TV and ESPN, and there's an IndyCar Race at Mid-Ohio at 1:30p, so I'll be up at 6a (with alarm) to get a few things done before the F-1 race starts. Lights out.
Awake and up at 5:30a on Sunday, before the danged alarm, to a 71°, overcast, only *poor air quality* so far, campfire smell, 80% humidity and t-storms on the way from the west. I made coffee, had a croissant for breakfast, and tuned in the F-1 Austrian Gran Prix on the ROKU streaming F-1 TV channel. I'd give $5 for some clean air, a nice breeze and blue skies. No air or even a small breeze; it again felt like a wet sauna. I had 2 loads of laundry to do, and some other chores, but stayed-in all day, watching an IndyCar Race in the afternoon; then getitng a 2hr nap on the LR couch. I went out around 6p, only to find the skies had cleared and opened-up, letting fresh air and blue sky arrive, driving the smoky haze and overcast east to NJ and NY. Nice wind and good smelling air!
We were under a ***SEVERE THUNDERSTORM ALERT*** from 4:30 to 11p, and some 25 PA counties are involved. That didn't happen as forecast; the storms broke-up over the Appalachian Mtns, as usual, and passed thru the area harmlessly. My neighbor called to invite me over for food and drinks, and to watch the fireworks, at Springettsbury Twp Park, just below our condo complex. I passed on the food, since I was full, but partook of the 8% seltzer canned drinks. I stayed until 11p, after 3-4 drinks, came home, shut the conmdo down, and hit the sack.
I slept-in until 8a on Monday, an overcast, a very warm 75°, *Poor Air Quality*, very humid morning with little or no breeze. No hangover. I made coffee, had a few smokes in the humid, wind-lessgarage,a dntuned into the "CP Show", but the crappy sub was still there. I'd heard the garbage truck come thru around 7a, but the recycle bin still hadn't been picked-up. I had some errands to do, before Sherry comes over to my condo, and we'd pile into my Jeep to go down to the nearby Springettsbury Twp Park. I didn't get the errands done, so I'll do them tomorrow; nothing critical. We had a great time walking and then wqent back to my condo to relax and rest. Sherry left around 4:30, and I noticded the sky turning ugly. I went to Accuweather.com to see the weather maps in motion. It was ugly...
---

*** SEVERE THUNDERSTORM WARNING ***
• HAZARD: Wind gusts up to 50-70 mph and golfball-to-baseball-sized hail.
• SOURCE: Radar indicated.
• TIMING: 2:30 PM EDT
to
10:00 PM EDT.
• IMPACT: Gusty winds could knock down tree limbs and blow around unsecured objects. Serious golfball-sized hail damage to residences, cars, vegetation likely.
• AFFECTED AREAS: IN PENNSYLVANIA THIS WATCH INCLUDES 30 COUNTIES:
• IN CENTRAL PENNSYLVANIA:
• ADAMS COLUMBIA CUMBERLAND DAUPHIN FRANKLIN LANCASTER LEBANON MONTOUR NORTHUMBERLAND PERRY SCHUYLKILL YORK.
• THIS INCLUDES THE CITIES OF BERWICK, BLOOMSBURG, CARLISLE, CHAMBERSBURG, DANVILLE, GETTYSBURG, HARRISBURG, HERSHEY, LANCASTER, LEBANON, NEWPORT, POTTSVILLE, SHAMOKIN, SUNBURY, WAYNESBORO, AND YORK.
• If outdoors, consider seeking shelter inside a building. A Severe Thunderstorm Watch remains in effect until 10:00 PM EDT for south central Pennsylvania. Thunderstorms with locally heavy rain are expected across the watch area this afternoon and this evening. Rainfall amounts of 1-2 inches with localized amounts up to 4 inches are possible. These totals may result in flash flooding.
• Issued By State College (at Penn State) -- PA, US, National Weather Service.


---
I measured 3/8" in the rain gauge, and the humidity just got worse, to 85%. I had dinner, watched TV news and some car-related shows I hadn't seen in months. Lights out at 11:30p.
Happy 247th To Us!
Awake at 6:30a and up at 6:45, I made coffee, had several smokes in the garage, fed the squirrels, and thanked the Lord for another day, as with every day and night. It was a warm and very humid 71°, drying-off from last evening's welcomed deluge -- I measured ½" -- and the Flora & Fauna were most pleased. I scanned the news and weather. Happy July 4th weekend in dem-controlled cities; the slaughter toll so far: Philadelphia 5 killed, 2 children injured, and Baltimore 2 dead, 28 shot, and Chicago 3 dead, 30 shot/a> and Ft Worth 3 dead, 8 shot. Nice "holiday", courtesy of the feral, knuckle-dragging, ghetto rats.
It's hard to believe that we've just entered the 3rd Qtr of the year; it's gone so fast. The humidity is, once again, oppressing at 65%, and gets worse as temps climb. At 9:30a, it was already 81°, and forecast to get to 88°, with only *Fair Air Quality*. Sitting on the back patio, after it dried out, was tolerable, since it had a breeze; the garage is like a wet sauna bath. I left at 11a fort Rutter's and Rite Aid, got all I wanted -- and then some -- and was back just before 12noon. After Pot Roast fore lunch, I did some condo chores, turned-on Talk Radio, and grabbed 2hrs on the LR couch.
I ran a Norton 360 Smart Scan and did a Back-Up on my HP Desktop Unit, running Win-7 Pro x64, and did some other maintenance tasks. I set the Norton 360 System on automatic, with specified days and times, for Smart Scans and Full System Back-Ups, on to my External Western Digital (WD) "My Book" `1-Tb Hard Drive. A neighbor called, was having a party in the dbl-garage, and after dinner, I went over to drinks and friends, until 11p.All of them go to work in the morning; I can sleep in.
Up at 7:30a on Wednesday, it was a sunny, 75°, very humid and no breeze morning, and forecast to hit the low-90s. At least I could see *blue sky*, instead of the milky-white hue, of wildfire smoke from Canada, today. I had a smoke while coffee brewed in my Chemex Ottomatic v2.0, and that first mug was great, as usual. All were great, so I made a 2nd carafe, to get me thru the morning. I tuned into the "CP Show" from 9-12; then went on several errands afterward, including food shopping. Back by 1:30p, I unpacked and put everything away, sat down to listen to some Talk Radio, but 'Bonehead' Bongino had a sub on, so I went to some "CP Show" podcasts. And to the LR couch, for a 2hr nap.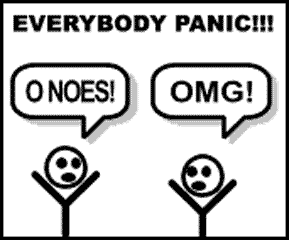 After dinner, I watched History's "American Pickers" new 25th season, all evening, while not going out much onto the patio or in the garage, as there was no breeze, too much humidity and heat. By 11p, I was fading, and called it a day. Lights out.
Up at 7a on Thursday, it was another *Code ORANGE RED Air Quality Alert*, 75°, overcast and partly sunny morning, with no wind or breeze. According to CBS, yesterday was the 3rd hottest day on record. BS. While the computer fired-up and the coffee brewed, I had a smoke in the garage. Forecast to hit 91°, Sherry and I'd be walking inside the massive York Galleria, today at 1p.
The Net was really slow, today, so far. I tuned into the "Chris Stigall Show", from Killadelphia, finished-off the first carafe of House French Dark Roast Coffee, and made another. I couldn't sit in the garage and smoke; the heat/humidity combination was too stiffling; instead I used the back patio, and even there, with not so much as a breeze, it was real stuffy.
The popcorn clouds (Cirrocumulus) dominated the sky, trapping the heat, so these BS Climate Experts say, which is abject bullshit; factoid -- the Earth warms and cools, depending upon the SUN. We're in a *cooling period* now -- fewer sunspots -- but hot spots on Earth aren't unusual. THEY'RE NOT GLOBAL WARMING, libtards, but they are a small part of Climate Change. Jeeez, I'm so sick of everyone being in *panic mode*, all the time.
I had a buttery Croissant for breakfast, 3 Carafes of French Roast Coffee, a wonderful Salad for lunch, and Sherry came here, so we could ride together to the Galleria Mall. After 1½ hours, we went back to my place, for a couple hours, and she left at 5:30. Damn, I missed her before she left. We'll talk over the weekend, and plan next week's adventures. Heh.
I had Stuffed Cabbage Rolls, for dinner, had a smoke on the back patio, and heard 'rolling thunder', temps dropped 10-15°, and it looked like a major t-storm was coming our way. Then, it dissipated and just moved south, passing harmlessly. Soon enough, temps went back up, as the t-storm moved southeast. Good enough.
I watched "Mecum Auto Auctions" on Motor Trend TV, until 11:30p, and called it a week.
Tomorrow starts a new week here in the "Journal", and I only have two app'ts -- a haircut and a therapeutic massage -- next week, so it'll be another easy week. No Dr's app'ts, until next month. Doesn't suck to be me!
What The Fourth of July Was Not
Our national Fourth of July holiday—currently the nation's 247th since the first in 1776—marks the birth of the United States.
The iconic Declaration of Independence was published on the 4th and largely written by Thomas Jefferson. Its core sentence would become among the most famous words in American history:
"We hold these truths to be self-evident, that all men are created equal, that they are endowed by their Creator with certain unalienable Rights, that among these are Life, Liberty and the pursuit of Happiness."
Those aspirations at the outset pledged the new American nation to hold to its promises "that all men are created equal."
In other words, so-called white males established a foundational document whose inherent logic was that the millions of Americans not yet born—who would not necessarily look like them, or share their ancestry—would become their political equals.
Most nation founders do not envision the future of their country in terms that might not privilege those of their own tribe.
In contrast, today it would be difficult for a foreign national to become a full-fledged Chinese, Mexican, or Iranian citizen, with full equal rights, who either did not look like, or embrace a religion different from, the majority population.
What followed from the Declaration was a constant demand from many quarters for America to live up to its own exalted words.
Eighty-five years later, that promise culminated in a horrific Civil War that cost 700,000 American lives to remove the stain of slavery, and to honor the promise of the Fourth.
"All men are created equal" further entailed another century of protest and reform, until the Civil Rights movement of the 1960s finally enshrined into law equality of opportunity statutes.
But note what the Declaration was not.
There was no full embrace of all the later French Revolutionary slogans of Liberté, égalité, fraternité.
Instead, the Declaration promised that all men should start out equally through guaranteed protections to live their lives as they please and ensure their liberty.
The new government made, then, no claims that all Americans must be egalitarian. There was no promise that Americans must be equal in all aspect of their lives—or else.
Such mandated sameness might threaten the idea of "liberty," and the ability of each citizen to pursue one's own version of happiness.
Nor did the Declaration pledge a common "fraternity." Americans were under no compulsion to embrace some collective brotherhood or shared orthodox political sentiments.
So Americans would not be ensured an equality of result—or what we may know now as "equity."
Unlike other revolutionary governments, the founders of America never promised to create utopian "new men" who would become alike in all aspects of their being.
The foundational date of our "new order" was canonized as 1776. Yet note it was not some pretentious Jacobin "Year 1"—as if everything in the past was to be erased.
Unlike revolutionary France's 1789 "Declaration of the Rights of Man," the American Declaration was far more modest in its confidence in what government could or should achieve.
Jefferson inserted no such French wording about government power concerning "social distinctions" or "disturbing the public order" or "in proportion to their means."
Other republics birthed parliamentary systems.
They usually spawned multiple splinter parties. They were characterized by sudden creations and collapses of ruling governments, depending on volatile public mood swings.
Often backroom deals were common to appoint new presidents and prime ministers—or dismiss them.
Instead, our Constitution, in classical fashion, established a bicameral Congress, an executive president and a supreme court.
Their quite different powers were all checked and balanced by one another.
Then their prerogatives were further limited by a federal system of individual states' rights to form their own laws not entailed by the Constitution.
Regularly scheduled elections, a formal Bill of Rights, a two-party system, and a single continuous Constitution naturally followed.
Few consensual governments have ever emulated the more difficult American model—and thus so far never achieved a 247-year continuity of a single republican system.
Certainly, Americans went through a variety of crises that challenged the viability of the Declaration—the Civil War, the Great Depression, two World Wars, the culture war of the 1960s, and the current woke revolution of the 2020s.
Terrible laws of discrimination were and are still sometimes passed contrary to both the Constitution and the Declaration.
But so far, the sparse wording of the Declaration has prevailed.
America's Constitution was not hijacked by the likes of a French Napoleon.
There has been no Nazi take-over of our democracy as in 1930s Germany.
We have not been plagued by dozens of brief ad-hoc coalition governments akin to Italy's volatility.
So on this Fourth let us cherish the Fourth of July for what it promised -- and what it thankfully did not.
© 6.3.2023 by Victor Davis Hanson, "American Greatness".
8 Signs That The Futuristic Control Freak Agenda Of The Globalists Is Rapidly Moving Forward.
The future is here, and if you enjoy being dominated by control freaks you are going to love it. "Digital identification" is one of the primary areas the globalists are focusing on right now, and as you will see below, the radical changes that are now being proposed are extremely scary. But most Americans have no idea that any of this is happening. Instead, many of them are obsessing over the relatively meaningless dramas that our corporate news outlets are constantly pushing. Meanwhile, the globalists are achieving their goals at lightning speed, and there is hardly any resistance at all. The following are 8 signs that the futuristic control freak agenda of the globalists is rapidly moving forward…
#1 Starting in September, the EU will "mandate" that all member states offer a "digital identity wallet" to all of their citizens and businesses…
The European Union will mandate digital identity under eIDAS 2.0, which will go into effect in September 2023 and ensure all Member States offer a digital identity wallet (DIW) to citizens and businesses. According to the European Commission, "At least 80% of citizens should be able to use a digital ID solution to access key public services by 2030."
#2 A system of "digital fingerprints" for Americans has suddenly become Barack Obama's biggest issue…
Former President Barack Obama suggested in a new interview the development of "digital fingerprints" to combat misinformation and distinguish between true and misleading news for consumers.
Obama sat down with his former White House senior adviser David Axelrod for a conversation on the latter's podcast, "The Axe Files," on CNN Audio. During the interview, Axelrod noted he's seen "misinformation, disinformation, [and] deepfakes" targeting Obama.
#3 A UN policy brief that you can find right here is proposing a global system of digital identification that is linked to our bank accounts…
Digital IDs linked with bank or mobile money accounts can improve the delivery of social protection coverage and serve to better reach eligible beneficiaries. Digital technologies may help to reduce leakage, errors and costs in the design of social protection programmes.
#4 The World Health Organization has adopted "the European Union (EU) system of digital COVID-19 certification" and plans to transform it into a "global system"…
In June 2023, WHO will take up the European Union (EU) system of digital COVID-19 certification to establish a global system that will help facilitate global mobility and protect citizens across the world from on-going and future health threats, including pandemics. This is the first building block of the WHO Global Digital Health Certification Network (GDHCN) that will develop a wide range of digital products to deliver better health for all.
"Building on the EU's highly successful digital certification network, WHO aims to offer all WHO Member States access to an open-source digital health tool, which is based on the principles of equity, innovation, transparency and data protection and privacy," said Dr Tedros Adhanom Ghebreyesus, WHO Director-General. "New digital health products in development aim to help people everywhere receive quality health services quickly and more effectively".
#5 Federal agencies in the United States have been purchasing massive amounts of information about U.S. citizens from data brokers, and we are being warned that such information could potentially be used for "blackmail, stalking, harassment and public shaming"…
Federal agencies are secretly accumulating mountains of data that could be used for "blackmail, stalking, harassment and public shaming" of American citizens.
That allegation doesn't come from a pink-haired civil-liberties fanatic — it's in a new report for the nation's chief spymaster, Avril Haines.
#6 It has been revealed that the Pentagon has been using very creepy online tools in order to "covertly track, locate and identify anyone expressing dissent or even dissatisfaction with the actions of the U.S. military and its leadership"…
In a shocking report published by The Intercept on June 17, details have emerged of a U.S. national security surveillance strategy to covertly track, locate and identify anyone expressing dissent or even dissatisfaction with the actions of the U.S. military and its leadership.
The measures, undertaken by the Army Protective Services Battalion, fall under their remit of safeguarding top generals from "assassination, kidnapping, injury or embarrassment."
#7 As I discussed yesterday, the UN has developed a global fact-checking system known as "iVerify" in conjunction with big tech companies and Soros-funded organizations. The goal is to be able to police "disinformation" and "hate speech" all over the planet…
The United Nations has unveiled an "automated" fact-checking service to counter so-called disinformation and hate speech on the internet in a project partnered with Big-Tech and Soros-funded organisations.
In response to what they brand as "online information pollution", which they claim is a "global challenge", the United Nations Development Programme (UNDP) has launched its iVerify platform to counter alleged disinformation and hate speech online.
#8 The IMF is publicly admitting that it is constructing "a global CBDC platform" for all of the national central bank digital currencies that will soon be rolled out…
During a presentation at a conference in Morocco, Kristalina Georgievahe the managing director of the International Monetary Fund (IMF) announced that the global body is "working hard on the concept of a global CBDC platform."
Georgieva declared that Central Bank Digital Currencies need to be interoperable between countries, noting "If we are to be successful, CBDCs could not be fragmented national propositions."
"To have transactions more efficient and fairer, we need systems that connect countries," Georgieva continued, adding "In other words, we need interoperability."
If you can read through that entire list without becoming extremely alarmed, I don't know if there is any hope for you.
The globalists are building a worldwide digital control grid which would potentially give them unprecedented power over the lives of every man, woman and child on the entire planet.
Under such a system, if you insist on being a rebel, your access to the digital system could be revoked completely.
What would you do then?
How would you survive if you could not buy, sell, get a job or open a bank account?
The extremely advanced technology that we possess today has allowed us to do a lot of really good things, but it also has the potential to be used to impose tyranny on a global scale.
We must resist these changes that the globalists are trying to impose on us.
Unfortunately, most Americans are not even talking about these changes, and that is because the mainstream media is telling them to focus on other things.
Michael's new book entitled "End Times" is now available in paperback and for the Kindle on Amazon.com, and you can check out his new Substack newsletter right here.
© 6.20.2023 by Michael, "The Economic Collapse".
World Now Wasting $1 Trillion Or More Per Year Investing In Useless "Renewables".
The world is currently filled with government-, corporate-, and billionaire-funded organizations advocating for a transformation of the energy system to "clean" and "abundant" renewables. In my post a week ago, I described the International Energy Agency — a consortium of governments (now 40+ of them, including all the major ones) originally formed in the 70s to combat the OPEC oil embargo of the time, but since transformed into a "a center of advocacy for elimination of fossil fuels from the world's energy supply." For today, here's another one you may or may not have heard of — the Energy Institute. EI is a London-based advocacy organization set up under the UK charity laws. It appears to receive its funding largely from corporations and wealthy individuals. On its home page, it describes its mission as "creating a better energy future for our members and society by accelerating a just global energy transition to net zero."
Let's review the latest from these two groups.
In May 2023, the IEA issued a big Report (141 pages) with the title "World Energy Investment 2023." They also put out a separate summary document called "Overview and Key Findings." The main point of this Report is to document and celebrate the tremendous swing over the past decade in world energy investment, away fossil fuels and into "renewables," particularly wind and solar. From the summary document:
The recovery from the slump caused by the Covid-19 pandemic and the response to the global energy crisis have provided a significant boost to clean energy investment. Comparing our estimates for 2023 with the data for 2021, annual clean energy investment has risen much faster than investment in fossil fuels over this period (24% vs 15%). . . . We estimate that around USD 2.8 trillion will be invested in energy in 2023. More than USD 1.7 trillion is going to clean energy, including renewable power, nuclear, grids, storage, low-emission fuels, efficiency improvements and end-use renewables and electrification. The remainder, slightly over USD 1 trillion, is going to unabated fossil fuel supply and power. . . .
IEA provides the following chart to illustrate how investment in fossil fuels and related infrastructure has shrunk from the majority of world energy investment in 2015, to a rapidly diminishing minority in 2023: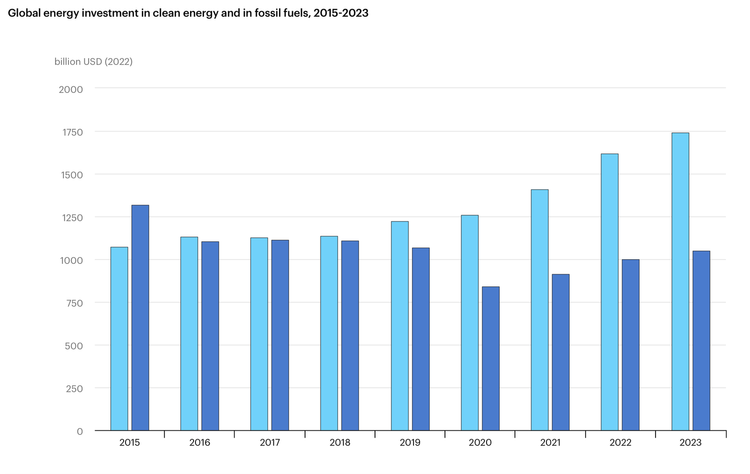 To be fair, not all of the $1.7 trillion of estimated 2023 investment in what they call "clean energy" is in wind turbines and solar panels. Other charts make clear that the $1.7 trillion figure includes other things like grids, storage, and even nuclear. How much 2023 investment is going into just the wind and solar facilities for the electric power sector? This chart would put that figure at close to $700 billion:
Meanwhile, much of the investment in what they call "grids," and all of the investment in storage, is being made to to accommodate the addition of wind and solar generation to the electricity supply system. Add most of the nearly $400 billion investment in "grids and storage" to the nearly $700 billion in "renewables," and you get something close to or even more than $1 trillion per year. This amount is close to, or even more than, the total amount from the previous chart of investment in fossil fuels in all sectors (not just electricity generation).
And the massive investment in renewables has been going on for a while. According to the first chart above, the amount of investment in "clean energy" first exceeded the investment in fossil fuels in 2016, and the gap has widened greatly in more recent years.
So clearly fossil fuels must be fading quickly from the world energy picture. True? You won't find the answer in this IEA Report. Therefore we turn to EI's Statistical Review of World Energy, just released on June 26. (It appears that this Statistical Review is the annual publication previously issued by the oil major BP; EI has now assumed responsibility for the publication.) This Statistical Review contains comprehensive final figures for world energy production and consumption in 2022.
Things start out looking rosy for wind and solar. From the "five key takeaways" at the beginning of the press release:
The strong pace of deployment of renewables in the power sector continued, driven by solar and wind. 2022 saw the largest ever increase in wind and solar new build capacity. Together they reached a record 12% share of power generation, with solar up 25% and wind up 13.5%.
So, then, fossil fuel generation must be down? Actually, no. Pay attention to the spin:
Global electricity generation increased by 2.3% in 2022. . . . Renewables (excluding hydro) met 84% of net electricity demand growth in 2022.
In other words, the massive investments in wind and solar additions for electricity generation were not even sufficient to keep up with demand growth, let alone displace even a bit of existing fossil fuel generation. Even in the electricity sector, fossil fuels continued to grow. And the electricity sector is only about a quarter of primary energy consumption.
Here's the big picture: Primary energy demand . . . in 2022 increas[ed] 1.1%,
Global electricity generation increased by 2.3% in 2022,
Fossil fuel consumption as a percentage of primary energy remained steady at 82%,
Carbon dioxide emissions from energy use, industrial processes, flaring and methane (in carbon dioxide equivalent terms) continued to rise to a new high growing 0.8% in 2022 to 39.3 GtCO2e, with emissions from energy use rising 0.9% to 34.4 GtCO2,

Bottom line: it's now $1 trillion per year, plus or minus, invested in wind and solar "renewables" plus grid upgrades and energy storage needed to accommodate them. And for that vast sum of money, the percent of primary energy from fossil fuels does not budge by even a tenth of a percent. And, as world energy consumption increases, carbon emissions just continue to increase. The trillion is just completely wasted.
© 6.29.2023 by Francis Menton, "Manhattan Contrarian".