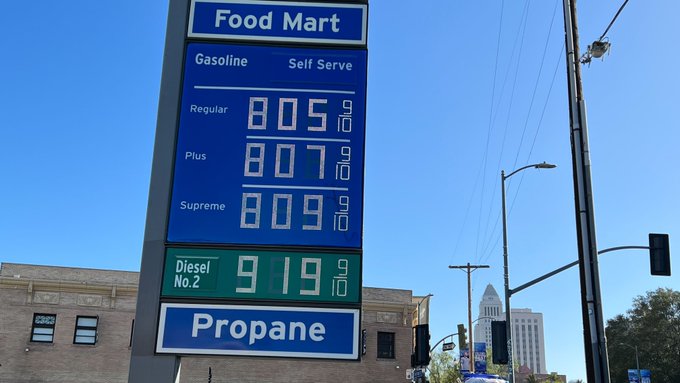 don't resist 'painful global transition'
friday, june 3
rd

, 2022

If you don't think that Bidet&Co's plan isn't to spread the misery of everyday skyrocketing living inflation in every category, outrageous spending, budget crisis, shoplifting and theft, general social unrest, persecution of American Citizens around, to get us all to ditch our SUVs, trucks, minivans and other ICE (Internal Combustion Engine) vehicles, and buy EVs (Electric Vehicles), you need to pause and rethink it. And yes, that graphic above is real. It's a Chevron station in LA. Get ready: even worse is ahead, little-by-little.
The reason the so-called "globalist elites" love their relatively-newfound (remember that they ditched the "global warming" crap, a few years back) "climate change" hysteria is because it gives them a license to bring forth the most intrusive new technologies, all in the name of "saving the planet". For five decades they've told us that "we're just ten years away from extinction", and for some strange reason, many still believe those morons. They play on this ignorance to get people to willingly forgo freedom, privacy, and common sense, for the sake of perceived security. That is pure evil.
Here's the article that should give you more than just "chills"...
The Left is coming for our Rights.
Echoing President Biden's comments (of a bright side to record-high gas prices), two European leaders at the World Economic Forum meeting in Davos, Switzerland, described the record gas prices as part of a "painful" period of "transition" to alternative energy that should not be resisted. [FULL TITLE: "Davos elites warn nations not to resist 'painful global transition'."]
German vice-chancellor Robert Habeck, as Summit News reported, said Monday that governments should not seek to protect their citizens from the consequences.
And Norwegian finance CEO Kjerstin Braathen described the energy crisis as a "transition" full of hardship but insisted the "pain" is "worth it."
Biden, meanwhile, said Monday that the pain at the pump was part of "an incredible transition" of the American economy away from oil and natural gas.
"[When] it comes to the gas prices, we're going through an incredible transition that is taking place that, God willing, when it's over, we'll be stronger and the world will be stronger and less reliant on fossil fuels when this is over," Biden told reporters after his meeting with Japanese Prime Minister Fumio Kishida.
Biden insisted that, nevertheless, his administration's actions have been able to keep the energy crisis "from getting worse —- and it's bad."
Germany's Habeck emphasized that the long-term issue of "climate change," which was the focus of the Davos conference two years ago, must be a prime consideration. And he said the world must no longer be beholden to the "rule of the markets."
"We have to state that we collaborate in one world and have some solidarity in the world, but, therefore, we have to change the rule of the markets as well," he said.
Braathen acknowledged the pain high gas prices inflict on small and medium businesses.
"We need to accept that there will be some pain in the process," she said. "The pace that we need (to transition to alternative energy) will open up for missteps. It will open up for shortages in energy. It will open up for inflationary pressures. And maybe we need to start talking about it now. Because that pain is worth it."
Biden has contended the record high gas prices are largely due to Russia's invasion of Ukraine. But a video montage of the president's vows during the 2020 campaign to "eliminate" traditional forms of energy, along with his actions on his first day in office, suggest there are other factors in play.
In a July 2019 primary debate with his Democratic Party opponents hosted by CNN, Biden was asked, "Would there be any place for fossil fuels, including coal and fracking, in a Biden administration?"
"No," he replied. "We would work it out. We would make sure it's eliminated."
Biden's campaign later clarified that "eliminating" oil-based energy meant ending subsidies for the industry and transitioning by 2050 to an economy with net-zero emissions.
Last Thursday, however, Sen. Josh Hawley, R-Mo., tied the president's policies to the record-high gas prices in an exchange with Secretary of Energy Jennifer Granholm.
Granholm told Hawley "you can thank the activity of Vladimir Putin for invading Ukraine."
The senator shot back: "With all due respect, madam secretary, that's utter nonsense."
Hawley argued that long before the Russian invasion -- from January to August of 2021 –- "the price of gasoline was up over 30% in my state alone."
"It has been a continuous, continuous upward tick since then," Hawley said.
"And here's what your president did when he first came to office. He immediately reentered the Paris Climate Accord. He canceled the Keystone Pipeline. He halted leasing programs in ANWR. He issued a 60-day halt on all new oil and gas leases and drilling permits on federal lands and waters. That's nationwide," Hawley said.
The senator noted the halt affected 25% of U.S. oil production.
"He directed federal agencies to eliminate all supports for fossil fuels," Hawley continued. "He imposed new regulations on oil and gas and methane emissions. Those were all just in the first few days. Are you telling me that had no effect on our energy supply?"
On March 31, Biden announced his decision to release oil from the Strategic Petroleum Reserve, promising prices at the pump would "continue to come down -- it will come down and it could come down fairly significantly."
Economists warned that the move could make gas even more expensive, and less than two months later, the average gas price has surged to $4.59.
© 5.24.2022 by Art Moore, "WND".
[JS: With over half the Nation at high risk this Summer, for rolling black-outs and power outages, they want to tax an already over-stressed and ancient energy grid, to the max. EVs are very heavy from lugging all that battery weight around. EVs emit other dangerous particulates unlike benign CO2. EVs are very prone to fires as the Felicity Ace carrier ship can attest to. More than 25% of all current charging stations nationwide, don't work. Sure, there are plenty of gas stations, nationwide, but there is NO INFRASTRUCTURE TO SUPPORT EVs. So they'll have to spend hundreds of billions of our hard-earned tax dollars, to build a capable charging station network, which will take many, many years. The federal monetary subsidies we all pay for, hidden in our taxes is huge. The toxic and hazardous chemicals in EVs are worse than anyone imagines. And, battery disposal is a toxic time bomb, waiting to happen. Automotive manufacturers are trying to shove vehicles down our throats and no one wants them. EVs are becoming more and more unaffordable, for a variety of reasons. Here's why our leftist government wants us all in EVs. Screw all that EV crap; give me a V8 ICE (Internal Combustion Engine), anytime.]
A Day In The Life.
Up at 8a on Friday, I went thru my finger stick to check my BSL (Blood Sugar Level) and recorded it on my Diabetes 2 chart, made Kona Coffee and breakfast, had a couple smokes in the cool garage and checked the leftover errands list. It was a very warm 70°, and major t-storms, heavy rain and an ***AREAL FLOOD WATCH*** were forecast. Perfect. I listened to the final 30min of the Chris Stigall Show (6-9am), and then switched to the Chris Plante Show (9-12noon) for the rest of the morning. It seems that we can't get thru a week without some sort of a weather warning... but hey, it's Spring. We're just lucky we don't have (too many) tornado warnings.
---

***AREAL FLOOD WATCH***
From
03:48am EDT, May 27 2022
until
10:00pm EDT, May 27 2022
•WHAT: Flash flooding caused by excessive rainfall is possible.
• WHERE: A portion of central Pennsylvania, including the following counties, Adams, Cumberland, Dauphin, Franklin, Lancaster, Lebanon, Schuylkill and York.
• WHEN: From 2 PM EDT this afternoon through this evening.
IMPACTS: Excessive runoff may result in flooding of rivers, creeks, streams, and other low-lying and flood-prone locations. Flooding may occur in poor drainage and urban areas.
ADDITIONAL DETAILS: Heavy showers and possible thunderstorms could train northeast across the same locations leading to between 1 and 2 inches of rain in just 30 to 60 minutes. A few locations could see rainfall totals in excess of 3 inches this afternoon and evening.
PRECAUTIONARY/PREPAREDNESS ACTIONS:
You should monitor later forecasts and be prepared to take action should Flash Flood Warnings be issued.


---
After checking my "to-do list", I had nowhere to go and nothing to do and no one to do it with, so I decided to just stay in, also due to the massive amount of holiday traffic on the roads.
I don't remember what I forgot.
Good grief! Why is America (and the world) subject to the lowlife, seamy, gutter bullshit of the Depp-Heard trial, every day? Those two Hollyweird assholes are actors, and neither have had acting roles or movies, in many years, so they're acting-out a "movie" for America, in a low-class, seamy, degenerate, much too personal, well-rehearsed and choreographed, planned screenplay of lower-than-low proportions, which does unfortunately enthrall many Americans and of course, the fake news media turdbags. They desperately want to be before the cameras, in the news and center stage, and they're getting it. Enough is enough; get those dirtbags off the news cycle.
It rained until 2:30a, and the humidity level, even at 71°, was high. The gutter cleaners postponed their trip to do the 40 unit condo complex, until next week. I spent the afternoon doing paperwork, filing and printing-out some documents to be left in my Last Will & Testament papers. (No, everything's fine; just catching-up on some lagging, updated paperwork.) After dinner, the rain returned, and I watched Discovery's "Gold Rush" and FNC's "Gutfeld", until midnight. Lights out.
Up at 8a, it was sunny, already 67° and getting warmer. I did the usual routines, had coffee and checked the weather and news. I had a bunch or errands to get done, so I left at 9:30. Traffic was heavy and building, so I took some backroads and shortcuts to avoid it all. Back home by 1p, I unpacked, had a big lunch and did a little gardening. By 2p, I was tired (for no particular reason, other than a full stomach) and grabbed a 3hr snooze on the LR couch. After small dinner, I watched various TV programs, and called it a day at 11:30.
Up at 6a, it was getting sunny and already at 60°, with temps forecast to be in the mid-to-upper 80s. With the F-1 Monaco Grand Prix on at 9, I grabbed breakfast, coffee and a shave & shower, and just made it down to see the pre-race set-ups. The race was delayed due to rain, as the teams switched to rain tires -- or TYRES, as the say in Europe -- and then back to medium dry tires, then hard tires, but not to racing slicks. Monaco is a very tight road course, on city streets with hardly any opportunity to pass. So the way they started, was the way the almost finished. A good race, nonetheless.
I had lunch, did a load of laundry, re-programmed and hooked-up the drip irrigation timer, front and rear garden hoses, did a load of dishes, did some weeding, and the Indy 500 Race came on next. Lots of carnage and mechanical casualties, but a decent race. I was tired and could hardly watch 200 laps on a 2.5 mile oval track, for the 500 miles. Duh. I know I nodded-off a few times. Heh. Tired, I watched some TV shows until 11p, and called it a day.
Up at 7:15a on Monday, Memorial (Decoration) Day. Have you heard about Flanders Fields? I did the usual routines, had coffee, took a Tramadol for R/S pain, and checked the weather and news on the computer. It was already 70° and headed into the 90s, much too warm hot for this time of year. Tomorrow and Wednesday are forecast to be in the 90s, with record-tying (for us) heat and humidity. Yuk. "Mother Nature's In Charge; We're Just Along For The Ride."
The slaughter in the shithole blue-run city, Chicago, continues on Memorial Day Weekend: 38 shot, 6 fatally and it's not even over, yet. Funny how the corrupt, leftist media scumbags don't even mention it. No, not so funny.
I cut some Yellow Itoh® Peonies, wrapped them with wet paper towels and put in a plastic bag, got ready and left to p/u Sister Becky at 11a, to go to the cemetery to decorate Mom & Dad's Niche in the Victorian Chapel of Memories. Here's a good History of Memorial Day. We drove to Lyndon's Diner in West York, had Eggs Benedict and Hash Browns; delicious! I dropped her off, headed toward home, and stopped at my nearby Royal Farms Center to gas-up the Jeep HEMI with 15gals (25gal tank) of Ethanol Free 90oct Premium, at $5.39gal, up from $5.09 just last week. Long trip to PSU-Hershey Medical Center and Hospital coming up, tomorrow. FJB. Let's Go, Brandon!
I noticed this: "The New York Times Slimes, on Memorial Day weekend, blamed American citizens for record-high gas prices, instead of pResident Bidet's War on American energy and our People." Natch. F•ck those leftist assholes.
Back home, I had a light dinner and watched TV until midnight. Lights out.
Awake at 8a on Tuesday, it was already 76°, very humid and the air was loaded with pollen from the Eastern White Pines. I started coffee, did the other routines and sat in the garage having a smoke, but the pollen was terrible, coating everything outside. I was running for Kleenex every 3-4mins. It's going to be an ugly day for record-setting heat/humidity factors, and pollen just makes it worse. It is what it is. I listened to the Chris Plante Show (9-12noon), drank Kona Coffee, lounged around and took numerous smoke breaks in the garage until 12, had lunch and got ready to p/u Becky for the trip to PSU-Hershey Medical Center & Hospital, for my 3p app't. By 11a, it was 87° and climbing.
I left at 12:50p to head north on I83 to Harrisburg, and east to PSU-Hershey. I arrived early, app't was on time with Brandee, Dr Moyer's PA (Physician Assistant), 30 mins, prognosis "Good!". Soon enough, I headed back to York, thru Harrisburg's "massive rush hour". Finally, I made it home to my place around 6:30. I was tired, but had 20+ little tasks to get done, and importantly, opened the Jeep's hood to let the heat out, from the huge HEMI V8, before putting it into the garage.
I grabbed some dinner, finished the little condo chores, at last, and collapsed into my office-sunroom's comfy chair. I need to be at the Jeep Dealer at 8a, tomorrow, to get a R/R electronic shock replaced, and wait for it. So I need to get at 6a, and need to get some sleep tonite. Lights out at 11p.
Up at 6a on Wednesday, I had to hurry to get into the Jeep Dealer, so I rushed thru the usual routines, had coffee, breakfast and a few smokes, and left at 7:30. It was already 71° and headed to the mid-90s. I dropped-off the Jeep, spoke with Kera, my service advisor, and she told me that to get the leaking shock replaced, tires rotated, state inspection done, it would take close to 4hrs, so their 'courtesy shuttle' drove me home. I made nother carafe of Kona Coffee, tuned into the Chris Stigall Show (6-9am), and then switched to the Chris Plante Show (9-12noon) for the rest of the morning.
Actually, I laid down on the LR couch and slept thru it all until 11, woke up groggily and had to quickly get my wits about me. That wasn't easy, even with the 2nd carafe of coffee. It was 89° and climbing into the 90s. The Jeep Dealer called in 2hrs, said the car was ready, and their Courtesy Shuttle came to pick me up. He was an elderly VietNam Vet, and I tipped him very nicely, for both trips. Finally back home around 1p, I again took a 2hr+ snooze on the couch, had lunch, did some condo chores and just stayed inside. High for the day was 92°. After dinner, I watched various TV shows, and because of another Dr's app't tomorrow morning, crashed early at 10p.
Up again at 6a on Thursday, I was getting weary of getting-up this early. 68° and cloudy, it'd rained earlier, and major t-storms were forecast for the afternoon and evening. BFD. I had coffee in the garage, while smoking, and the cool breeze coming in, felt good. From 87° down to 68° was like day and night, as the cool air displaced the heat from last night. I tuned into the "Chris Stigall Show" until 9, and switched-over to the "Chris Plante Show" until 9:20, when I left for my 10a Nephrology app't, down south. Heh, I went flying down I83 and missed the Queen St Exit, so I had to drive another 3mi, get off, and head back north. Luckily, I saw the PA State Trooper on the northbound side, and slowed to miss that trap. I made the app't with minutes to spare, had a good meeting with my Dr, and left for Rite Aid Pharmacy, back in East York.
I made a Roast Beef, Mayo, Horseradish, Slaw, Lettuce, Tomato & Swiss Cheese on Rye Sandwich for lunch, and saw the t-storm warning posted:
---

***SEVERE THUNDERSTORM WATCH***
From
01:54pm EDT, Jun 02 2022
until
09:00pm EDT, Jun 02 2022
IN PENNSYLVANIA, THIS WATCH INCLUDES 7 COUNTIES IN CENTRAL PENNSYLVANIA.
ADAMS, CUMBERLAND, DAUPHIN, FRANKLIN, LANCASTER, LEBANON, and YORK.
THIS INCLUDES THE CITIES OF CARLISLE, CHAMBERSBURG, GETTYSBURG, HARRISBURG, HERSHEY, LANCASTER, LEBANON, WAYNESBORO, AND YORK.


---
After an Amazon delivery, I made-up the bedroom, laid-out tomorrow's clothes and breakfast setting and took a 2hr snooze on the LR couch. I was tired, had dinner and called it an early day at 10p.
Tomorrow starts a new week here in the "Journal", and the hot, humid weather will be giving us a break, for a while. But Summer's right around the corner.
Safety Last.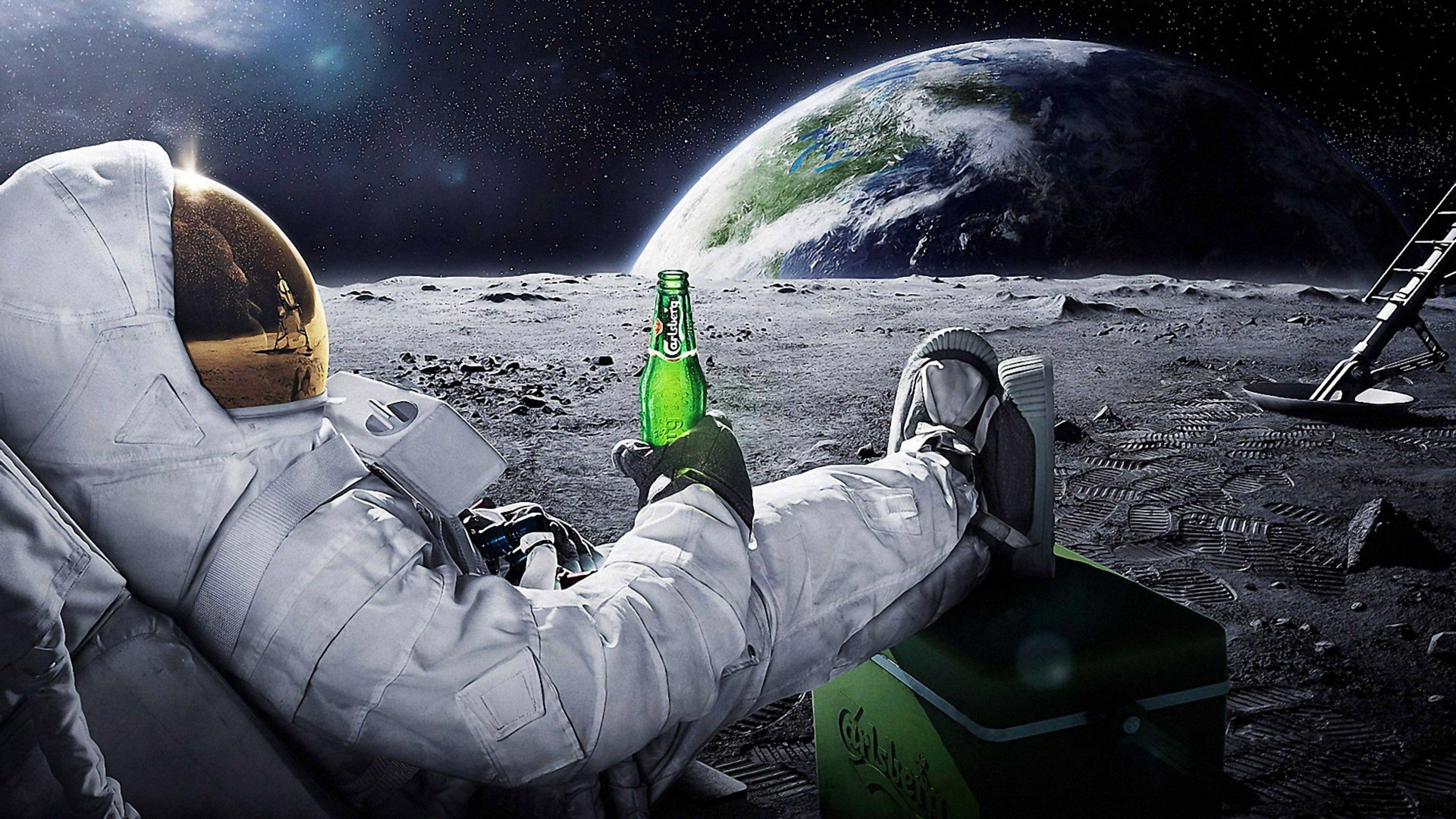 We're so immersed in the "Safety First!" mindset that we take it as axiomatic. The slogan is repeated endlessly. I've been hearing it since grade school. We all have. Its effects are everywhere. Playground equipment removed from schools. No Smoking signs in bars (and restaurants, and airplanes, and shopping malls, and cafes ... but bars). Speed limits and seat-belt laws and bicycle helmet mandates. Warning signs on public transit cautioning against exiting the vehicle while it's still moving. Workplace safety guidelines and environmental impact assessments and insurance compliance regulations that make it nearly impossible to build anything. "Safe spaces" in universities, and organizations staffed by the university-indoctrinated. Codes of conduct at conferences, and community guidelines on social media. Security procedures at airports - the metal detectors, shoe removal, liquid volume restrictions, and the rest of the counter-terrorism theatre. Gun control legislation. "Safe injection" sites, and other "harm reduction" measures aimed to smooth the addict's path to self-destruction through dissipation. Condom dispensers in high school bathrooms. Building code regulations telling homeowners what they can, and moreover cannot, build on their property.
And then of course, the nightmare of the 2020s, the era in which Safety First really came into its own as the justification for claustrophobic tyranny over the human spirit. Lockdowns. Masks. Social distancing. Work from home. Zoom school. Closed borders. Spike protein injection mandates.
If it saves just one life.
My goal here isn't to question whether any of the above examples are effective at achieving their nominal goals (they aren't). It isn't to ask if the nominal goals represent real threats justifying intervention (they don't). It isn't even to point out the rank hypocrisy - the privileging of one form of safety (for instance, from a virus) over another (for instance, from a supposed vaccine). None of that is the point.
I want to strike at the throat of the poisonous doctrine of "Safety First", that cloying, cowardly, effeminate platitude that for my entire life has thrown a ring fence around the human heart.
The subtle poison of "Safety First" is apparent in the slogan itself. If safety is first, it follows that it comes before all other concerns. Glory, honesty, joy, adventure, challenge, growth, strength, will, purpose, love, triumph ... none of them mean anything if they conflict with safety. The smallest risk of danger is enough for Safety First to interpose itself, to say no, you can't do that - it isn't safe.
Safety First takes as its basic assumption that the purpose of life is to maximize the length of life whilst minimizing the suffering in life. He who lasts longest with the least booboos wins. The quality of life, the depth and breadth of experience that a soul encounters, is of no import. Indeed Safety First does not admit of the existence of a soul; it is a mindset that could only ever take hold of minds seized by the materialist doctrine that this life is all there is, that there is nothing but a yawning chasm of nullity beyond death, that experience itself has no meaning, and that the best we can do is to postpone the inevitable crossing of the River Styx for as long as possible. The absurdity of such a goal is obvious, albeit rarely acknowledged: what sense trying to avoid the unavoidable? What sense fighting a war doomed to defeat?
Safety First cares not a bit for the sacrifices it demands. How could it, when it comes first, and is therefore by definition of greater value than anything else? How can the price of safety even be acknowledged as a meaningful concept, when safety, by making itself first, is of necessity priceless? If risk is the necessary cost of experience, Safety First immediately proclaims it a cost not worth paying, for any risk at all - whether to life, to health, or merely to self esteem - is too high a price to pay for giving up safety. This insipid logic drains human life of all colour, bleaching the vibrant emotional tapestry of ecstasy and despair, of rage and joy, of bittersweet tears and butterflies in our stomachs, of yearning and horror, into fading pastels that wash out into shades of bureaucratic grey. VIt is no accident that the most common emotional disorder of our age is depression. VSafety First asphyxiates liberty. Public health authorities, environmental regulators, human resources ladies, security professionals, and the rest of the safety-industrial complex, can implement any policy they like, no matter how destructive, counter-productive, or unjustified, and need merely say "safety first" for the argument to end before it begins. There can be no valid objection to their diktats, when all accept the premise that safety comes first, for to attempt to point to the costs - whether economic or spiritual - is to paint oneself as a monster. How dare you put profit over lives? What nonsense are you talking, fairy tales about the 'human spirit', about 'freedom'? Health and safety are at stake, and that matters more than antiquated superstitions! VHow many of the regulations that govern our lives did you get to vote on? How many were even implemented by people you voted for? By contrast, how many were simply imposed by administrative fiat, emanating from anonymous functionaries who simply said, we're following the science, we're doing this for your own good? How often is an opportunity for public debate even offered? This isn't new to the era of Corona -- again, it's been going on for our entire lives.
Safety First is a smothering maternalism. It makes us children, lacking the faculties to be responsible, lacking the ability to defend ourselves, lacking in judgment, who for our own protection must do as mommy says. It's a dangerous world out there, and mommy doesn't want anything bad to happen to us ... and if that means keeping us all snug and safe inside and never getting to actually do anything, well then mommy is going to make sure you don't leave your room, snugglebuns.
I won't argue against a mother's instincts, when limited to their proper domain. Babies are ignorant and defenseless, and life must begin with a period of nurturing and protection if it is to have any chance of thriving. Some minimal level of competence must be attained. Yet there comes a point when a father's responsibilities must take over from a mother's imperatives. For boy to become man, he must be exposed to danger. He must be taken from the mother's sheltered creche and thrown into the wilderness, and in doing so the father takes a calculated risk ... knowing that the boy may die, that the boy's own carelessness or the world's random cruelty may slay him ... but knowing also that this is necessary, for without knowing danger the boy will always be a boy.
Safety First interrupts this process before it can even begin. It interrupts the cycle of life. By doing so it is toxic to life, in the fullest and most meaningful sense of the word life, as not mere biological activity but as process, as experience, as growth, as vitality. For the mother to prevent the father from taking his children into the world is as murderous as it is for the father to rip the infant from the mother's arms and cast it into the forest.
The crippled spirit of the father who timidly agrees with the shrew's demand that he put safety first, that he put her instincts over his own, over what he knows is necessary for the child's development, is as complicit in this strangulation of his children's lives as she is. By accepting the premises of Safety First, we are as guilty for the state of our world as the smiling tyrants who have stolen it from us.
Safety First has created a world of biological adults with the minds of shrieking toddlers, throwing temper tantrums at the merest setback or challenge. Truth hurts, but having been protected all their lives, having never experienced suffering, their minds become flaccid, develop allergic reactions to anything true that contradicts what they would like to be true ... in just the same way that children raised in antiseptic environments, who never roll in the dirt and eat it, develop autoimmune reactions.
Safety First makes us weak.
It makes us cowards.
It makes us easy to control.
And that's why the sneak rulers who mismanage the world from their hiding-holes in bureaucracies, camouflaged behind layers of shell corporations and holding companies, are so in love with it.
It isn't tyranny.
It isn't totalitarianism.
It isn't their pathological urge to micromanage our lives.
It's merely that they care so much about us.
It's out of an abundance of caution.
It's because they put Safety First.
Imagine how different the last years would have been, had our feminized society not taken Safety First as its guiding principle. The lockdowns would never have worked: no one would have complied. People would have shrugged, there is a virus, so what, the world is dangerous, we must all die some day, let us live our lives. Business owners would have refused to shutter their doors for months on end; the threat of fines would have meant nothing next to their jealous defence of livelihood and liberty ... and they could have counted on the support of a citizenry who would willingly interpose their bodies between their local businesses and the armed thugs of the state, for a people who do not put safety first are a people willing to endure the risk of injury or death in the service of higher things. Knowing that this would happen, the authorities would never have tried in the first place ... and indeed, the authorities themselves, being drawn from a population that puts many things above mere safety, would not have been so inclined to begin with.
Imagine what our world would look like, if we prioritized what truly matters over safety.
Sex without condoms -- and the children that follow.
Mobs of unsupervised children running around outdoors, climbing trees and falling out of them, exploring forests and abandoned buildings, engaged in petty mischief and tiny mercies, learning the risks of the world and the thrill that comes from mastering them.
Boys tussling in the schoolyard, getting in wrestling matches and fist fights, hunting small wildlife with air rifles and one another with paintball guns, as they figure out how to organize and operate inside male hierarchies, how to defend themselves, how to win the respect of their friends, how to cooperate and compete.
Sidearms openly sported as a fashion accessory every bit as ubiquitous as phones, worn by men ready to draw them in defense of their property, their wives, their freedom, and their sacred honour. Men employed as they should be, building high-speed maglev rail, and nuclear power plants, and soaring cathedrals, and space ports, with all the speed and efficiency that unfettered industrial capacity enables -- dangerous work, hard work, but well-paid work, useful work, satisfying and respected work.
Architecture built for beauty, for humanity, for warmth, built to inspire and uplift and bewitch ... not just to minimize financial risk.
Smoke-filled bars with recklessly intoxicated patrons, packed together with no mind for the fire code, dancing on tables as wild music bounces from the stage and drunken fights break out over the hot gazes of beautiful women.
Spirited public debates over the issues of the day, where reason and truth are the price of victory, speaking one's mind is prized, emotional manipulation despised, and hurt feelings elicit not solicitude but a chorus of derision and mockery.
A glittering constellation of wheel stations orbiting the Earth, mining facilities on the Moon, solar power plants around Mercury, domed cities on Mars, prospectors homesteading the asteroids, scientific expeditions to Jupiter ... all paid for in suffering, in heartache, and in lives ... but a cost cheerfully paid for the glory of adventure on an untamed frontier, for the rewards of riches won from an unforgiving cosmos, and the accolades that come to the heroes who bring that wealth home.
Putting safety last does not promise utopia. It implies scraped knees, and bloodied lips, and, yes, it guarantees dead children. It means suffering and tragedy and the ache of loss.
But it also means an escape from the prison that the world has become, this open air concentration camp of rules and regulations and fences and warning labels and mandates and speed limits and speech codes. It means preventing the worse prison that the technocrats promise, their arid dystopia of pods, bugs, plant-based diets, carbon scores, social credit systems, endless vaccinations, and virtual reality. It means embracing life with all its grime and sharp edges and pointy bits, the way you rub your cat's purring belly knowing full well the little furball is liable to suddenly and for no good reason turn your arm into a scratching post, and loving her not in spite of that, but because of it.
Animals in captivity live longer than animals in the wild. Yet, to quote Bronze Age Pervert: "chimp in state of nature never jerks off, but chimp in captivity does, wat does this mean?"
Are we really happy jerking off to the grey idol of safety?
Or is it time to grow up and live our lives as they are meant to be lived?
© 6.2.2022 by John Carter, "Barsoom".