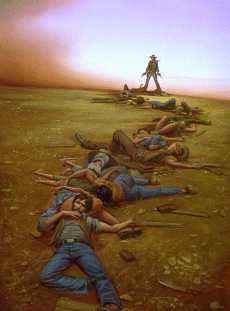 america is over
friday, june 29
th

, 2018
barring some unforeseen awakening, America is heading for an eventual socialist abyss. But I'm not letting it go down without a fight.
Close your eyes and imagine holding someone's scalp in your hands. I don't mean cradling his skull as you thousand-yard-stare at his lifeless face. I mean a real scalp, Indian-style, of some enemy you just killed on the battlefield; somebody you hated and who hated you back.
You killed him, won the day, carved off the top of his skull, and now you're standing over him victorious on the now-quiet field of battle, with a quiet breeze blowing through your hair. Your adrenaline is still pumping with that primal feeling of victory and the elation of having survived when others didn't.
I'm not naive enough to think that less than 5 percent of those reading this are the only ones not cringing at that mental image. Amid our wealth and privilege, most Americans cannot even relate to that kind of violence, and they sure don't want to fantasize about it. That whole thing feels barbaric, violent, and repugnant. Maybe you even wish now you hadn't read it.
"People sleep peaceably in their beds at night only because rough men stand ready to do violence on their behalf."
But maybe, for just a moment, would you consider it? No, not a real scalping, but a metaphorical one. We'll come back to this in a minute.
Look, Guys, America Is Simply Going Down.
First, we all have to accept certain realities about where we are as a nation. Rains will come and go. The stock market will rise and fall. The sky is blue. Water is wet. And government in America will just never stop getting bigger. This is simply a fact of life.
We haven't seen our government shrink since Calvin Coolidge, and there is little appetite among the American public for shrinking the government. We are now at the point in this country where we call them "cuts" if the government doesn't increase spending quite as much as they had planned.
As government gets bigger, freedom must get smaller. Larger government, even when under the rule of supposed Republicans, is a leftist's dream. Every day brings a new story about the infestation of liberalism in the federal bureaucracy. Such is the way of the world.
So, barring some unforeseen awakening, America is heading for an eventual socialist abyss. It is really only a matter of dates. Will we all die in the inevitable communist purges within ten years? Of course not. Will it happen within the next century or two? Almost certainly.
There's only so long you can stare into the toilet bowl, before you have to hit flush.
In a way, it is actually a good thing. God gives each of us a period in history to live through. Why not have one that is memorable? I am thrilled to live in these times. Any man can coast through 80 years of a society at its pinnacle. His life will start and end, and it will be as if he never existed. Wouldn't you rather live through an era people write stories about? I want to have a smirk on my face as I walk through the pearly gates of heaven, shaking my head, and saying to myself, "What a life."
We Can Go Quietly, Or Fight to the Death.
Do you remember the American Indians? Most likely you at least give them a passing thought whenever you pull a stick of Land O' Lakes butter out of the fridge or hear some liberal pretend to be outraged over the Washington Redskins. Either way, they were the randomly settled group of nomadic tribes who resided in America before a bunch of Europeans arrived, took all their lands, and conquered them.
The Indians were faced with something that faces all civilizations. It's something we face now. They were facing the unstoppable force of inevitability. Many of them knew it. The settlers from Europe were about to take over every inch of this country. Some tribes, like the Choctaw, chose to play nice with the government in hopes that their peaceful gesture would be returned. They got a Trail of Tears for their kindness.
But some tribes, like the Lakota, chose a different path. They chose war. Leaders of the Lakota like Sitting Bull knew full well how this war would end. Nevertheless, he gathered thousands of young warriors in the Black Hills and made his enemy feel some pain before he surrendered. He scored a decisive win at the Battle of the Little Bighorn, and collected some scalps. Yes, the U.S. government prevailed in the end, but General Custer and his 200 men weren't there to see it.
That brings us to the continuous internal battle we see on the Right. We have this ever-present acrimony between the factions because some of us will not accept where we are and the enemies we face.
Some on the Right believe that tyranny in this society, as in all societies, is inevitable. The people who will micromanage every aspect of your life are not God-fearing conservatives. They are leftists, and they are vicious.
They are not political opponents in the sense that you have a debate with them. These modern-day leftists want you to lose your job. They want to destroy you. How do you think they're going to treat you when they finally sit in the seat of power for good? So fight them tooth and nail. Make them long for the day when you're no longer fighting them. Be the Lakota.
At the End, Which Will You Have Wanted to Be?
Some on the Right will flatly reject this. They think we simply have a few minor policy quibbles with the Left. They think we would be able to settle these minor differences if it weren't for the brutish Neanderthals who think it's some kind of fight.
This group really peaked in 2016 after Donald Trump won the GOP primary. They began scolding the dullards who were too stupid to just believe everything printed in The New York Times. They lecture us to this day. They live for compromise with the Left, always ignorant of the fact that just a little more big government is still big government. They are the Choctaws. "Just trust the U.S. government. I'm sure they'll treat us well in the end if we're nice."
So, back to scalping thing. When you make that long trek to the reservation the leftists have set up for you—and make that trek you will—what memories do you want to take with you? When living in the liberal utopian nightmare of 57 genders and government control over everything in your life, you will want to have been a Lakota. You'll want to know, to remember, even just cherish the knowledge that, one day, you rode out onto the plains and made them feel pain.
© June 21, 2018 By Jesse Kelly, "America Is Over, But I Won't See It Go Without An Epic Fight".
[JS – Leftism is the precursor to communism and socialism. The Democratic Party we knew is dead, and not even twitching, anymore. Since the McCarthy HUAC Hearings, America's communists went underground into academia, government, business, finance and other areas, and resurfaced as "legit" people, Democrats and Republicans, and have controlled those and other areas of American Society. They congealed in the DemokkkRAT party, converting many existing members, and booting-out others who wouldn't be "turned" and cooperate. They legitimized Leftism and Progressivism, which was just communism/socialism in disguise. There's only one way to get rid of those subhuman filth: rip them out root and branch.
A Day In The Life.
After going to bed too early last evening, I was up at 5:30a on Friday, made coffee and a muffin, checked the weather and news, and left to get some things at a nearby convenience store. I spent the rest of the morning and part of the afternoon going thru online catalogs for replacement lights, fixtures etc for when we start working on the condo's rehab, in Sept-Oct. I'm building quite a file for my GC (General Contractor) to use to replace these 27yr old lights, switches fixtures. I need to settle on a floorplan to determine a new couch(es), swivel recliners. There are so many decisions and I'm afraid the project will be impacted by my gallbladder removal operation. That's going to incapacitate me for 2-3 weeks, and I might just have to delay the op to later in the year, or right after the new year. Or, get it done soon after the Endoscopic Procedure I'm having this Thursday, recovery/healing from that procedure permitting.
Once again, today is Sherry's 69th Birthday. Happy Birthday, Sweetie!
I watched the Barrett-Jackson Auction on The Velocity Channel, but switched over to History Channel's well-produced "Ancient Aliens" series, in the early evening. It's been raining and cool all day, and my errands had been run in the morning. I bagged it around 9:30p.
In the Donald Trump era, the left is as aggressively confrontational as anyone can remember. What it means for 2018 — whether it portends a blue wave of populist revolt for Democrats or a red wall of silent majority resistance from Republicans — largely depends on ones political persuasion. But there's a bipartisan sense that this election season marks another inflection point in the collapse of civil political discourse. Few disagree that Democrats are marching, protesting and confronting Republican officials with more intensity during the midterm election than at any time in decades. The progressive fervor recalls conservative opposition to the last president in his first midterm, when Democratic members of Congress were left running from disruptive town halls and ended up being crushed at the polls in November.
We are all born ignorant, but one must really work hard to remain stupid.
The loony, racist bitch, Maxine Waters (CA-DemokkkRAT) is really stirring-up the Civil War pot, and won't like the taste of the "stew" that she's cooked-up, when it hits boiling point, and our side fights back. US Congressman, Steve Scalise (R-New Orleans, Louisiana), was gravely wounded at a ball field outside DC, in June 2017, after Waters and other rabid libtard DemokkkRATs called for violence against Republicans. America is racked with so much potential violence, lurking just at the DemokkkRATs surface, it's scary. I just want to get my health back before it explodes, so I can waste some seriously large numbers of DemokkkRATs, after they start it for earnest. So sad that we've come to this, right now, or ever, for that matter. I really looked forward to a nice, peaceful retirement after closing and selling the Ol' Nursery & Garden Center, for 23yrs.
Up early at 5:30a on Saturday, I made coffee, had eggs and toast, and went over my to-do list for the weekend. We had one hell of a t-storm at 3-3:30a; woke me up and sounded like a train coming thru my bedroom, as the roar on the 4 skylights was amazing. I managed to get back to sleep. Later, Dad needed some help with a couple of projects, so I went over to Becky's and his condos, and did what I could. The plan to rehab my condo continues: September & October are the target months for repainting, new flooring, new carpeting, fixtures and some new furniture rearrangement. I was online looking at my friend, Ed Essis's store, much of the afternoon, trying to digest all the choices, and then CATV in the evening. I pulled the plug at 11p.
Up again at 5:30a on Sunday, had coffee, eggs and toast, did a load of laundry, and watched the F-1 Pirelli French Grand Prix on ESPN2. Good race, but 53 laps at a boring French circuit, and I took a quick drive to a local sub shop to get a 14" Ham & Cheese Sub. My L/S stomach and back pain was bad and relentless, so I held off lunch and took 1½ 20mg Oxycodone HCls. Even that stuff doesn't seem to take the edge off the pain, anymore. Next up was a 55 lap IndyCar Race at the 4mi road course track in Road America, in Elkhart Lake, Wisconsin, on NBCSN. And lastly, a NASCAR race from Sonoma, CA, a 2.5mi road course track I'm more familiar with, when it was called Sears Point Raceway for many years, on FS-1 (CATV). Sunny, 84°F and still very humid from all the rain and southeastern air pushed-up from the Gulf. I went out for a short walk around the condo complex, and buttoned things up around 10:30p. I needed sleep.
I was up at 5:30a on Monday, from back/left side/stomach pain, and just couldn't get back to sleep. This is the 3rd day in a row that I've been racked with this unrelenting pain, and the 20mg Oxycodone HCl just isn't handling it. I have my monthly PCP (Personal Care Physician) of 27yrs, appointment, tomorrow at 11:30a, at Apple Hill Medical Ctr, and will get all my pain and sleep Rxs renewed. The radon remediation program at Dad's old stone mansion has worked just fine – down from 14.0 to 2.7ppm – and we can now close with the buyers. I have a Thursday surgery at PennStateUniv-Hershey Med Ctr, so I don't know when I'll get this Journal entry posted. Hopefully, it'll go well on Thursday morning – I'm waiting for PSU-Hershey to call with the schedule – and I can plan the one day trip, but it'll all depend upon how it goes.
High for the day was a pleasant, almost humidity-free, 80°F, and once I got outside and did some walking after a good lunch, my terrible back/left side/stomach pain disappeared. Unfortunately, with a few hours, it reappeared and I took it to bed with me. I'm out of 20mg Oxycodones after tonite, and won't be able to get it refilled until I get back from PSU-Hershey, either late Thursday, or early Friday. After telling me that they'd refill the Lorezepam/Ativan today at 2p, they backed away from it when the MediCare advisor, who clears all RXs, said "not until Wednesday". Prick. Things are definitely NOT going well for me, right now, and it's only Monday. I took my last one, with the Ambien 12.5mg/ Zolpidem HCl 12.5mg, so I could get some serious sleep tonite. I have a late morning dr's app't. The week gets real hectic starting tomorrow, so I went to bed early at 10p.
There are 19 seasons of "American Pickers" available at History Channel, by using the drop-down menu. Good viewing on a rainy or snowy day, when you're staying home.
And here's a handy Windows app for a SpeedTest of the server you're using, for Win7. There's also a Win10 app, for those unlucky enough to have to deal with that version's crappola GUI.
Up at 6:30a on Tuesday, after a terrible night w/ lots of pain, I made coffee, had a couple bottles of Ensure Plus®, and checked the weather and news. I had an 11:20a dr's app't at Apple Hill Medical Center Complex, and left at 10:45a. The parking lot was crowded, but I found a space reasonably near the main entrance, and went in to see my long-time PCP, get the 4-5 Rxs renewed, and a new one for my relentless pain. I took the new Rxs to Rite Aid, but they refused to refill, as I was a 1-2 days "too early", or they were "out of stock" on that item. I got what I could and came home, still waiting for the call from PSU-Hershey about the surgical procedure schedule on Thursday. After a good lunch, I watched reruns of both "History" and "Velocity" channels until 11p, and then quit for the day.
On Wednesday, I slept-in until 8a, had coffee, eggs & toast, and made sure my cellphone was fully-charged to get the call from PSU-Hershey Medical Center for arrival time for the EUS procedure I'm having tomorrow, Thursday. Finally, I got the call at 3:454p, and became more nervous than before. After that 23-day "stay" (Mar 23-April 14, 2017) last year, and the dozens scores of procedures I've gone thru since, my hatred of hospitals has grown exponentially, since there's always "one more test" to do, and no end is ever in sight. Since Becky was coming over at 6a, I took my last Rx pills and went to bed at 8p.
We were on the road at 0-dark-0'clock and at the PSU-Hershey Admissions Office by 8a, registered and led to my room. I was an awful, terrible next two 2 days.
Fake Liberal Media BS
The most insidious power of the corrupt, criminal liberal media, is the power to ignore the truth.
Here, have some fun. Something stinks within America's newsrooms. It's the stench of liberal bias permeating the so-called mainstream media. From lies and deceit to distortions and character assassinations, the liberal media dish out leftist BS to drive their radical agenda.
Chris Plante, host of The Chris Plante Show on WMAL (DC) from 9-12, weekdays, said, "The most insidious power the media has, if the power to ignore." Think about what that really means and you can readily see what an evil force the corrupt, criminal, liberal-demokkkRAT-controlled, butt-kissing, fawning circlefest media assholes, are.
Think you can detect it? Take this test and find out just how much BS the liberal media are dishing out. Wear your hip-waders; the bullshit is deep!