"Crossroads" (opens in separate window)
one year of crises under biden
friday, march 4
th

, 2022
Last week (actually Jan 21st) marked one year since President Biden was sworn in as President of the United States.
And in one year's time, President Biden and the policies of his administration have the American people facing crisis after crisis.
President Biden has an economic and inflation crisis. Inflation, which is a tax on the middle class, is crushing American families' budgets in Lancaster and York counties. Inflation is at a 40-year high. As a discussion on the Internet grows longer, the likelihood of a person/persons being compared to Hitler or another Nazi, increases.
And because individuals are paying more for goods, their pay effectively is going down. Real average hourly earnings have decreased 2.4 percent since December 2020 and have dropped 8 out of the 11 full months President Biden has been in office.
Job creation has failed to meet expectations. In the last jobs report from December 2021, 199,000 jobs were created—less than half of the estimated 400,000 that economists expected. And we're still millions of jobs short of where the economy was pre-pandemic. Too many people are sitting on the sidelines. Businesses are in dire need of workers. We all see the "we're hiring" signs everywhere across the district.
President Biden's policies have created an energy crisis, as the price of gasoline continues to skyrocket. The price of gasoline is up nearly 50 percent from December 2020.
President Biden has created a crisis at our southern border, with over 2 million crossings in the last year as a direct result of the policies of this administration. And yet, his administration refuses to take concrete steps to secure the southern border.
President Biden has created a crisis of American leadership on the global stage. Despite saying that we would stay until every American was safely evacuated, President Biden left Americans behind in Afghanistan. Now, other nations are testing the resolve of American leadership.
Despite all their failures, the administration has excuses for them all. The Biden administration has said inflation is only "temporary." They told the American people not to worry about gas prices, noting that we just need OPEC to raise their production! The president said the surge in illegal immigration happens "every single solitary year." The State Department notes only "fewer than a dozen" American citizens who are still trying to leave Afghanistan.
One year after taking office, we see what the policies of the Biden administration have done. Higher prices resulting in falling wages, surging illegal immigration, and unsteady leadership. The American people are fed up. It shows in recent polling.
President Biden has a 33 percent approval rating according to a Quinnipiac poll recently released and a majority of Americans now believe President Biden is doing more to divide us than bring our nation together.
There are no amount of excuses this administration can share with the American people to shrug off their policy failures. I will continue to oppose President Biden's radical policy agenda and will continue to support pro-growth policies that can turn this economy around and strengthen our free enterprise system.
© 1.28.2022 by LLoyd Smucker, US Congressman, PA 11th District Newsletter. (H/T to Pastor Tom).
[JS: It's not the first time Lunchbucket Joe Biden has done something dumbassed like this. Less than six months ago, Sockpuppet Joe oversaw an almost indescribably-chaotic withdrawal from Afghanistan. He left American citizens behind. He armed the Taliban with $85 billion of our advanced weapons systems on the way out. It could not have been worse, except for the 13 US Soldiers who were slaughtered by an islamic(SPIT!) suicide bomber. So the problem here isn't complicated, at all. Joe Biden broke the oldest rule of all: don't make threats you can't back up. AKA, "Don't write a check that you can't cash." You'd think he would know that, if he had actually squared-off against (the mythical) Cornpop, but the public swimming pool in Wilmington sixty years ago. But he never did. So he doesn't know that if you say something serious, you had better mean it. Is reckless to tell obvious lies. If you do that before long, and it happens very quickly, in fact, people figure out that you can be ignored. You're not a superpower. You're a joke. And that's why you never, under any circumstances, say anything like this. According to the 'New York Slimes', "The United States met with China over three months to present intelligence, showing Russia's troop build-up near Ukraine and to urge Beijing to help avert war. Chinese officials rebuffed the United States, and then shared that information with Moscow." Perfect strategy and tactics, Joe, you lowlife asshole.]
A Day In The Life.
Up at 8:30a on Friday, I went thru my finger stick to check my BSL (Blood Sugar Level) and recorded it on my Diabetes 2 chart, made coffee and breakfast, had a couple smokes in the semi-cool garage and checked the leftover errands list. Nothing to do, and nowhere to go. It was a nippy 34°, with everything covered in .25" of ice, from last night's ice/snow storm, and after the pain meds had eased the R/S pain, I had a large croissant and orange marmalade for breakfast. My phone was down to 17%, so I had to put it on-charge for the rest of the morning; no calls in or out, at all, until it gets charged.
"Psalm 46:10-11: Be still, and know that I am God: I will be exalted among the heathen, I will be exalted in the earth. The LORD of hosts is with us; the God of Jacob is our refuge.
I listened to the "Chris Plante Show" from 9-12, checked email and answered a few. By 11:15a, the 4G AT&T Flip Phone was 100% charged, and I called Sherry to chat. Since we both had pain, we decided that she'd come over here, ands forgoe the walkng at the York Galleria, and just visit for a couple hours. She has L/S shoulder pain, and I have R/S lower back and leg pain. We're a mess. Heh. I had a banana for lunch. She arrived around 1:30p. We had a great time being with each other, as usual, and she left around 5p, to get some errands done, before it got dark on her trip back home.
I had Almond-Crusted Salmon in Hollandaise, w/ Roasted Potatoes for dinner, and settled-in to watch Discovery's "Gold Rush" for the rest of the evening. Fox stupidly pre-empted "Gutfeld" at 11p, for the 4th straight night, in favor of unending Ukraine coverage, which they do all day long, so I quit for the night.
Awake at 8:15a on Saturday, it was a cloudy, cold 27°, so I fired-up the furnace, both the office-sunroom and garage auxilisry heaters, made Kona Coffee, did the finger stick, took a Tramadol and 1/2 Valium for my now L/S leg pain, and opened-up yesterday's "Chris Plante Show" podcast. I put-off breakfast until the meds got into my system and did their pain relief thing. On my computer, I scanned Fox and a couple of other news stations for their good/bad coverage of the Ukraine-Russia War, and it isn't looking any better than a day ago.
Skies cleared around 10a and the sun appeared. Temps started rising, though it would be a cold day, compared to some of the past few we've had. Hey, it's Winter in PA!
When you murder someone, you've killed all the witnesses.
My opinion regarding the Russia invasion of Ukraine? War is the natural state for man. Peace is an aberration. At the end of World War II, the United States was the lone superpower. Unusual in a way that the US was not interested in conquering other nations, but instead used the blood and gold of her citizens to protect Europe and guarantee peace. Did the rest of the world appreciate the sacrifice of our American fathers? No. They have spent the last 70 years scheming and working against America. I'd go as far as claiming that the Europeans (mainly the UK) knew the whole Russia attacks against President Trump was a lie, but did they do anything to stop it or support Trump? No. So the Europeans got what they always wanted: a weakened America with a senile old man in the White House. Russia (and liklely China) see an opportunity. My fear is that not one world leader really understands what is going on, and each is working at their own agenda. World War I comes to mind. None of the leaders at the time believed that their actions would lead to the death of millions, while at the same time, redraw the map of the world. Is this how World War III begins? It would be ironic if Ukraine repelled Russia AND took back Crimea, too. The Ukranian invasion is the period at the end of the globalization sentence. Globalization is well and truly over.
I did a couple errands, had lunch and did paperwork and filing for much of the afternoon. After a Philly Cheese Steak, Onions & Peppers, Provalone Sandwich for dinner, I watched "American Pickers" until 11p, and unplugged.
awake at 7a on Sunday, I was having a very nice dream, but when I went back to sleep, it devlved into a weird one. I got up, fired-up the furnace and 2 other heaters, did the obligatory finger stick, made coffee, had a smoke in the garage, fired-up the computer to check the weather and news. It was a sunny, nippy 28° outside, with a nice 50° day forecast. I had a croissant with blueberry marmalade for breakfast, and lots of Kona Coffee.
ecky stopped by to drop-off her 2021 Income Tax packet, for me to drop-off at our CPA's office south in Dallastown, tomorrow, when I'm out running errands.
I watched the IndyCar season opener race,partially on city streets and the airport runway, and it was a great road course race. Sherry stopped over around 2:30p, and we had a great time, as we always do, until she left at 5p to get some fod shopping done and home before dark. I had dinner, and watched Fox News' continuing coverage of the Russian Invasion of Ukraine. Is there anything else on to watch, which is worth a crap? Not really. After making-up a to-do list for tomorrow, and by 11p, I was tiring and quit for the night. Lots of errands tomorrow.
Walk toward the fire -- enjoy the fight, and fight to win."
Up at 7:15a on Monday, to a sunny, 30° morning, I did the usual routines, had coffee and a smoke in the garage. I fired-up the computer to check the weather and news, and listen to the "Chris Plante Show" from 9-12, or rather 11a, since they're still on limited hours, when I needed to drive south to the cleaners in Red Lion, and to the CPA's offices in adjacent Dallastown. I'll do my food shopping tomorrow. I took a Tramadol, waited for it to work on my R/S pain, and after it did, had breakfast. Soon enough, it was time to leave. I also noticed that my two Helleborus (Lenten Rose) needed some old leaves removed, so I'll do that when I get home.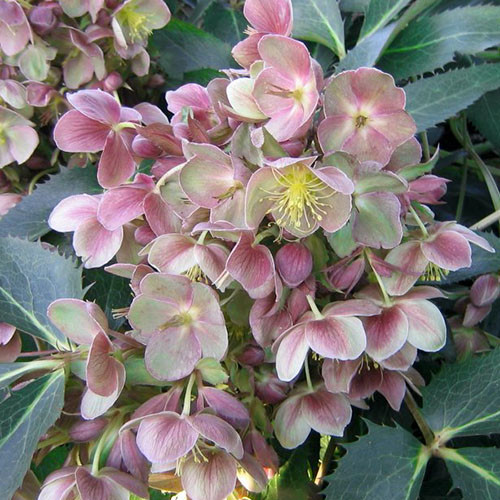 After a few other stops, I got home around 1p, unloaded, put stuff away, and spent some time pruning-off last season's browned-off/dead large leaf clumps, to allow the new growth to flourish even more. They've both been in bloom since January and will continue until past Easter; hence the name "Lenten". I did some computer reorganization, disc defragging & optimization, back-up, and folder transfers to my 1TB external WD hard drive, as I do every week. There was zero worth-a-crap on TV, so the computer "housecleaning" went smooth and fast. High for the day was just 40°, and by 3:30p, temps started dropping, so I garaged the Jeep and closed down the garage.
Shit, my CPA just called with bad 2021 Income Tax news: I made way too much money (capital gains) last year on my 3 WF Brokerage Accounts ($170,000), and didn't withhold enough RMD (Required Minimum Distribution) Tax on my 2 IRAs to offset the huge amount my WF Broker made for me. And now I owe a small boatload of tax, both federal and state. And both want me to pay "estimated taxes" on 2022 already, but I'm not going along with that crap; I'm choosing not to do so, and take my chances on raising the RMD Withholding Tax, from 10% to 20%, and see what the Brokerage Account does in the stock market, this year. I can't rationalize paying money ahead to our corrupt state/federal gov'ts. I'll pay what I owe for the past year, but screw the estimated tax payment BS. Damn.
"Vegetarian" is an old Indian word for bad hunter.
After dinner, I watched some Fox News shows, until 11p, and again found that "Gutfeld!" was pre-empted for the Russian-Ukraine War, so I called it a night.
Up at 9:15 on Tuesday, to a sunny, then quickly cloudy morning, I did the usual routines, skipped breakfast, made coffee and had a smoke in the cold garage. 37° outside, and it felt like 20°, but the heaters would warm it up soon. I also fired-up the office-sunroom Dyson heater. I fired-up the computer to listen to the "Chris Plante Show" from 9-12, and checked the weather and news. Same old, same old Russian-Ukraine war crap. I had R/S lower back/buttock and leg pain, so I took a Tramadol and Valium. I called Sherry to chat, and plan Thursday. I also skipped lunch, except for a banana.
At 2p, I paid some online bills, and went food shopping at Weis Market. Re-stocking personnel were everywhere, replishing shelves and clogging-up aisles, but at least they were doing something. I spewnt 40mins, and then my R/S hip started screaming at me, just as I'd checked-out and headed to my parked Jeep to unload 5 bags ($155.90) into the cargo bay. Home by 3p, I backe into my condo's garage, unloaded and put all the stuff away; some went downbstairs to my "prepping" shelves to replenish some of them. I checked WMAL's website (DC), and got the "CP Show" on podcast, and listened for the 3 40min segments (wo/ commercials) until 5p. I was starting to get hungry. Decisions, decisions, decisions...
I had a Turkey & Ham Club Sandwich w/ Chips, for a light dinner, watched History Channel's "The Curse of Oak Island" until 10p, and then switched over to Fox for some news updates. Since my 11p show, "Gutfeld", has pre-empted for weeks, because of the Russian-Ukraine War, I unplugged for the night. And NO, I didn't watch Sock Puppet Joey's laughable, idiotic SoTU (Sate of The Union) speech.
Awake at 8a on Wednesday, to a bright, sunny 42° morning, I did the finger stick and my BSL (Blood Sugar Level) was low (108), so I grabbed 2 Tramadols for hip/leg pain, and washed them down with some sugary, pulpy "Florida's Best" OJ. After doing the furnace and heater routines, I listened to the "Chris Plante Show" on my computer, and checked the weather and news. Nothing but recaps of the pathetic SoTU speech from Dumbshit Joe, and the Russian-Ukraine War. I tried a new pain cream, Topricin, which Sherry had given me to try, but alas, it didn't work for me, being applied 3x on Wednesday. My long-time CBD Pro-Level 5 Ointment works much better. Different remedies work differently for differenty prople.
By 2p, temps were up to 53° and I fertilized all shrubs and trees, with the acidic Holly Tone Fertilizer (4-3-4). All trees and shrubs like acidic soil and fertilizer; perennials (and annuals) like a more alkaline fertilizer, like the time-release, like Osmocote Plus Fertilizer (15-9-12). The first week of March is the ideal time, as the product is granular and needs to be gradually dissolved and washed down thru the mulch, to the plants' root systems. Since we've had less than 6" of snow all season, the coming Spring rains will have to do the work.
Happy Ash Wednesday, First Day of Lent.
Around 3:30P, I had two ammo deliveries -- .45cal ACP FMJ for my Kimber 1911 .45 ACP (500 rnds), and .223cal/ 5.56mm (1,000 rnds) for my two Class III AR-15s -- and I could not carry the boxes out of my garage, pulling a muscle in my back when I tried. I asked Jayme, my much younger and stronger neighbor, to help and he got the downstairs to my ammo shelves with ease. I used to be able to do that, also with ease, but since 2017 when I spent 23 days in the hospital, I haven't been able to. After dinner, the pain got worse and I just watched some Fox News offerings, since there was precious little quality programming on TV. I called it a day at 10p. My cleaning lady's in tomorrow at 8:30, and Sherry and I have plans for the afternoon.
Reporter: "Mr President, what are you giving-up for Lent? Biden: The presidency."
Up at 6a, to a dark, 40° morning, I fired-up the furnace, garage heater, did the finger stick, made coffee and checked the news and weather on my computer. I had no p[ain, so no pain pills needed this morning. Yay! I did have a garage door lift light bulb out, so I needed to get a 75w and get 1 of 2 bulbs changed, before JoAnne comes to clean, since I have to back the Jeep out to get to the overhead door lift unit, with a small safety ladder. Did that. She arrived a few minutes early, so I was glad to get that done.
JoAnne finished-up around 11a, and left. My pain returned to my L/S this time, and I took a couple of Tramadol and a Valium, since I was going walking with Sherry at 1p, at the nearby massive York Galleria. We both need the exercise and to get some fresh air, and be togeter for the afternoon. I left at 12:45 for The York Galleria. We had a good walk, despite my L/S pain, which returned, and after an hour and about 3/4 of a mile, we left and came back to my place for some kisses, hugs and talk on a myriad of things. She left around 5p, to get a stop done and get home before dark. I had a light dinner, watched TV until 11 and called it Yankee Doodle.
Justin Trudeau: The Government From Hell.
The trucker convoy has come and gone. The bouncy castles have been put away, the hot tubs dismantled, the 18-wheelers towed, the party atmosphere vanished into air, into thin air. They are such stuff as dreams are made of.
The convoy's main accomplishment was to force the government to show its autocratic hand to the observant and the doubtful. The invoking of the Emergencies (or War Measures) Act was a groundless abuse of power and its hasty withdrawal a sign of an authoritarian government caught with its pants down. But in the aftermath of the Freedom Convoy's magnificent display of resolute patriotism and good faith, the federal vaccine mandates it protested remain in place, a finance minister of dubious antecedents bears the fasces, and the administration of a petty and vindictive tyrant is still intact. The partial triumph of the truckers turns out to be a Pyrrhic victory, for it is the truckers who have suffered most.
Our blue-collar benefactors now face the consequences of the scorched-earth policies adopted by the anointed class. Many have lost their rigs. Operating licenses have been revoked. Criminal charges have been laid. Bans on trucker commerce have proliferated. Bankruptcy looms for many. Livelihoods have been demolished. Families have been obliterated. Marriages are bound to collapse. And I suspect that suicides will mount as desperation sees no escape from ruination. In effect, Justin Trudeau declared war on those who kept the goods and services flowing through the ersatz pandemic and who enabled the populace to weather the government-induced travesty. Gratitude is not in the dwindling catalogue of common virtues. The casualties, though hidden by the Soviet-style media, are devastating.
Canadians mourn the death and destruction they read about in the press and view on television newscasts in the wake of the Russian invasion of Ukraine. The media wax furious over the suffering of ordinary people in that far Republic. But not a word about the war unleashed on our most loyal and courageous citizens by an unmitigated despot and his suppliant minions, a disaster whose consequences are not yet fully known but are gloomily foreseeable. Just as there is no guarantee that the America of old will still be recognizable come the November midterms, so there is no assurance that the Canada we once knew will survive until the next election. Canada's traditional mode of civic decorum has been supplanted by rancor and schadenfreude. What we are witnessing is the death of "eh."
The fact is that the government from hell is working to transform a democratic nation into a police state and normalize totalitarian rule without having to mobilize the military and scramble its jet fighters. It moves subtly, insidiously, through legislation, decree, deception, legal subterfuge, financial penalties, and targeted defamation. It divides a country into sectarian belligerents, employs tested techniques of misinformation and disinformation, prevents the free expression of opinion (Bill C-11), and impoverishes and segregates its perceived adversaries. It manipulates a strategy of covert control which, in the long run, may be more effective than overt physical repression. It doesn't need tanks; a few RCMP horses will do. Slander and sanctimony are excellent weapons.
The truckers were never a menace, bore no resemblance to the volley of epithets hurled against them: white supremacists, racists, misogynists, antisemites, and the like. A Liberal MP is convinced that "honk honk" is code for "Heil Hitler." Reviewing Paul Gottfried's must-read Antifascism: The Course of a Crusade in American Greatness, Christopher Zeeman writes, "Organizing a state around a nonexistent threat is a novel approach to governing…the lack of proof is confirmation that they must redouble their efforts to thwart the threat"—a threat, be it said, not to the nation but to the impious power of the managerial elect. In other words, our political elites must conjure their enemies in order to maintain their own compromised existence. The dumbing down of a supine population, still wearing their badges of conformity across their faces, completes the task.
Of course, as noted, there will be the inevitable casualties. The truckers who protested the draconian and useless vaccine mandates have been crushed and their lives ruined. And the majority of Canadians do not care. Some believe the truckers got what they deserved, gloating over the misfortune of their betters. Others do not give them a second thought. The feeble-minded claim to be suffering from "phantom honking." Some hover over the top like a helicopter pilot surveying rush hour traffic and move on: nothing very significant to see here. Their sympathies go out to the Ukrainian victims of Russian aggression. The victims of government oppression in their own country are an afterthought. Stupefying indifference to the fate of their nation is the order of the day. The government from hell remains solidly entrenched.
O' Canada! What has become of thee?
© February 27, 2022 by David Solway, PJ Media.
What is Really Going on in Ukraine?
An Alternative Scenario.
The Western media is filled with stories of the brave Ukrainian people rising up to fight the evil Russians and the Russians are paying a terrible toll, or so we are told. But if you step back and look at what is actually transpiring you will note the following:
Unlike the U.S. "shock and awe" unleashed on Baghdad in 2003, which caused significant civilian casualties and destroyed infrastructure and damaged power grids and destroyed bridges, the Russian military is avoiding hitting population centers. The power is still on in Kiev and Kharkiv last I checked.
You are not seeing raging battles in the streets of Kiev or Kharkov between Ukrainian and Russian military forces.
Some believe this indicates Putin's troops are bogged down and making little progress. But I think there is an alternative explanation. First, Russia has not deployed its most sophisticated weaponry. It remains in place in Russia on the Ukrainian border but showing no signs as of this writing of being activated. Second, little attention is being paid to eastern Ukraine where the bulk of the Ukrainian Army is deployed. Jacob Dreizin offers some important insight on this:
"You won't hear this on CNN, but Putin's Army of Darkness, in the most complex and ambitious ground maneuver operation since World War 2, following the Soviet "deep war" playbook, is also working on cutting off the Ukrainian army group in the Donbass from Kiev. This is by far the most capable (or only capable) large portion of the Ukrainian army. Yesterday, its main reserves of diesel fuel were destroyed from the air. It will soon be cut off and immobile.
Once that happens, the entire Donbass front collapses (they will no longer have a "front"), and BILLIONS of dollars in US-funded or US-supplied weaponry will be captured almost without a battle. (To be clear, it's almost all U.S. funded or supplied—even most of the Soviet vintage stuff was bought and shipped in from Poland, Czechia, etc. by the CIA, "off the books" but well documented in videos of tank trains crossing the border into Ukraine, in 2015-2016.)
The Russians have finally entered Kharkov, Ukraine's second largest city, very close to the Russian border. Previously, they had bypassed it the same way that America bypassed every town in southern Iraq to reach Baghdad in 2003. On Saturday night, they finally wasted all significant, organized resistance with a rain of thermobaric death in the outskirts. Today, they started to go in and mop up. Of course, it's not a job for one day.
The Ukrainian army is falling back (mostly in organized fashion) throughout the Donbass. They have largely evacuated Mariupol, a very pro-Russian, major steelmaking and steel-shipping center (responsible for billions of dollars in exports) on the Sea of Azov. The sole garrison in Mariupol is now said to be the Azov regiment, a group of bona fide, tattooed Nazis—you know, your typical Ukrainian democracy guys, the ones the MSM doesn't tell you about, and our State Department prefers to ignore. The kind of guys you must use to garrison a pro-Russian city that hates you.
The "real" army looks to be falling back to Dnepropetrovsk, about 60 miles west of Donetsk, if the Russians don't cut them off—that's now the big "if." Either way, they'll get hit badly from the air.
They are leaving behind lots of brand spanking new, British and American weaponry. I wish I had time to make a photo collage for you. It turns out, the stuff doesn't work well. Among other things, you have to charge the battery on those Javelins or whatever. No charge, no fire. No one told them. I guess they had so many dumped on them, it was not realistic to plug them all into the wall, and sit there and wait. I can relate, I don't even like waiting to charge one new smartphone."
The Ukrainian Air Force, what is left of it, is now flying on Helen Keller terms. It seems that Ukraine combat aircraft rely on ground controlled radar to conduct air-to-air intercepts. Guess what the Russians obliterated in the first hours of their invasion on Wednesday? If you said, "ground-controlled radar" you are a winner.
Without that radar, the Russians have air superiority. They have castrated the Ukrainians ability to provide close air support and disrupt Russian air cover. They are flying blind (if they are flying and can find an operational air field). Then there are the lines of communication for the Ukrainian Army. Critical military fuel dumps are on fire and the ability of the Ukrainian Army to keep their tanks and trucks running is slipping away.
This perhaps explains the volte-face of Zelensky in being willing to sit down with the Russians and try to negotiate an end to the evisceration of Ukraine's military capability.
© March 28, 2022 by Larry Johnson, Gateway Pundit.
The Gods of the Copybook Headings.
As I pass through my incarnations in every age and race, I make my proper prostrations to the Gods of the Market Place. Peering through reverent fingers I watch them flourish and fall, And the Gods of the Copybook Headings, I notice, outlast them all.
We were living in trees when they met us. They showed us each in turn That Water would certainly wet us, as Fire would certainly burn: But we found them lacking in Uplift, Vision and Breadth of Mind, So we left them to teach the Gorillas while we followed the March of Mankind.
We moved as the Spirit listed. They never altered their pace, Being neither cloud nor wind-borne like the Gods of the Market Place, But they always caught up with our progress, and presently word would come That a tribe had been wiped off its icefield, or the lights had gone out in Rome.
With the Hopes that our World is built on they were utterly out of touch, They denied that the Moon was Stilton; they denied she was even Dutch; They denied that Wishes were Horses; they denied that a Pig had Wings; So we worshipped the Gods of the Market Who promised these beautiful things.
When the Cambrian measures were forming, They promised perpetual peace. They swore, if we gave them our weapons, that the wars of the tribes would cease. But when we disarmed They sold us and delivered us bound to our foe, And the Gods of the Copybook Headings said: "Stick to the Devil you know."
On the first Feminian Sandstones we were promised the Fuller Life (Which started by loving our neighbour and ended by loving his wife) Till our women had no more children and the men lost reason and faith, And the Gods of the Copybook Headings said: "The Wages of Sin is Death."
In the Carboniferous Epoch we were promised abundance for all, By robbing selected Peter to pay for collective Paul; But, though we had plenty of money, there was nothing our money could buy, And the Gods of the Copybook Headings said: "If you don't work you die."
Then the Gods of the Market tumbled, and their smooth-tongued wizards withdrew And the hearts of the meanest were humbled and began to believe it was true That All is not Gold that Glitters, and Two and Two make Four And the Gods of the Copybook Headings limped up to explain it once more.
As it will be in the future, it was at the birth of Man There are only four things certain since Social Progress began. That the Dog returns to his Vomit and the Sow returns to her Mire, And the burnt Fool's bandaged finger goes wabbling back to the Fire;
And that after this is accomplished, and the brave new world begins When all men are paid for existing and no man must pay for his sins, As surely as Water will wet us, as surely as Fire will burn, The Gods of the Copybook Headings with terror and slaughter return!
© October 26, 1919 by Rudyard Kipling.