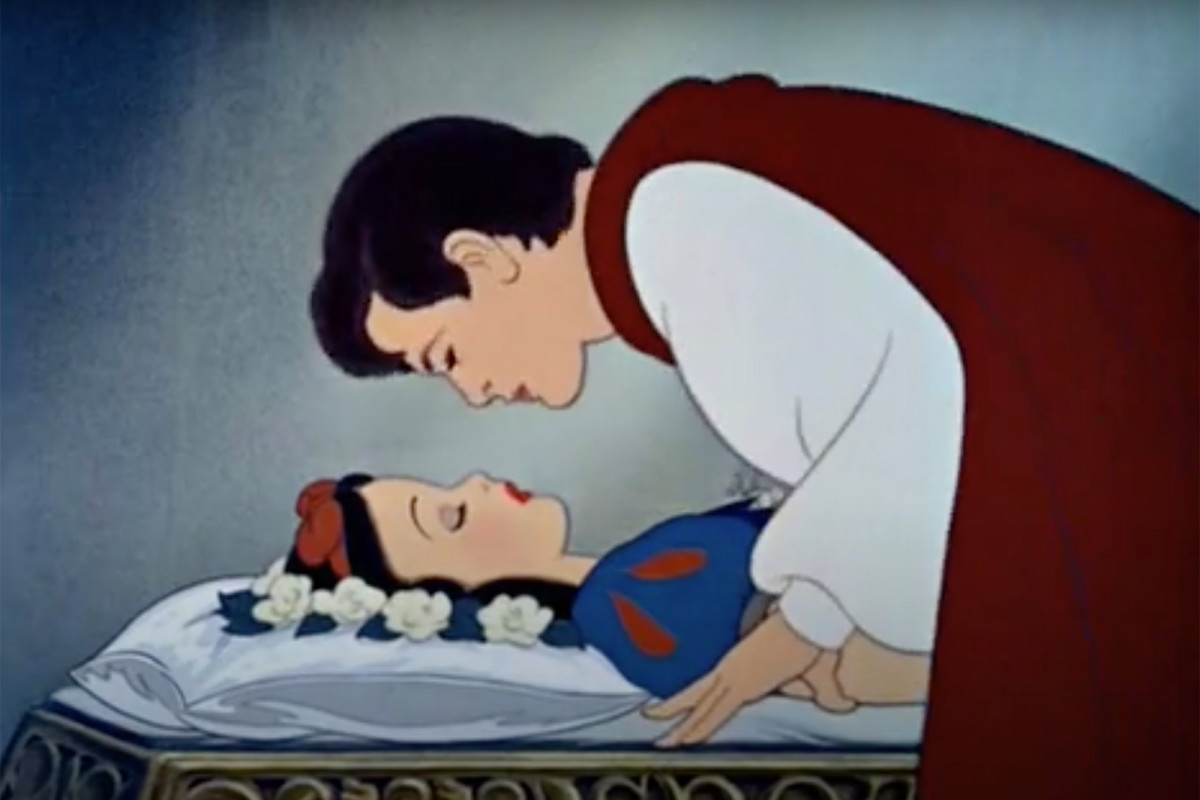 snow white's "woke" kiss
friday, may 14
th

, 2021
In the midst of the constant flood of national and international news, you may have missed this story. There is a problem with Disneyland's new Snow White ride. A big problem. A really big problem.
[FULL TITLE: "Problems with Snow White's kiss and further proof that the Left has lost its mind."]
As reported on the SF Gate website, "The new grand finale of Snow White's Enchanted Wish is the moment when the Prince finds Snow White asleep under the Evil Queen's spell and gives her 'true love's kiss' to release her from the enchantment. A kiss he gives to her without her consent, while she's asleep, which cannot possibly be true love if only one person knows it's happening."
The prince, previously a hero in the story, is now Harvey Weinstein made for children. He is now Bill Cosby at his worst, yet celebrated rather than condemned.
He is an example of an abusive sexual predator, taking advantage of his drugged female victim. Disney must be stopped!
As the article continues, "Haven't we already agreed that consent in early Disney movies is a major issue? That teaching kids that kissing, when it hasn't been established if both parties are willing to engage, is not OK? It's hard to understand why the Disneyland of 2021 would choose to add a scene with such old fashioned ideas of what a man is allowed to do to a woman, especially given the company's current emphasis on removing problematic scenes from rides like Jungle Cruise and Splash Mountain. Why not re-imagine an ending in keeping with the spirit of the movie and Snow White's place in the Disney canon, but that avoids this problem?"
This is wokeness on steroids. This is the #MeToo movement (with all the genuine good it has done) run amuck.
As Piers Morgan rightly reacted, "The lunatic woke brigade, seemingly oblivious to what's happening in the real world, have spent the past 15 months continuing to bleat about any 'micro-aggression' that upsets them,
"And as we know, that means pretty much everything – from chess being 'racist' (white always starts) to fat-free frozen yoghurt triggering eating disorder distress . . .
"Today though, we've reached the absolute nadir of mind-numbingly stupid wokery, an achievement for which the bar is staggeringly low.
"Extreme illiberal liberals have sparked a furore which even by their standards is so absurd, so pathetic, so indescribably dumb that I can barely believe it's real."
But it is real, and that's the thing. And some people are really upset.
Do all of us, as people of conscience, deplore and flatly condemn any person forcing themselves on another person sexually? Absolutely.
Do we utterly and flatly denounce the practice of a man drugging a woman so as to rape her? Of course. That is criminal behavior that should be prosecuted to the full extent of the law.
Do we agree that, to this moment, women in particular are the objects of unwanted sexual advances of men? Yes, without question.
But what in the world does this have to do with Snow White who is rescued from an evil death spell by the prince's loving kiss?
We might as well ban CPR (let alone feature it in a movie scene), since the person being resuscitated had not given consent immediately prior to being revived, yet there is, after all, mouth to mouth contact.
What makes the current situation even more ridiculous is that, as Morgan noted, "the Prince learns of Snow White's fate and visits what he believes to be her dead body. And he gently kisses her, believing he is saying a final farewell to his beloved."
In other words, this was not a sexual kiss, let alone an unwanted sexual advance. This was the prince, who truly loved Snow White, kissing her lifeless body goodbye. Yet, because only true love could break the evil spell, the kiss brought her back to life.
To quote Morgan again, "The kiss breaks the spell and awakens her from her trance, and to the delight of the [seven] dwarves, they depart to live happily ever after in his castle."
But, in order to reach out to the woke community which has raised its voice in protest, I offer this proposal (sarcasm alert): I urge parents to teach their sons, that they should never, ever, force themselves on a girl or woman or coerce or pressure them in any way to engage in any sexual act, however small, against their will. (No sarcasm so far. I mean every word of this.)
The only exception would be: 1) your son is a prince; 2) he is in love with an orphaned princess whose evil stepmother is a queen, jealous of her beauty; 3) the queen gets that princess to eat a poisoned apple that puts her in a death sleep, one from which she can only awaken if kissed by her true love (your son, the prince); 4) and, finally, seven dwarfs then find the sleeping princess (presumed dead) but, rather than bury her, they put her in a glass coffin.
In that case, your son is allowed to gently kiss his beloved, princess, after which the two of them, along with the seven dwarfs, can live happily ever after.
Satisfied?
© 5.7.2021 by Michael Brown, CP Op-Ed Contributor, "The Christian Post".
[JS: In Disney's original "Snow White and the Seven Dwarfs", the prince does have permission to kiss Snow White. He just doesn't get it in writing and signed in triplicate].
A Day In The Life.
Awake at 8a on Friday, I turned-on the heat, as it was only 42° outside, did a finger-stick to check my BSL (Blood Sugar Level), rubbed-in CBD Pro-Level 5 Pain Ointment, had a couple smokes, made coffee and breakfast. I listened to The Chris Plante Show for a while, drew-up a small errands list, and left at 10:30a for Rite Aid, the cleaners, and bank.
Back by 12:30p, I had pizza for lunch, grabbed a 2hr nap on the couch, and the rain arrived. I had paperwork to work on, and some utility bills to pay online. It turned dark early, due to the heavy cloud cover, so I watched History's "Ancient Aliens" and NBCsN's "Mecum Auto Auctions'. Yes, it was another NBC (Nothing But Crap) on CATV night. By 10p, I did my nightly Lantus Insulin shot, and watch the auction until 11, and pulled the plug.
I slept-in until 9:30a on Saturday, did the finger-stick and recorded the BSL, made coffee and breakfast, rubbed-in plenty of CBD Pro-Level 5 Pain Ointment, and checked my email and voicemail. I checked the news and weather, and wanted to get the pharmacy trip done, before the "SEVERE THUNDERSTORM WARNING" rain with hail, arrived. I did and garaged the Jeep. After lunch, I cleaned-out the garage, did some gardening until the temps dropped to a point where I'd need a coat, and quit for the day outside.
There was a NASCAR race on FS-1 (Fox Sports), but I skipped it, opting for tomorrow morning F-1 Grand Prix in Spain, at 9a. I tried but could fall asleep on the couch, so I watched "mecum Auto Auctions", "Homestead Rescue", "American Pickers" and Fox News until 10p, and called it Yankee Doodle.
Suddenly, just as I was getting ready for bed, a hypoglycemic event hit me: disorientation, sweating, shakiness, and I hurried downstairs, did a BSL test – way low at 50 from 148 just 30mins before! – grabbed 3 small bottles of apple juice and some red raspberries, for the sugar. Then, I had a smoke in the garage, while the sweating stopped and I returned to "normal". I have had one of those since the 5 I had last May. Wow, that was close, but I caught it in time. I finally got to sleep around 11p.
Up at 5:45a, I was feeling OK, and my BSL was still 151. I had a couple smokes in the garage, had coffee and breakfast, grabbed the usual morning shower and watched the F-1 Gran Prix of Spain, from 9-11a. Rain cells moved thru the area, and it was a very chilly 43° outside, so I stayed inside and did paperwork and relaxed after last night's hypoglycemic event. I was tired from it, and needed to watch what I ate and when I ate it. I took a 2hr nap mid-afternoon, and by dinner, closed down the condo and upped the heat to stay warm.
I watched some selected episodes of Discovery's "Overhaulin'" and FNC News until 10:30p, and quit for the night.
Awake at 7a on Monday, I rolled-over and went back to sleep until 9:30. It was a cold 37°, so I fired-up the furnace, and got the condo's heat from 68° to 77° within 30mins. I had coffee and breakfast, and a few smokes in the cold garage, and went on a few errands. I stopped at nearby Royal Farms to get my Jeep's 25gal gas tank filled, due to the pipeline hack, last week.
After dinner, I watched some episodes of "Ancient Aliens" until 10p, and quit for the night.
I slept-in until 9:30a on Tuesday, awakened by the lawnmower company mowing outside, with their machines, weed whackers/trimmers and leaf blowers. After getting the "Chris Plante Show" on the computer, I did the usual finger-stick, made coffee and had a light breakfast. Despite slathering-on copious amounts of CBD Ointment, and taking 2 100mg Gabapentin, my left hip, thigh, and knee were hurting. I finally got 1 of 2 perennials planted in the front gardens, and will get the other in by Friday.
Sherry was doing volunteer work in nearby Hallam, so a couple hours after lunch, she stopped by on her way home, to visit with me. I really enjoy her hugs and kisses. After dinner, I watched a couple episodes of "Iron Resurrection", Fox News' "Tucker" and called it a day at 9:30p.
Once again, I slept-in until 9:30a on Wednesday and got up to a beautiful, sunny 52° morning. I made coffee, had a light breakfast and a couple smokes in the garage. I had some errands to do, so I left at 10:30a. My left hip, thigh, and knee were hurting during each stop, so I finished-up the errands, except for the pharmacy, and came home to rest. After dinner, I watched some selected FNC shows, and called it a day at 9p. The cleaning ladies would be in early in the morning.
My alarm went-off at 6:30a on Thursday, and I got ready for the day. Breakfast, coffee and some smokes in the cool garage; a sunny but sunny 49° morning, and the ladies arrived to get the condo sparkling. I caught a nap on the couch until they left, had lunch and got the garbage, boxes and recyclables ready to go out in the late afternoon. After lunch, I took a 3hr nap on the LR couch, tired from getting-up so early, and that also helped the left hip and leg pain, somewhat.
I did a bit of gardening, rester my hip & leg by sitting on the front porch until dinner, and as temps dropped, closed-down the condo for the night. I watched "Homestead Rescue", "Bitchin' Rides" and "American Pickers" reruns until Tucker came on FNC, then finished-up a little paperwork. By 10p, I was nodding-off, and called it a week.