...
control the words, control the culture
friday, may 18
th

, 2018
what's in a word?
Why does it matter whether we call someone who breaks the law to enter the country an "illegal alien" or an "undocumented immigrant"? What's the difference between a Christmas tree and a "holiday tree"?
Howdy, pardner. It's just semantics, right? Yes ... and no. It is just semantics. But "semantics" means the meaning of words. Words exist so that we might differentiate one thing from another. Without words we have chaos. And it starts with the first words; a baby says 'Mama' to distinguish Mommy from Daddy. Words shape how we think; they color how we view the world. And no one understands this better than the Left. They seek to become masters of the spoken language because they know that words matter. The Left has a special gift for euphemisms --soft words selected to sugarcoat harsh realities so as to make those very difficult situations easier for us to swallow. But these soft words are insidious. Their sole purpose is to deceive. Race discrimination in hiring and college admissions is refashioned as the much nicer sounding "affirmative action." Who would ever oppose an affirmative action? Global warming, which can be measured and challenged, has morphed into "climate change," which means essentially nothing because the climate is always changing. When Barack Obama became president, George Bush's war in Afghanistan suddenly transformed into the far less ominous and threatening "overseas contingency operation." That's one way to try to end a war; just rename it. The examples are endless. There's a new euphemism every week. In the make-believe world of leftist language, young criminals have become "justice-involved youth." Mandates and taxes are "individual shared responsibility payments." Government spending becomes an "investment." Wanting to keep more of your hard-earned money becomes "greed"; taking more of someone else's money is transformed into "paying ones fair share." Opposing a Democrat in the White House is "obstruction." Opposing a Republican in the White House, "resistance." In the name of "diversity" the left enforces intellectual conformity. It censors opposing views in the name of "tolerance." And it labels all non-left views "hate speech." Consider the ongoing battle over pronouns, whether to call a man who thinks he's a woman "he" or "she." Very few people in the country suffer from gender confusion. Yet the Left has invested money, time and energy into making everyone refer to some men as 'she' and some women as 'he'. Why? Is it because the Left is so compassionate? Or is it because so much of the Left's cultural agenda is about blurring, even denying, the natural distinctions between men and women? For this would mean that nature and reality no longer matter; it's only our perception and definition of reality that count. Sometimes it's just an adjective that can change or even negate the entire meaning of the word it describes. Take "social justice." Justice means getting what you deserve without favor. "Social justice" means getting what you don't deserve because you are favored. Here's one we hear a lot these days. "My truth." Truth is reality regardless of any individual's feelings or perceptions. "My truth" is how I perceive things regardless of how they really are. And how about "Same-sex marriage." Let's not get into the politics; let's just look at the language. Throughout history, in every culture, marriage has been the union of men and women; husbands and wives. "Same-sex marriage" is the union of men with men or women with women, but it is most certainly not the union of husbands and wives. Once the phrase "same-sex" was placed before the word marriage - that is, once the definition of marriage changed, the debate changed. It became about "marriage equality." It was suddenly an act of bigotry to limit marriage to husbands and wives. And because the word "marriage" became part of the contract, a certain legitimacy was bestowed upon an illegitimate union. All this manipulation of language has paid off for the left, because whoever controls the words controls the culture. Don't believe me? Just try using plain language instead of the Left's politically correct jargon. But be careful. Use "the wrong words" and you might lose your job, your home and your reputation. The culture war is largely a war of words. Right now, the Left is winning. You can see the consequences everywhere: in politics, in education, in media. It's time to fight back. We should not cede another syllable. What's in a word? Everything.
© Sunday, May 13, 2018 by Michael Knowles, Guest Columnist, "The Coach's Team".
A Day In The Life.
Awake early at 5a on Friday, I rolled over and went back to sleep for another 2½ hours. Finally up at 7:30a, I made coffee, muffins, scrapple, grits, eggs and had some OJ. Time to go to Weis Market and get some of that over with, before afternoon traffic gets heavy for weekend BBQ, picnics etc. The MediCare crowd was in midday yesterday, and... well, each "social group" has its own day and time period(s), it seems, for getting their food shopping done. I've been going there for 27yrs and know the people and patterns. I also have to go to Dad's and install the new 10ft printer USB cable, put the current 4ft cable in with my other cords, and rearrange his desk in his new office. Becky, Dad and I drove over to the old house on Frelen Rd, and walked thru it. Becky & Co did a great job on cleaning and staging the place for the realtors and their clients. We expect it to sell quickly at $249,900.00.
Back home by 12:15p, an old buddy from my nursery/GC&N days, stopped by, we selected my scoped A-10 .308cal/ 7.62cal x 51mm "Evil Black Sniper Rifle", the awesome scoped Beowulf .50 cal on an AR-15 platform, one of my 2 Kimber 1911 .45cal ACPs and a police-grade swat Tactical Remy 870 12ga, to take along. He also brought along a few "toys". He too, is also suffering the ravages of getting older, after a quad-bypass just 2yrs ago, at 65. We shot 100yd - 300yd targets for 2-3hrs, ran out of energy, quit and he drove me home. After putting away the hardware, I took a snooze on the couch until 7:30p. I had some bills to pay, a pile of mail to go thru and a to-do list for tomorrow and Sunday to update. With nothing to do on Saturday,. I decided to sleep-in late, tool my Rx 10mg Valium and Rx 20mg Oxycodone, and went to bed at 9:45p. Needless to say, I slept soundly.
Up at 11a on Saturday, I had coffee and OJ, and set out to get some of the to-do list done. I tried to hook-up the Jeep to UConnect on the 8"x 4½" screen, but it kept rejecting my 28 year old "js@gdnctr.com" as an "invalid email address". FUCK IT, Jeep! I'll try again later. The Verizon IndyCar Grand Prix Race from the Indianapolis Speedway was on ABCSports at 4p, so I watched it for a couple hours. Meanwhile, massive t-storms were brewing from the west/southwest, and rolling right toward our area; we got a tornado watch. Hooooo-Weeeee!
Why do all crackers have pinholes in them?
The t-storms ended around 1:30p, and I was losing energy quickly. Time for some sleep. Tomorrow's another day,
I slept-in until 9:30a, and missed ¾ of the F1 GP at Barcelona, Spain... DAMMIT! I got the schedule mixed-up with MOTO GP schedule, instead of F1's schedule. Oh well, there's always next Sunday.
/p>
Sleeping-in until 10:30a on Sunday, it felt good making-up for all the 5am mornings – Hey, I am retired, after all, and can damn well do what I please – and screw the "lost mornings; it was sure worth it, even though I only caught the last 10 laps of the 65 lap race. It was on again at 8p, so I watched the start. After breakfast, I drove over to Becky's & Dad's to see his new tile plank floor in the laundry room. And then over to Home Depot to get 2 Hampton Bay Floor Lamps, much assembly required. One of the globes was broken and Home Depot replaced it, no questions asked, so I'll do the assembly tomorrow. With all that went on today, I clean forgot the laundry and was up until well past 1a doing loads of laundry. I was just too tired today. I pulled the plug around 1:30a, and hoped to have another good night's sleep.
Awwwwwwwwwwwwwwwwwwww, Hawaii's got a good chance of being obliterated by the active volcano. TOO FUCKING BAD! I hate the place ever since I was there on business, which extended into a 2-week vacation, which I cut short, to native racism; racist native filth everywhere you turn; so when it blows, I hope it kills everyone and everything within 500 miles. Stay put racist people and don't evacuate; everything will be fine; heh, heh, heh. I hate the lowlife scum on those islands, our US Navy, Air Force and their families excepted. T-storms moved into the area and stayed throughout the night, just as I was headed to bed around 11:30p.
After another wonderful night of sleep, until 9:30a, and I hated to get up for a thunderstorm and hot/humid day. Coffee, Starbucks Double shot Energy drink, oatmeal and OJ. I had 2 large floor lamps to assemble and place in the condo, without breaking the upward reflecting glass globe, as I did last night. What a mess to clean-up.
Around 11a, I started losing energy and just wanted to lay down on the LR couch and sleep. But I had things to do, like get those complicated lamps assembled and carefully placed, without breaking any more globes. I had to go out for 3-way 30-70-100w bulbs, and wait for a neighbor to come by to help me with the globes. Meanwhile, I drove to Weis Market to get a few of the things on my ever-growing list, and I'll finish it later in the week. Sherry called as I was unloading, and is also pushing me to get the operations "over with", so I can get back to "normal", whatever the hell that is.
I feel sorry for the 21% of my fellow Baby Boomers who are penniless going into retirement, but they spent it all on worthless cars, vacations, "new toys", clothes, homes beyond their means, etc. They're going to have to either work a lot longer and save every penny, or go on SSDI welfare.
And the 28 deaths linked to carbon
monoxide poisoning by idling cars with keyless ignitions
, a "NY Slimes" report says. Damn the idiots who can't operate a simple car..
By 10p, I took my evening Rx pills, waiting an hour and took the Rx 20mg sleeping pill and Rx 10mg Valium, and went to bed.
I slept-in until 1:30p on Tuesday; man did that feel good. 91°F humid and hot outside and a nice, cool 72°F in here. My package from Coffee Fool arrived UPS with the 5-lbs, which should tide-me-over for more than just a few months. I went out for a short walk, until my L/S ribs started hurting, and called it a day.
My 2 new Hampton Bay Floor Lamps looked and worked awesome. Time will tell tonite when it gets dark and I fire-up the lamps and blend them in with my other LR & DR lights.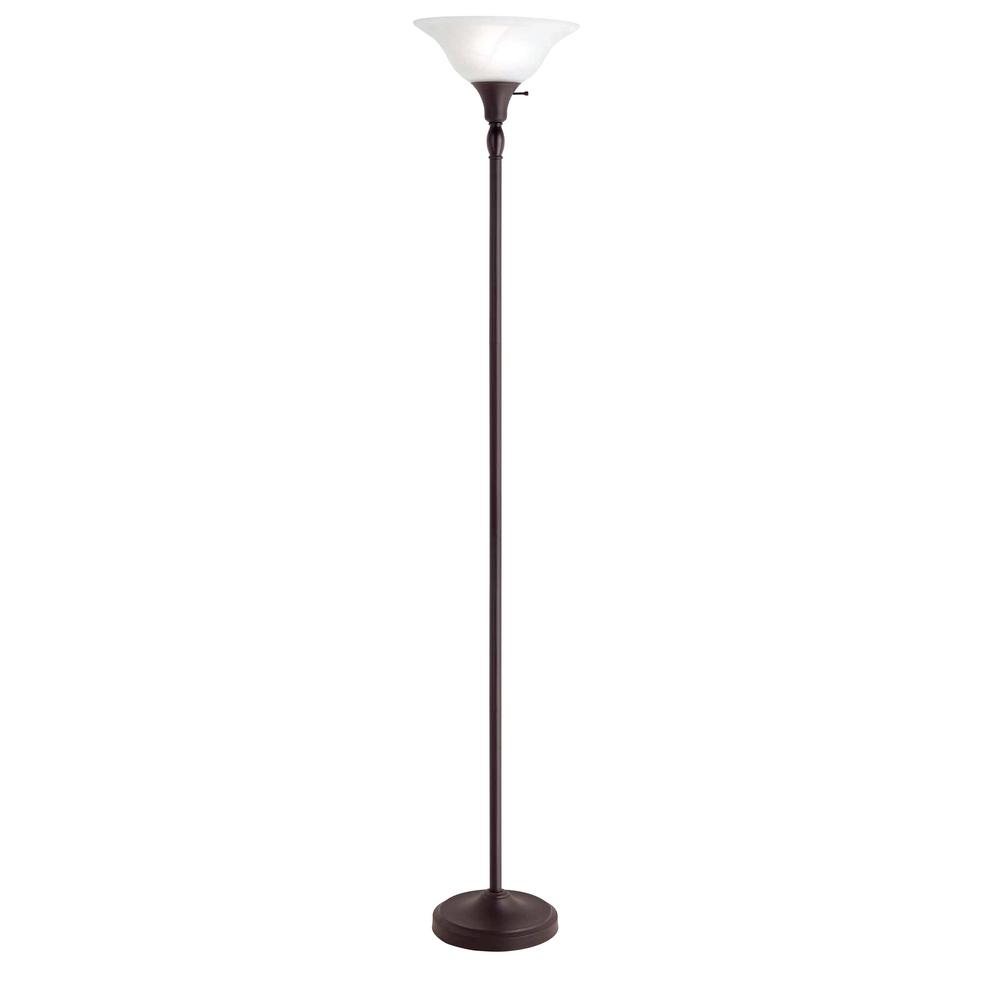 Hampton Bay Floor Lamp
How a turd-smuggling little dwarf like Spike Lee gets awards and kudos, is beyond me. All of his "works" are a steaming pile of dogshit, as he is. Stephon Clark, Michael Brown, Alton Sterling, Philando Castile and others who deserved killing by cops for pointing cellphones, pipes and other gun-looking items at cops, and richly-deserved what they got: DEAD.
I spent the day inside, out of the 92°F heat and humidity, since I got all my errands done yesterday. Tomorrow, I go south to Emerald Garden Chinese Restaurant to get take-out lunch-dinners for Dad, Becky and myself. Becky and I are going to Brownie's Glass in West York, to order a piece of covering glass for Dad's 40-yr old desk, so the beautiful wood doesn't get marred and damaged.
Violent t-storms blew thru the area around 5pm, and lasted about an hour, shredding tree leaves and garden plant leaves, from which they'll recover, just fine, soon enough. Looks like we're done for the evening and it's moving south. 500,000 lost power and the damage to structures and vehicles was widespread.
Here's the MLS Bershire-Hathaway/ Coldwell Bankers listing on Dad's home of 30-35yrs, for $229,900. What a bargain! Nice place and way, way under priced.
I have some errands to run tomorrow, plus stop by to visit Sherry, Dad and Becky tells me there are 5 views lined-up by realtors to see the house. $10 says there are 2-3 offers tomorrow, and 1 will sell it. Good to get rid of it, for Dad's sake, so he can enjoy his new condo and finish furnishing it, as he and Becky have been to a half-dozen store looking at sofas and recliner chairs, and bought $3,000 worth at Wolf's today. With my ribs hurting, and some pain moving to my belly, I took a Rx 10mg Valium and a Rx 20mg Oxycodone, and headed upstairs for bed. The Spring t-storms and tornadoes raged on. Tomorrow's another day.
Flooded streets everywhere.
Up at 9:30a, I had coffee, oatmeal w/ red raspberries, an English Muffin, and OJ. My ribs were hurting, so I took an Rx 10mg Oxycodone, and lay down on the LR sofa. By 1p, it'd worn-off, and I had some errands to run: replenishing several vitamins I take every morning, and it took 3 drugstores – Rite Aid, CVS and Walgreen's – to find what I needed. Ribs still hurting, I laid back down on the LR couch, and slept for a few hours. I checked my Chinese food list, made a couple of changes as per Becky, due to a tooth implant, and will go down at 11a, when their kitchen opens. I got the mail and had a small pile of bills to pay, as well as two things for Dad, ordered by Becky. My Amazon Prime gets them here in two days; nice. For the balance of the evening, until 11p, I watched some CATV, and hit the sack. The hard rain continued and FLASH FLOOD warning went-up on all TV and radio.
Up at 6a, the cleaning ladies were due in at 8:30a, which gave me time for coffee and a couple can of Ensure® for breakfast, before they showed-up. I had checks to write for a few bills, and needed to get them into the mail at the sprawling Springettsbury Post Office. I also stopped by Rite Aid and there were several Rxs waiting, and then I just took a drive into East York, where all the flooding was. I didn't get far, as most all streets were blocked-off and only residents were being allowed in, ferried-in by National Guard trucks. Not much point in watching water levels rise,l so I drove home, as the worst flooding will occur tomorrow and Saturday.
Becky called at 5p, and after 4 days on the market, Dad's house sold $4,000 above asking price! WOWZER! Time to start working on my rehabbing my condo now, after she's had a Summer's rest. Damn, I just got word that the lady who made the offer rescinded the offer, so we'll go to buyer m21 and 3, and see if they're still interested. SHIT!
I watched some car-related shows on The Velocity Channel, took my 1/2 Rx Valium and 1/2 Rx sleeping pill, and headed upstairs for bed around 9p. Becky and I have places to go and things to do tomorrow morning, and I need to get some quality sleep.