"On The Line" (opens in separate window)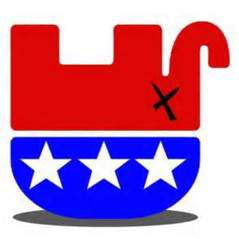 gop commits suicide
trying to stop trump
friday, november 19
th

, 2021
When did the GOP cease to be a functioning party? When was the exact moment that you knew the GOP establishment stands for nothing and stands against nothing?
For many, this became apparent in the awful months immediately after Election Day 2020, of course, when a steady stream of GOP leaders took to the airwaves to let their voters know that "the most secure election in history" had just taken place.
For others, it was the Second Impeachment of Citizen Trump —- a symbolic exercise that only served to destroy the political career of Mitch McConnell, and raze his reputation as the bluegrass Machiavelli of our times. DemonKKKrats & Republicans... they're not
on our side.
McConnell wanted Trump convicted, that's for sure. He pushed that sham until it was clear that he didn't have the votes. The GOP establishment wanted Trump dead and buried to clear the way for Their People in 2024. At the 11th hour, McConnell realized that he didn't have the votes and so he told his Republican colleagues: he would no longer vote to convict President Trump. The entire pointless exercise had only served to enrage the GOP base. This time there was no ground cover to hide his double-dealing. The Turtle had been caught. This was his show.
Two months earlier, Mitch had told Americans that he would never be bullied into giving them any more stimulus money for COVID —- one week after he told Americans that he was prepared to give the rest of the world $700 billion. Why was McConnell unable to provide some fiscal relief for working class Americans? (After all, not everybody was lucky enough to marry the daughter of a Chinese shipping tycoon who happened to leave you between $5million and $25 million as a personal gift.) It seemed suddenly obvious that The Turtle was not actually a political genius. What was he doing? He seemed to be leading a revolt of GOP politicians against their own voters.
McConnell wasn't the only one who recently drove himself off the proverbial cliff like Thelma & Louise. Look at how many of them bought the January 6th insurrection story hook, line, and sinker! Did they know it was a fabricated FBI plot? Probably. Did they care how many American citizens would be jailed without being charged illegally for months? Not in the slightest. It's not just Romney, Sasse, Murkowski, Collins, and the usual cast of "useful idiots" for the Democrat Party either. It's Lindsey Graham telling you that he's "getting to the bottom of things" every night on cable TV for five years. It's Kevin McCarthy getting caught renting rooms at the Frank Luntz Day Camp for Future OxyContin Lobbyists after being forced to remove the unpopular neocon gasbag Liz Cheney from GOP leadership even though McCarthy was the one who had elevated her in the first place. You simply can't quantify that kind of stupidity. The Left's here and they're on fire... and so are our cities.
You would think that shame or self-preservation would put a stop to the self-humiliation that these people indulge in almost daily. But you would be wrong. Since that second impeachment farce, the situation has actually gotten much worse. It's now clear that the GOP is unable to function even as an opposition party in the minority. This became abundantly clear during the rushed Senate confirmations of Biden's cabinet nominees.
First, the GOP failed to halt the nomination of that despicable fraud, the transgender Dr. Rachel Levine to HHS. Only Senator Rand Paul, to his great credit, attacked Levine for pushing gender reassignment for minors. (When I asked Senator Paul why he was the only Republican to do so, he told me that most of his colleagues were frightened of being called "transphobic" by the press.) Then the GOP failed to halt — and in fact seemed to embrace —- the nomination of Merrick Garland to be Attorney General at the Department of Justice.
For most the coup de grace was watching every Republican on the Senate Judiciary Committee vote to confirm Lisa Monaco as deputy Attorney General — even though she was deeply tied to the disgraced FBI Director Bob Mueller.
It's not particularly important why the GOP did next to nothing to block (or even delay) the most radical and unqualified people (Becerra, Levine, Gupta) that the Biden Administration nominated for high government positions. It's more important to recall that the GOP establishment put up a lot more resistance to President Trump's nominations for high government positions.
This, of course, leads us to an obvious question: what does the GOP stand for? Apparently it now stands for the enthusiastic endorsement of its ideological opponents who want to prosecute and harass Republican voters aggressively, politicize intelligence for political ends, and push hormone blockers on children without parental consent. In other words, the GOP wants to enact the Democrats' entire agenda — all the way down to the child abuse.
What we're witnessing right now in America is the two-party system collapse into a one-party system. On all the important issues in America like vaccines, lockdowns, spending bills, fake insurrections, big tech censorship, and election reform there's no meaningful difference between the two parties. There's just a different set of talking points.
The GOP has basically committed a kind of ideological suicide in its push to oust Trump and his allies from the party. This became very clear with the insane negotiations they conducted with Nancy Pelosi over the January 6th Commission: only Republicans would be dumb enough to empower a commission of Democrats to conduct an investigation of Republicans. The GOP establishment is so awful that it actually voted to make Juneteenth a national holiday while the FBI was still arresting GOP voters over a fake insurrection. That's really all that you need to know. Hypocrisy is a tribute vice pays to virtue.
The merging of the Republicans and the Democrats into one big anti-Trump party has enormous implications for our country and all of them are bad. Just consider our civil liberties: do we still have any? Every time Mitch McConnell gets in front of the TV cameras to harass Americans one more time into getting vaccinated, I'm pessimistic on that score. The GOP doesn't even care about deficit spending anymore either. The self-described "Party of Limited Government" just voted in favor of the Democrats' trillion-dollar infrastructure bill before they could even read it! Does that sound conservative to you? I'm so old that I remember when some of these people were whining that Trump violated all of our democratic norms. Can you believe the gall? There are truck stop whores who behave with more decorum.
As you watch the total collapse of the GOP establishment, it now seems obvious why so many GOP voters picked a flamboyant Manhattan real estate developer with a TV show about firing incompetent people to lead the party in 2016. Our corrupt political class is so out of touch that Donald J. Trump got elected to save us from them —- because he was, by comparison, an honest man. The GOP managed to get rid of Trump, but they also managed to get rid of most of their voters. Their timing is impeccable too. McConnell and McCarthy and the rest of them have managed to hitch their wagon to Biden just in time for the credibility of everyone in Washington to bite the dust in Kabul.
© 8.27.2021 by Emerald Robinson, "SubStack".
A Day In The Life.
Up at 8a on Friday, I went thru my finger stick to check my BSL (Blood Sugar Level) and recorded it on my Diabetes 2 chart, made coffee and breakfast, had a couple smokes in the semi-cool garage and checked the leftover errands list. It was only 43°, rainy but it felt good to have fresh air in the garage. My kitchen's wide drawer, with silverware and other cooking utensils/items, crashed last night around 10p, so I called Chad The Handyman, whom Dad, Becky & I've used many times before, for some help in getting the 2 aging metal/plastic glide rails replaced. I can't do it with my right arm's Torn Rotator Cup. Then, my bedroom window blind came undone with the 4 nylon string cord coming off-track and binding-up on its right side. I also called Tammie, whom I'd bought them from back in 2018, for some help on Monday.
Yikes! Price increases from this time last year: +49.6% for Gasoline for our vehicles, +28.1% for the Gas heating bill, +25.5% for a Hotel room stay, +20.1% for Beef, +11.6% for Eggs and +7.5% for Kids shoes. Those are just for openers. Yeah Biden, you dumb asshole, things are working just fine and it all won't cost US Taxpayers a single dime. You are a demented, lying sack of shit! Trump had it right.
The only thing cruel and unusual about the death penalty are the delays.
I called Sherry, right after lunch, and she was helping her daughter, Hollie, with customer traffic at her antique arts & crafts store in nearby Hallam, and she'd be coming by after things slowed down, around 2:30p. We drove down to the nearby Springettsbury Twp Park (51ac) and walked around for about 45mins, then back to my condo and talked until it started to get dusk, and Sherry had to leave before dark. Nice day when we're together. I had a Roast Chicken, Apple & Brie Grilled Cheese Sandwich for dinner, watched Discovery's "Gold Rush", FNC's "Tucker", "Laura" and most of "Gutfeld", until I faded just before midnight.
Up at 7:30a on Saturday, I went thru the usual morning routines, and checked the weather and news. My electrician had to postpone his app't with me, since his work is on my front light post and it just isn't safe to work in the rain. And 43° cold. I went food shopping at nearby Weis Market, which was crowded; something I usually don't do on weekends, but my 'fridge was almost empty; another thing I usually don't let happen.
After lunch, I caught a 3hr snooze on the LR couch, re-checked the news and weather -- still raining -- and found the 10hr endurance IMSA Motul Petit LeMans race on, and watched for the rest of the day and evening, until 11p. Time for sleep.
Awake at 6a on Sunday, I rolled over and went back to sleep until 8a. It was a bright, sunny and cold 37° morning, so I fired-up the furnace, did the usual morning BSL routine, made coffee and Scrambled eggs with smoked salmon on English muffins. At least we're a few weeks away from getting any serious snow, unlike the upper Northeast, yet we did have a large area of snow/rain to our west, which when it hit the massive Appalachian Mtns, fell apart and moved north of us in York. My 2 Phalenopsis Orchids, in my sunroom-office, are in bloom, for the 3rd year; nice.
Three CHCA E-Board members came over to meet with me about a problem neighbor, and get my advice about her rogue, illegal plantings, and then my freelance Met-Ed electrician stopped by to repair my front pole light's cut wire. For a while, it was pretty hectic here, but soon enough things calmed down, and I watched the F-1 Brazilian Grand Prix from 12-2p. Great race. I did 2 loads of laundry and Becky stopped by with food (Salmon, Chinese) from Wegman's in Lancaster, and we had pizza together; her first since her 9hr operation at PSU-Hershey, and my first in months. My BSL (Blood Sugar Level) is going to be thru the roof tonite at 10, from the dough's carbs, when I do the finger stick, so I took a Metformin right away.
I skipped dinner and watched History's series, called When Big Things Go Wrong and then the The Engineering That Built the World until 11p; then shut down.
Up at 8a on Monday, I did the usual morning routines, and had a couple smokes in the cold garage with my mug of hot Kona coffee. Late morning, Bill called and stopped by to fix my kitchen drawer, Tammi stopped by to take down the malfunctioning bedroom blind and get it repaired or replaced, Becky and Karen (Bill's wife) also stopped by for a visit, Pam from the CHCA E-Board asked me to revise a sentence in the letter I'd written yesterday, Choice Security Co called to set-up a service app't, and I had several errands to do. Back by 2p, I had steamed Chinese dumplings for lunch, and crashed on the LR couch for 2hrs. I watched "American Picker" reruns for a couple of hours, then switched to "Fantom Works" until dinner. Afterward, I watched Fox News shows until 11:30p, and called it a day.
Awake with lower back and leg pain several times in the early morning hours, I got up at 8:15a, took a 50mg Tramadol to dull the pain, and went thru the usual morning routines. I hope this not Sciatica coming back, after a terrible year's bout with it, back in 2010. It was a bitter cold 33° and heavy frost outside, but sunny morning, as light snow squall cells moved thru the York area, overnight. Winter's coming quickly. I checked the weather and news, my app'ts for the day, with an Endocrinology Dr at 1:00p at Wellspan Endocrinology, down south about 7 miles. After a quick lunch, I left at 12:15p and, good thing I did, as there were numerous construction road blockages and traffic was heavy due lunch time folks going somewhere. I got a thumbs-up and high-five from my Endocrinologist, for such good BSL (Blood Sugar Level) and weight loss numbers, over the last 4 months. Good on me.
On the way home, I stopped at Weis Market to get a few things, and unloaded when home. I had some condo chores to do, did paperwork and paid some utility bills online, because TV sucked until later in the evening. After dinner, I watched History's "Curse of Oak Island" until Fox News' "Laura" and "Gutfeld". Lights out at midnight.
Sleeping-in until 9a on Wednesday, I had the same sharp pain in my right lower back and leg, so I took a 50mg Tramadol. I had coffee but held-off on breakfast, until the drug got into my system and relieved the pain, somewhat. I checked the weather and news; it was 37° outside, "nicer" than yesterday. All of a sudden, it was 10a, and I'd gotten nothing done yet. I left to get a couple errands done, had lunch and waited for Sherry to arrive at 1p. We spent the afternoon together, with her driving us around to some stores and Hollie's shop. We parted around 4:30p, before it got dark, and I had some Meatloaf w/ Mashed Potatoes & Green Beans, for dinner. I did my 15 pill evening regimen (19 pills in the morning), watched Motor Trend's "Phantom Works", Fox News' "Tucker", "Laura" and "Gutfeld", and called it quits at midnight.
On August 3, 1990, Shit-For-Brains President of the United States, George HW Bush, declared the month of November as National American Indian Heritage Month, thereafter commonly referred to as Native American Heritage Month. There's also Black History Month, which could fit onto a 3x5 card, Hispanic Or Something Month... when is White History Month? WE founded the country, developed it, invented so many things to improve the world's life that they're uncountable, saved the world in wars of aggression and communism, etc etc etc etc etc. WE DON'T NEED A SILLY MONTH, dammit! The pathetic minorities can have their silly little months, or whatever. WE OWN ALL THE YEARS, DECADES, GENERATIONS AND CENTURIES!
:LGBTQ: Let's Get Biden To Quit.
Okay, here's the reason that Lunch Bucket Joe is a moron. (Turn on the volume button at the bottom of the video)
Uh oh, looks like Winter is coming with a vengeance, next week.
Up at 8a on Thursday, it was a "balmy" 41° and a sunny start to the day. I had the hip/back pain again, so I took another Tramadol, and held-off on breakfast until the drug got into my blood system, to relieve some pain. I had Kona Hawaiian Volcanic Reserve Coffee, and a few smokes in the garage, with the oscillating heater running. Next week's weather forecast is looking glummer and glummer, especially for those who are going to be traveling for the Thanksgiving Holiday. I'm staying put, unfortunately, because of my 6 co-morbidities, and the deadly risk of Covid-19, I and Becky won't be able to have Turkey Day Dinner with Cousin Tom and his lovely family, and others. Becky's still recuperating from her major abdominal surgery at PSU-Hershey Medical Center, and doing fine. One day at a time.
I left for Southern York County to get a few errands done, and was back home by 12:30p. The Choice Security Tech showed-up at 1:15 -- it was my old friend, Neil -- got the work done, and we talked for a solid hour, catching-up on things since we'd seen each other last, years ago at my Ol' Garden Center & Nursery when he'd installed and serviced its complex and extensive security system, poliics and family stuff. After he'd left around 2:30, I had to get the garbage ready to go out to the curb tonite, do a couple condo chores and get some lunch, since I'd skipped breakfast. The rain arrived at 6, and continued all night. I watched some TV until 11p, and bagged it for the day. Tomorrow starts a new week here in the "Journal".