the fbi and the irs suck
friday, september 2
nd

, 2022
Tax collectors and federal cops have always been rotten to the core.
There's no doubt that both the FBI and IRS are having a tough moment with the public. Perceptions that the national police agency is at war with half of the population have eroded its standing, while Biden administration plans to super-size the tax-collection agency further sour public perceptions of that never-popular arm of government. It might all be very depressing if you work in the public sector, or you could say that Americans are finally gaining a more realistic assessment of deeply flawed federal enforcers.
[FULL TITLE: "Something Upon Which Americans Can Agree: The FBI and The IRS Suck. Tax Collectors and Federal Cops Have Always Been Rotten To The Core."]
Over the past week, headlines have featured massive increases in funding for the IRS and a job ad seeking tax collectors "willing to use deadly force" as well as a high-profile raid by the FBI on the Mar-a-Lago home of former President Donald Trump unprecedented in the country's history. If any publicity is good publicity, this should have been a shining moment for government arm-twisters. But both agencies are viewed with suspicion by much of the public and suffer continuously sliding approval ratings.
Tax collectors are unpopular under the best of circumstances given that they function as licensed muggers in the service of a governing apparatus deeply resented by many of the people from whom they extract funds. In 2015, Bloomberg reported that "IRS workers are miserable and overwhelmed." The article noted that Americans are sour on the revenue service and that even agents' families and friends view what they do with horror. The service's standing has been further worsened by revelations that its agents are political players.
"The IRS has long been disliked, but its employees aren't used to being vilified," Bloomberg's Devin Leonard and Richard Rubin added. "In May 2013 the agency disclosed that it had given extra scrutiny to Tea Party groups that were seeking nonprofit status. To Democrats, the decision to group together Tea Party applications and other politically oriented groups was merely a misguided attempt to find a consistent rule after years of muddled policy. … To Republicans, the IRS's hard look at Tea Party groups proved the service has a political bias."
"The Power to Tax Is the Power to Destroy" (1976).
This is the government agency Americans see getting handed an additional $80 billion even as it advertises for hires eager to "carry a firearm" and "willing to use deadly force." That doesn't go down well with everybody.
Historically, the FBI enjoyed greater public trust than the IRS, though it really deserved nothing of the sort. In recent years, though, its reputation has taken a beating.
"Internal and external reports have found lapses throughout the agency, and longtime observers, looking past the partisan haze, see a troubling picture: something really is wrong at the FBI," Time's Eric Lichtblau reported in 2018. "The FBI's crisis of credibility appears to have seeped into the jury room. The number of convictions in FBI-led investigations has declined in each of the last five years."
In addition to leaks, mismanagement, and internal chaos, the bureau has been plagued by charges of politicization. Led by then-President Trump, Republicans saw a biased agency that favored their political opponents. That impression is fueled by continuing allegations of favoritism from current and former FBI agents compiled by GOP lawmakers, making it relatively easy for Trump to convince supporters that the raid on his home was politically motivated.
Unsurprisingly, public support for both the IRS and FBI have taken a hit. While it's difficult to separate disappearing faith in those two agencies from erosion in the government's overall standing, Gallup found approval of both the FBI and the IRS plunging by 13 points from 2019 to 2021. Like almost everything else these days, there's a partisan cast to those numbers. In this polarized environment, while Americans are divided about the FBI's search of Mar-a-Lago, 76.5 percent of Republicans see "Trump's political enemies" behind the search, according to the Trafalgar Group, while 70.5 percent of Democrats attribute the raid to "the impartial justice system."
The recent empowerment of the IRS breeds more nonpartisan reaction, with 42 percent of Democrats and 48 percent of Republicans fearing increased audits, according to Politico/Morning Consult. While much of the public may believe empty assurances that tax collectors' efforts will be directed at the wealthy, a substantial number disagree, possibly because of recent reports that low-income wage earners are targeted much more often than those with more money.
IRS efforts "resulted in these low-income wage earners with less than $25,000 in total gross receipts being audited at a rate five times higher than for everyone else," Syracuse University's Transactional Records Access Clearinghouse noted in March of this year.
You have to place a lot of faith in assurances from widely distrusted federal employees to think tax collectors will stop going after people who have limited resources with which to defend themselves.
While the headlines about the FBI and IRS are eye-grabbing, the related erosion in support is long overdue. Both government agencies have histories of abusive, corrupt, and high-handed conduct. They also have track records of political weaponization—not against one party alone, but on behalf of whoever is in power against critics and opponents.
"The FBI … has placed more emphasis on domestic dissent than on organized crime and, according to some, let its efforts against foreign spies suffer because of the amount of time spent checking up on American protest groups," the Senate's Church Committee complained in 1976.
"Two years after cases of gross misconduct by senior Internal Revenue Service officials began surfacing, a House committee has determined that the problems are widespread and probably include at least 50 to 60 'serious' examples of abuse of office," The Chicago Tribune reported in 1990.
"Since the advent of the federal income tax about a century ago, several presidents—or their zealous underlings—have directed the IRS to use its formidable police powers to harass or punish enemies, political rivals, and administration critics," The Christian Science Monitor observed in 2013.
"Nearly every examiner in an elite FBI forensic unit gave flawed testimony in almost all trials in which they offered evidence against criminal defendants over more than a two-decade period before 2000," The Washington Post reported in 2015.
That's an impressively awful record for two agencies that are finally losing substantial public support. The IRS and the FBI aren't bad because they're under the control of the wrong political party, they're bad because they've always been rotten to the core. At a moment of national revelation about the flaws of tax collectors and federal cops, Americans need to realize that we're all at risk.
© 8.15.2022 by J.D. Tuccille, "reason" magazine.
[JS: With the IRS spending $80 Billion to hire 87,000 new armed agents, doesa this 2009 quote from Barry Boy Osambo make any sense? Listen and watch -- Obama's Civilian Army. Do you see any connectiion to his threat?]
A Day In The Life.
Up around 8:00a on Friday, I went thru my finger stick ritual to check my BSL (Blood Sugar Level) and recorded it on my Diabetes 2 chart, made coffee and breakfast, took a 500mg Tylenol Extra Strength for my lower back pain, had a couple smokes in the semi-cool garage and checked the leftover errands list. It was already 76°, and forecast to hit 90°+ with high humidity, again.
Sherry emailed and canceled our day, due to all the downtown North George St Traffic -- since someone hit the I-83 Queen St overpass yesterday -- and all traffic was being re-routed thru downtown York, right past her home's street, while repairs were being made. What a mess that traffic is, and I'm glad she's staying out of it, today.
The first of two heavy Amazon deliveries arrived around 11:45a, and the second is "out for delivery". Just what I needed for my aching back. I had 3 pints of Ensure® Protein Shake, laid down on the LR couch to rest for a short while -- 2 hrs -- after the 2 cases of Bai® Soccorro Supersweet Tea arrived, and waited for the 2 cases of 'Cafe Mocha' Protein Shake to arrive. It was 91° and humid outside, so I time-adjusted the under-the-mulch drip irrigation system to 2hrs, instead of 90mins, as the whole garden was suffering. Watering during the day does no good, as all surface moisture quickly evaporates, and very deep watering, at the plants' root levels, is needed. And that takes many hours. The 2nd package finally arrived around 4p.
I snozed until 6:30p, watched the news, and some other car-related programs until 10:30p. Lights out.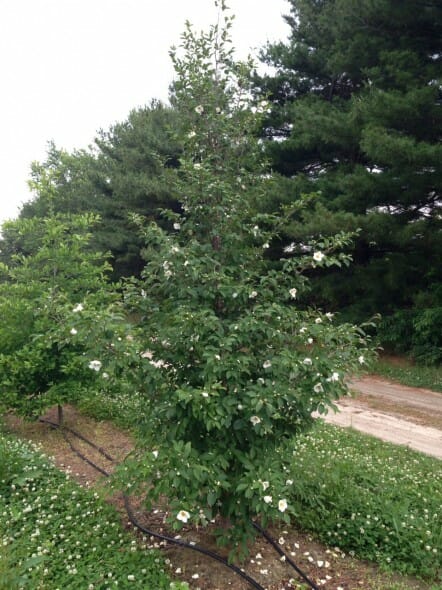 I slept-in until 10a on Saturday, already 77° and rising quickly, very humid, and forecast to hit 90° for the day. I did the usual routines, had coffee and smokes and the sauna-like garage, checked the weather and news on my computer. I moved to the back patio, where there was a slight breeze. After 2 mugs of coffee, I went out into the front garden and watered the yard tree -- Stewartia Pseudocamellia -- as a few twigs started to brown-off. Several small trees in the CHCA Complex have browned-off, and shut down or died, due to the heat and drought, so far. I'm not letting that happen here. I'll be back out daily for the next few weeks, to drench it. Next week, it's forecast for the mid-90s.
"Keeping-up with the latest news can be very bad for your health, according to a new study. Researchers at Texas Tech University found that Americans who obsessively follow the news are more likely to suffer from both physical and mental health problems, including anxiety and stress. Those who constantly check the latest headlines end up with "significantly greater physical ill-being" than those who tune in less often, according to the findings. The team adds that constantly keeping on top of the latest developments can lead to a vicious cycle where people always check for more updates, rather than tuning out after a quick read." I said this, last week. It's already beginning to affect me, so I've cut waaaaaaaaaaaaaaay back on the news.
I checked the weekend's "to-do list", and except for a 9a-11a, F-1 Belgian Grand Prix on ESPN, there's nowhere to go and nothing to do, so I decided to stay home and not waste the fuel. The next 5-10 days are going to be brutal, but nothing out of the ordinary for August - September. Most people think that July is the worst month for drought and heat, but historically, it's mid-August thru September, here in the Mid-Atlantic Region. After 23yrs in the Nursery/Garden Center/Landscape Contracting Businesses, I know.
I re-watered the small yard tree again in 2 hours, just trying to get moisture down to the root ball level. I now wish we'd have run a drip ring system under the grass, to the tree, but installation timing just didn't permit it.
I grabbed a 2hr nap, and after some lunch, tended to an avalanche of incoming email; most of it junk, which made its "tagged" way into the junk/garbage folder. Sherry stopped-by for a few hours, after helping her Daughter, Hollie, at her Antique, Arts & Crafts Shop in nearby Hallam. We had a great time, as usual. After leaving around 6p, I watched History's "American Pickers" reruns and new episodes until 10:30, and called it a day. I have to get up at 6a, for the F-1 Belgian Grand Prix, at 8:30a. F-1, IndyCar, IMSA etc are back from their Summer vacation.
The alarm went-off at 6a, I did the usual BSL routines, had coffee and a couple smokes, grabbed a shower, and settled-in to watch the F-1 race. A nice 60°, no breeze outside, cloudy, but "better than a poke in the eye with a sharp stick". Heh. Forecast is for the low-90s today, and for the next few days. Crap. Good F-1 GP race, and that made my day! So did the IMSA-Michelin GTD Challenge for GTD & GTD-Pro Cars at VIR (Virginia Int'l Raceway), right afterward. I had PA Dutch Chicken Pot Pie, for dinner, watched the news and a few car-related show until 10:30p, and unplugged.
Up at 8:30a on Monday, I had no pain, made coffee, did the BSL routine, breakfast and tuned into the "Chris Plante Show". It was already 81°, very humid and forecast to be up the mid-90s. Tomorrow would be worse. I left for the cleaners down south in Red Lion, and then on the way home, stopped at Rite Aid to p/u a waiting Rx. It was 92° and getting worse. I had a light lunch, and was not feeling well, so I took half a Valium, laid down on the LR couch and slept until 6:45p. Wow.
After talking to Sherry, I felt better, watched some TV and called it a night at 10p.
Awake several times during the night, I managed to get back to sleep until 9a, had coffee and smokes, checked the weather and news on the computer, tuned into the "CP Show", made bacon & eggs for breakfast, and moved the Jeep inside the garage. Heavy-duty t-storms coming early afternoon, torrential downpours, flooding and temps dropping into the welcomed 60s, behind the front. It was 98° on my back patio and getting worse.
---

***Heat Advisory***
•Issued By State College (Penn State) -- PA, US, National Weather Service.
•At 4:46 PM EDT, Doppler radar was tracking a line of strong thunderstorms producing heavy rain along a line extending from near Schuylkill Haven to Manheim to near Cockeysville. Movement was east at 25 mph.
•HAZARD: Local wind gusts of 40 to 50 mph. Torrential downpours.
•SOURCE: Radar indicated.
•IMPACT: Gusty winds could knock down tree limbs and blow around unsecured objects. Ponding of water on roadways and in poor drainage areas.
•Locations impacted include: Lancaster, Ephrata, Columbia, Lititz, Millersville, Willow Street, New Holland, Manheim, East Petersburg, Cornwall, Akron, Myerstown, Leola, Paradise, Salunga-Landisville, Denver, Reamstown, Rothsville, Strasburg, Mountville and York.
•PRECAUTIONARY/PREPAREDNESS ACTIONS:
•If outdoors, consider seeking shelter inside a building.
•Very heavy rainfall is also occurring with these storms and may lead to localized flooding. Do not drive your vehicle through flooded roadways.
•MAX HAIL SIZE: 1/2.00 IN; MAX WIND GUST: 50 MPH


---
Nice rainfall, dropping temps into the low-70s, but none of the above ***WEATHER ALERT DISASTERS*** happened, and they were taken down from local computer weather sites. Heh.
I was asleep, via a 5mg Valium, on the LR couch, when Sherry called, and we postponed today's visit until around 2p, tomorrow. I had a light dinner, watched some news, TV shows and hit the sack around 11:30p.
Awake at 7a on Wednesday, to a wonderful 60°, sunny morning. I did the usual BSL routine, had coffee and some smokes out on the back patio, and it was chilly, as I was wearing on some gym shorts and a t-shirt. I had breakfast, signed some Mt Rose Cemetery Mausoleum Rehab documents, and did some paperwork. Becky was coming by at 10a, to drop-off Dad's Army picture, to get inserted into his Memorial Frame, sign the docs and get them mailed to the contractor. I listened to the "Chris Stigall Show" from Philly. It was so pleasant outside, for a change from the 90-95° days and 85°+ nights we've been used to for months.
Becky stopped by to go over some business, Tim The Painter called to come over, and I had errands to run down south and at the nearby food market. Sherry stopped by around 2:30p, and we had a great time, as usual, until she left at 6p. I had crabcakes and a salad for dinner, watched some news and TV programs, and unplugged at `10p. My cleaning lady's in at 8:30, and I have to get to the eye dr's by 10a, to get my glasses repaired after a bad fall in the front garden. Temps had dropped back into the low-70s. I was really exhausted. Lights out.
The alarm went-off at 6a on Thursday. My cleaning lady, JoAnne, would be here at around 8:30, and I had to drive south to my eye dr's to get my glasses repaired. I did the usual routines, had coffee and smokes in the 63° garage, checked the weather and news. I left for the Opthamalogist's office around 9:15, got the glasses fixed and came home. JoAnne was still cleaning, so I stayed out of her way, as usual. It was 80° and 55% humidity (according to the Hygrometer), and nice to sit on the shady back patio, with a cool breeze.
I've said it previously, that "Trump will be indicted for some bullshit reason", and with that -- guilty or innocent -- he can't run for POTUS in 2024. Now, former House Speaker Newt Gingrich agrees with me; something we've all known would happen to kill-off us "MAGA fascists". Natch.
I had paperwork and filing to do, no errands, so I stayed home. I walked a lap around the CHCA Complex, and ran into neighbors walking their dogs. Everyone here -- except me -- has a dog or dogs; almost all of the little "yappers" and "ankle biters". But nice dogs, just noisy. My PCP (Primary Care Physician/ MD) wrote a letter to our HOA's attorney, to get me out of testifying in the upcoming lawsuit court date, due to heart conditions. Many thanks, Dr Mark.
It's getting light later in the morning -- 6:32a -- and darker earlier in the evening -- 7:37p -- so Fall's here, and Winter is coming fast. I fed the birds and squirrels around the back patio. The Pin Oak in my neighbor's front yard, and so tiny this year, that I think the squirrels are going to darn near starve. I might have to get a 10lb or 20lb bag of peanuts and start leaving piles out for them soon, so they have a store for the coming Winter. I missed 95% of the "Chris Plante Show" this morning, due to the cleaning lady's vacuum, and my trip down to the eye dr, so I listened to the podcast until almost 8p, when I turned "Tucker" on, at 8p. By midnight, after watching "Gutfeld!", I called it a day.
Tomorrow starts a new week here in the "Journal", and my sister moves into the spare BR, for a few months, until her condo's finished being extensively rehabbed. Otherwise, I have a free week, unlike Sherry, who's "busier than a one-armed paper hanger". Heh. We 'might' get to see each other, one day during the week.
We Are The Enemy.
Never before in American history has an entire political party, including its President, acted in ways that consistently harm the electorate. Without a mandate to lead America to socialism, President Biden and the far-left leadership of the Democrat Party are doing just that through actions that repeatedly attack the lives, liberties, and properties of the American people. To the President and Democrat leadership in Congress, we are the enemy. With a degree of deafness to public discontent that rivals Louis XVI's on the eve of the French Revolution, Biden is his party's sacrificial lamb for the socialist cause, to bury the republic and raise authoritarian rule before the 2024 presidential election. Biden and his handlers aim to eliminate in one term the greatest empire of liberty the world has ever known, replacing it with socialism delivered through a phony "climate change" agenda. The Inflation Reduction Act is the latest major action unsolicited by the electorate that predictably harms the American people as it furthers the movement to replace freedom with socialism.
The Democrats are in a race to achieve what Charles Schumer, Nancy Pelosi, and Joe Biden call "transformational change" in one presidential election cycle. They must get there before popular will blocks completion of the change. By "transformational change" they mean: destruction of the fossil fuel backbone of the American economy; establishment of a corporatist state in which all enterprise is under government control; abandonment of the rule of law and cessation of prosecution of crimes when committed by the "disadvantaged;" relinquishment of border defenses enabling unchecked invasion of aliens, drugs, gangs, sex traffickers, and terrorists; elimination of impartial and color blind justice; rejection of the Constitution; condemnation of America's founding principles, founders, and history; censorship of dissenting opinion through big tech government proxies; and indoctrination of youth to accept the view that America is irredeemably racist and unworthy of defense, that parental guidance, religion, and the nuclear family are oppressive and dispensable, that genders are fluid, that government dependency is preferable to self-reliance, and that the worth of youth is defined by their support for the Marxist effort to overthrow our republic.
No foreign power could be more successful at ripping apart the essential fabric of America than this Administration and this Congressional leadership. The American people, the founding fathers, and allies around the world who have trusted the United States to remain a bastion of liberty have all been betrayed.
The Inflation Reduction Act is an excellent case in point. Containing no provision that reliably reduces inflation (e.g., nothing to reduce the 3.6 trillion dollars of inflationary expenditures Democrats have enacted since 2020), the bill's title reveals it to be a fraud. That point is underscored by the fact that Democrat leaders colloquially refer to the law as the "climate change" bill, not the inflation reduction act. No one with knowledge believes it addresses inflation at all.
Instead, it compounds American misery in the midst of a recession by increasing IRS enforcement, taxes, and fossil fuel costs. It also reduces further fossil fuel supply and cuts American jobs. According to CBO, the Act raises about $20 billion in revenue by increasing audits on those making less than $400,000 per year (proving Biden's contrary promise a lie). A primary aim of the bill is to increase IRS funding by about $80 billion over ten years so that IRS can engage in more enforcement actions against taxpayers to recoup hundreds of billions more from those believed to be under-reporting. An important aim of the legislation is to eliminate so-called "tax gaps." Of all under reported taxable income, 78% to 80% is said to come from taxpayers who earn less than $200,000 per year. Only 4% is estimated to come from those earning $500,000 or more per year. Thus, to raise the over $150 billion in revenue expected from IRS enforcement under this law, the IRS will have to squeeze the middle class by extensively auditing and recouping taxes from those earning less than $400,000 per year.
Of the $740 billion price tag for the law, $369 billion goes to tax credits, subsidies, and outlays in furtherance of the Administration's climate change agenda, which aims to eliminate fossil fuels within a decade. The push-pull of the legislation on that industry ensures that there will be less and less domestic fossil fuel available, thus increasing the cost of gas at the pump by working a reduction in supply. Adding to that injury, the bill increases the superfund tax on crude oil and imported petroleum as well as taxes and fees on fossil fuel businesses nationwide, which will be passed on to consumers and may exert upward pressure on prices at the pump.
The Tax Foundation estimates that the bill will reduce about 29,000 full-time equivalent jobs, reduce GDP by .2%, and reduce after tax income across every income quintile, thus exacerbating the already stiff take of inflation on effective spending power and on savings and investment. The bill brings about that change by, among other things, raising the minimum corporate tax to 15% for corporations earning $1 billion or more per year, adversely impacting the beleaguered American manufacturing sector.
As with all socialist revolutions, the Democrats' "transformational change" depends on a compliant public, made so either by fear or by naïve belief in the false redistributionist promises coming from deceitful socialist politicians. In the United States, the socialist resurgence has come amidst a pandemic in which the public was led to a state of fear, even panic, and told that only by relinquishing their rights could they hope to survive; amidst a false "chicken little" assertion that the world would soon come to an end due to an unproven, scientifically contradicted, catastrophic climate change; and amidst an equally false contention that all American institutions are systemically racist (in particular, the police who far-left politicians demanded be disrespected, defunded and stripped of immunity from prosecution).
© 8.19.2022 by Jonathan Emord, "Townhall".