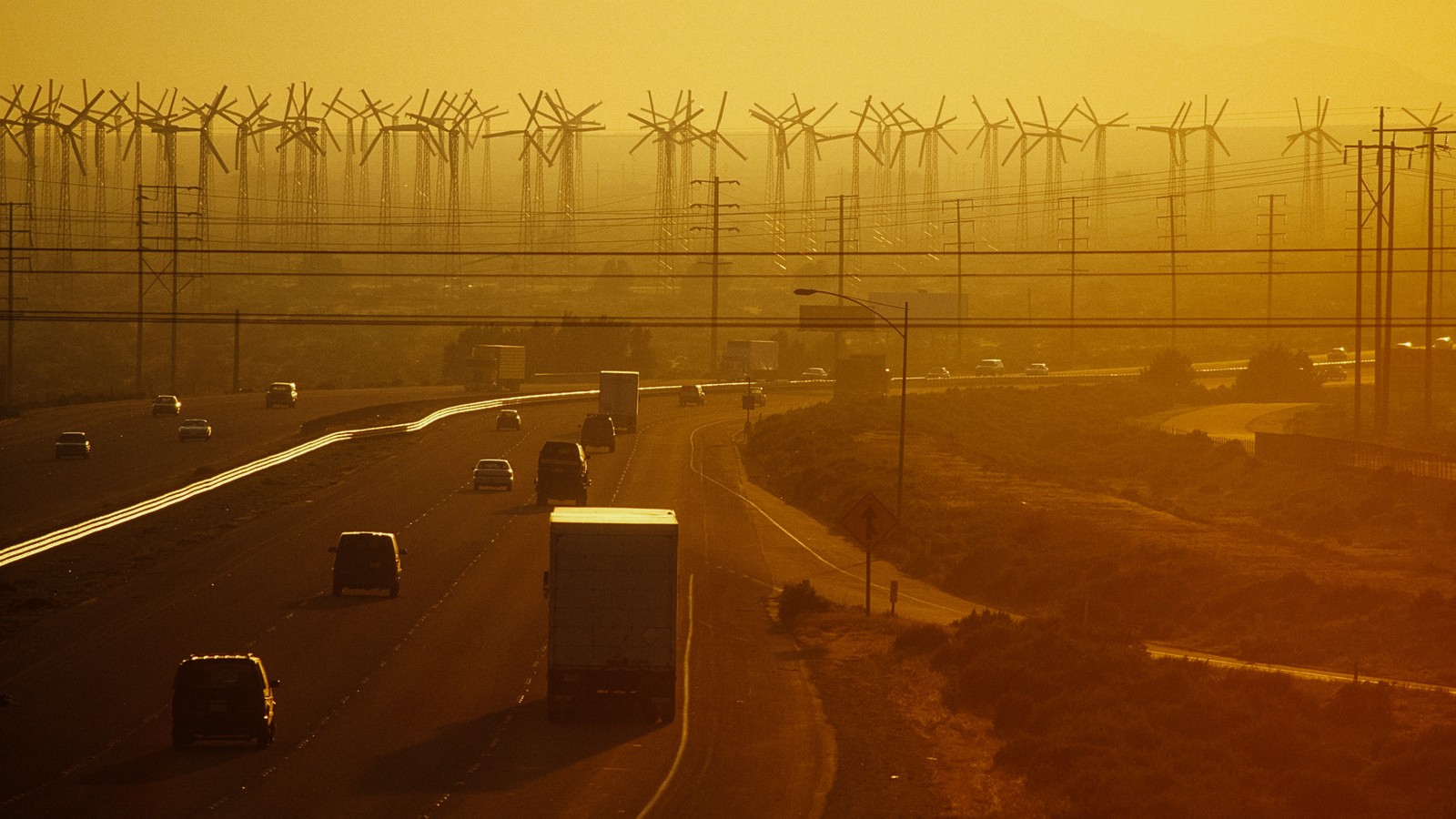 the world's coming energy crisis
friday, september 16
th

, 2022

I never thought it would happen this way, this fast, and be so worldwide. Never.

But when the leftists, socialists, communists, greenie-wackos, anarchists et al illegally took power in 2020 -- their 4 year uninterrupted opportunity -- they went all out on "renewable energy" of which there's no such thing as "zero emissions". Everything emits something Big Oil has been demonized as dirty fossil fuel and has been falling over itself to cut production and reinvest in renewables. However, despite the hype, oil prices have remained steady, and anticarbon predictions of peak oil demand in 2020 have not come to fruition.

Fossil fuel plants are closing faster than so-called "green alternatives" can replace them, with far, far, far less productivity and output. Producers of oil and gas can't keep up with a surge in demand. How did this happen, and what will it take to fix it?

California made history a few weeks ago, by becoming the first state to ban the sale of new gas-powered vehicles by 2035. The California Air Resources Board (CARB) approved an ambitious phase-out plan that will require all new passenger cars and light trucks sold in the Golden State to be electric vehicles (EV) or other zero-emissions models by the middle of the next decade. Colorado, Connecticut, Delaware, Maine, Maryland, New Jersey, New Mexico, New York, Nevada, Oregon, Pennsylvania, Rhode Island, Virginia, Vermont, and Washington, DC. follow California's pre-ban car emissions rules. None have yet announced sales bans on new internal-combustion-powered cars. These states are full of left-wing nutcases, purposely driving America into a Banana Republic.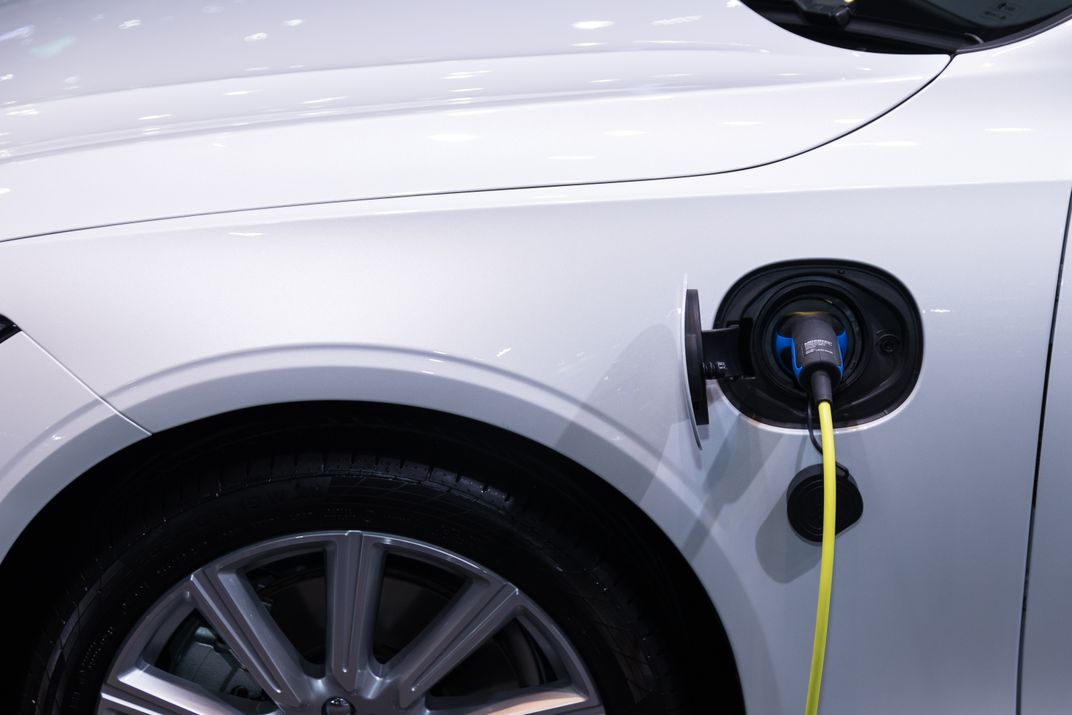 The energy crisis is global. It's not just Europe and the United States—eye-watering prices are wreaking havoc around the world.
As Russia plays hardball with Europe's gas supply, the continent is staring down a worrisome energy future -- and it's not alone. For months, sky-high natural gas and oil prices have been wreaking havoc around the world, and experts warn that there is no end in sight as long as the war in Ukraine barrels on. From Ecuador to South Africa, fuel shortages and blackouts have plunged import-dependent countries into economic turmoil, leaving desperate governments scrambling for workaround solutions. In Sri Lanka, which was already buckling under mounting crises, acute shortages and dayslong lines have forced authorities to issue work-from-home orders. Pakistan has resorted to shortening its work week to relieve pressure from lengthy power cuts, while Panama has been rocked by demonstrations over surging prices
We're now wrestling with the worst energy crisis in nearly five decades, a period of high prices and limited supply. What makes this crisis different than the troubles that roiled the country in the 1970s, is how it started and the fixes required to make it end. This current challenge began with a decade of affordable power that upended the US energy world. The rise of fracking, which extracts oil and gas from shale rock, unlocked cheap domestic supplies while cleaner energy provided by wind and solar farms became far less expensive. Gasoline and oil prices fell while gas-fired power and renewable power pushed aside costlier -- and politically less popular -- coal and nuclear plants.
For months, gas prices in Mississippi have topped $4 per gallon –- more than double what we were paying just two years ago. Electricity costs are soaring as well. Over the past year, electricity rates have risen 13.7 percent, eating up a larger share of our budgets. These heavy costs are falling especially hard on lower-income Americans, retirees, and those on fixed incomes. Recently, when asked how long Americans will have to stomach these prices, President Biden said bluntly, "As long as it takes."
These high energy prices are a direct result of the pResident Shithead's climate agenda, which he has refused to abandon in the face of mounting costs. Mr. Biden put his cards on the table in 2019 when he told his supporters, "We are going to end fossil fuel." He has since shown that he is serious. As President, he has aggressively sought to block oil and gas development across the nation and has waged a relentless war on coal. Many of us had hoped he would alter his course amid out-of-control energy prices, but he has simply resorted to band-aid solutions to try to hide the harmful effects of his policies.
Since November, pResident Biden has released more than 150 million barrels of oil from our Strategic Petroleum Reserve in an attempt to lower gas prices. Predictably, this has not worked. Americans are still paying well over $4 per gallon, yet now our Strategic Oil Reserve –- which was designed strictly for emergencies –- has been largely depleted, leaving us more vulnerable in the future. It is also reported that over five million barrels of this oil were sent overseas, including to China.
pResident Biden has proposed other short-term gimmicks as well. He has floated a national gas tax holiday, which would save drivers at most 18 cents on the gallon, and which President Obama once derided as a political stunt. He has urged foreign countries, like Saudi Arabia and Venezuela, to boost oil exports even as he is crushing American oil production. Recently, he even tried to tell gas stations to lower their prices unilaterally, as if somehow they could control the global oil market. President Biden is in total denial that his anti-energy policies are the real problem.
The f•cked-up "Green Agenda" will lead to massive blackouts. on all of the world's unstable power grid. In addition to hurting the economy, the pResident's war on energy poses a growing risk to our power grid. Natural gas and coal currently provide 60 percent of our electricity, yet these are the very power sources pResident Biden is targeting with heavy regulations. According to the Energy Information Administration, 85 percent of power plant closures this year are expected to be among coal-fired plants –- a direct result of the President's war on coal. With our power supply shrinking, experts say more than half of the country now faces a higher risk of power outages this summer.
Ten years ago, the German government attempted to move away from coal and nuclear power the way pResident Biden is trying to do. After a few years, they found it unworkable. It became clear that renewable energy sources are not yet reliable and cannot provide 100 percent of a major country's power needs. pResident Biden should heed this lesson. Until he shifts course and decides to unleash the full range of our abundant energy resources, we will all continue to suffer.
We need more clean coal-fired plants, more nuclear plants, more fracking, more drilling on US Gov't land (OUR land, dammit!), more offshore drilling, to get us back to energy independence, where we were when Trump was POTUS. The mentally-ill, totally f•cked-up "Green Agenda" is a coming disaster for all of us. Fast. If anyone thinks that EVs are the "answer", they're f•cking nuts!
© 9.15.2022 by JS, "John's Journal".
A Day In The Life.
Up at 8:30a on Friday, I went thru my finger stick to check my BSL (Blood Sugar Level) and recorded it on my Diabetes 2 chart, made coffee and breakfast, took a 500mg Tylenol Extra Strength for various back pains, had a couple smokes in the semi-cool garage and checked the leftover errands list. It was a Fall-like 61°, and forecast to hit 85° with mild humidity.
My main eMail problem is still with me -- only JohnShelley2007@comcast.net works -- and js@gdnctr.com is temporarily in limbo. Nick will be here around 12noon to see what he can do. I have errands to do this morning, before he gets here. Viola! Nick retrieved my old email domain address account, now costing $6.99/mo, I'm back to js@gdnctr.com and it's working. I used to be able to install, fix and do EVERYTHING on this software, back in 2009-2016, but it's gotten so complicated since, I can't figure it out, now, without some technical help. Dammit.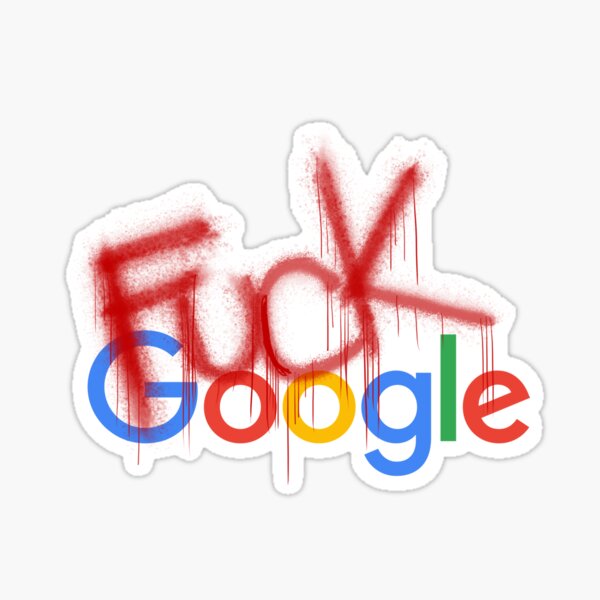 My old email is back --
js@gdnctr.com --
as of Friday Sept 9th, but
you can still use JohnShelley2007@comcast.net
as a back-up
I had a light lunch, grabbed 3hrs on the LR couch, and groggily tried to wake-up, put the Jeep into the garage for the night, and wait for Becky to arrive. I listened to the morning's "Chris Plante Show" Podcasts, since I'd missed almost all of the live show due to my email dilemma problem, and Nick arriving to help. I gave-up on that to watch recent "Expedition Unknown" and "Gold Rush" episodes. Holy shit, now my Comcast account doesn't work on Thunderbird! I'm resetting the modem/router, and will call Comcast Tech tomorrow to get some help. What next? MFSOB!
I quit for the night at 10p. I'll have to call the commie-cast scumbags tomorrow. Lights out.
Up at 5:30a, I drank 2 carafes of Kona Coffee to keep me going, had breakfast, and made coffee and breakfast for my sister. I got back to the Xfinity/Comcast email nightmare with a 1:13:45hr call to Tech Support (from India), who couldn't fix it over the phone, and finally called back with a service appointment for Sunday, between 4-6p. Heh. I grabbed an hour nap on the LR couch and got calls from Rite Aid to come get some waiting Rxs, and made a another stop to get some food, at Weis Market. I kept trying different thing on the Comcast email problem, but to no avail, so I gave-up until the Tech arrives tomorrow.
Wed had dinner -- some BBQ a friend dropped-off -- watched "an evening of "American Pickers", and since I was getting-up at 6a to watch the F-1 Italian Grand Prix, I bagged it around 10:30p.
Up at 6a on Sunday, a 66°, stormy, rainy-all-night morning, I made coffee, did the BSL routine, had some smokes in the cool, empty garage -- left the Jeep out all night -- to get any dust off, grabbed my usual morning shower, and came down to breakfast and settle-in to watch the F-1 Italian Grand Prix at Monza. Good race. I had lunch, ran some errands and got home to watch the IndyCar Race at Laguna Seca, Monterey, CA, around 3p. I took out the garbage, garaged the Jeep so the Xfinity Tech could get his truck into my driveway, and watched the IndyCar Race, awaiting the tech's 4-6p arrival period.
I couldn't frigging believe it when the tech told me all he does is *hardware* -- not software -- which is what they were supposed to send to me, for this email problem. He did a lot of hardware tweaks and repairs, and left. But he connected me to "Hello Tech", some Comcast-affiliated software specialists, who made a 1-3p window for service on my T-bird email problem. I was so frigging angry, but didn't show it, that I, I, I...
I had dinner, watched TV, again worked on my Comcast/Xfinity email mess, with zero success. I subscribed to Fox Nation on ROKU, and stayed-up watching some great shows, until 1a. Lights out.
Up at 8:30a on Monday, I made coffee, had breakfast, checked the weather and news on the computer, and tuned-in the "Chris Plante Show" until I had to leave for a 1p haircut. We had another 0.9" of rain overnight, and much more is expected tonite and tomorrow. I saw this posted:>
---

***Flash Flood Watch***
•Issued By State College (Penn State) -- PA, US, National Weather Service.
• WHAT: Flash flooding caused by excessive rainfall continues to be possible.
• WHERE: A portion of central Pennsylvania, including the following counties, Lancaster and York.
• WHEN: From 2-3 PM EDT this afternoon through late Tuesday morning.
• IMPACTS: Excessive runoff may result in flooding of rivers, creeks, streams, and other low-lying and flood-prone locations.
• ADDITIONAL DETAILS -- Hourly rainfall amounts needed to elevate the risk for flash flooding are lowest across parts of York and Lancaster counties and only around 1.4 to 1.6 inches. Just a few thunderstorms moving over the same area could easily produce these rainfall amounts.
PRECAUTIONARY/PREPAREDNESS ACTIONS:
You should monitor later forecasts and be prepared to take action should Flash Flood Warnings be issued.
You should monitor later forecasts and be prepared to take action should Flash Flood Warnings be issued.


---
I'm on high ground; no worries.
"Kamala Harris declares 'border is secure' as thousands of illegals flood into US every day." Stupid asshole moron half breed mutt bitch.
After a small lunch, I left at 12:30p for my haircut and other app'ts. First to western East York for the haircut, stop at FIVE GUYS BURGERS for some Dbl-Cheeseburgers w onions, mushrooms, tomato and lettuce, then south to Red Lion to the cleaners, and west to Dallastown, and finally north, to home. Construction chokepoints, detours and traffic jams everywhere. Yikes! I got back around 3p, and listened to the "CP Show Podcast" from this morning, that I missed. The skies opened-up and a t-storm poured for 30-40mins. I napped for 3hrs+ on the LR couch, and the rain continued thru midnight.
Temps dropped into the low-70s, Nick stopped-by again to help me with the Comcast/Xfinity email mess, and the "Hello Tech" is still scheduled for tomorrow at 1p. Nick fixed it and I canceled the Hello Tech people. I watched Fox Nation, Fox News and Gutfeld! until 12:30a, and quit for the night.
The alarm went off at 6a, I made coffee and had some smokes to tried to wake-up. A nice, comfy 66°, the rain was over, and it was now getting light at 6:30a, as opposed to 5:30a, just a few months ago. I went back to sleep on tthe LR couch until 11:30a, had more coffee, checked the weather and news -- DJIA down 1,276 points (3.9%) -- and that woke me up. Worst day since June 2020. I had lunch, did condo chores and was sure glad I'd made HUGE changes in my 3 WF Brokerage Accounts, conveting to cash, sewveral months ago.
By 2:15, it was a very nice, comfy 75°, and after a load of laundry, I hit the LR couch again, and tried to sleep for a couple hours. I couldn't get back to sleep. After dinner, I watched various TV shows on multiple networks, and called it a day at midnight.
With the windows open all night, I slept-in until 8:45a on Wednesday, a cool, dry 61° and a sunny morning. After a quick Croissant breakfast, I had errands to do at FedEx and Rite Aid. Back by 11:30a, I finished-off the leftover FIVE GUYS BURGER, threw out the delicious fries -- potatoes jack-up my BSL terribly, so no more of them -- and settled-in for a relaxing afternoon. After lunch, I sent my former GC&N Foreman of 17yrs, Alan, a final list of Maintenance Jobs & Materials for my Mon 19th maintenance job, for the front/back gardens. I like to support his company -- River Rock Landscaping -- after all the years he was with me, and all the good work he did for our customers, and special projects he did for me and my business.
I spent the afternoon, doing a few condo chores, and not much of anything else. I called Sherry to see how she was doing after her medical procedure in the afternoon, and we rescheduled our Thursday walk to possibly Friday, to let her rest. Darkness came at 7:45p, I had Broasted Chicken & Mashed Potatoes for dinner, watch FNC's "Tucker" and channel surfed until 10:30p, and unplugged for the night. My cleaning lady's in at 8:30a tomorrow, so I need to get up early to get ready for her.
Up at 5a on Thursday -- don't ask why, 'cause I can't remember -- I was groggy as hell, until my first Cup-o'-Kona Cofee and cigarettes; then I slowly woke-up. My BSL was still elevated from the early evening delicious fried chicken, mashed potatoes and grapes, last evening; no more of that. Back to my original diet regimán. 60°, and nice and cool outside. I'll wait a little while before breakfast, before JoAnne arrives.
I checked the weather and news, had much more coffee and a few smokes, juust as it was getting light around 6:10a. The blind in the 2nd BR quit working -- came off the tiny wheels and sprockets in the top valance -- and I had to call Tammi to come out this morning and fix it. It was a very rough morning for me, what with the slats falling out of the 2nd BR's 1892 Brass Bed's rails, the 2nd BR's blind problem, and several "other problems", and having to put them back in, myself. I had to rest after JoAnne arrived.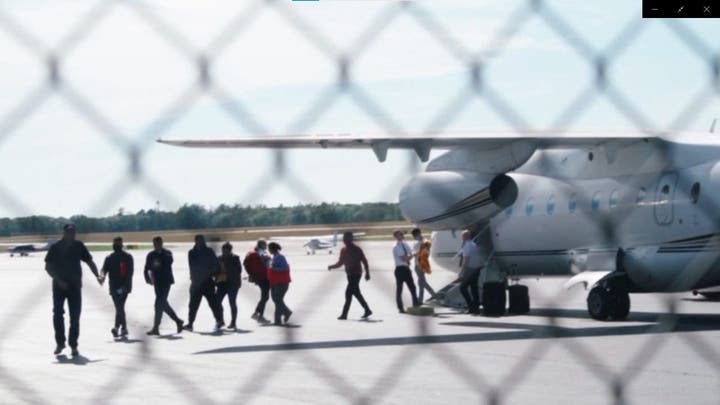 I love it! DeSantis is sending criminal illegal alien invaders to Martha's Vineyards; 2 planeloads. Send them to The Hasmptons, Hollywood, etc etc etc! Saturate the rich leftist "sanctuary destinations" assholes with as many as possible. Show us your "compassion", Lightfoot, Hochul, Bowser, Pritzker, Abrams and you other lowlife, dirtbag, leftist scumbag politicians! Show us your love for those illegal alien invaders, and quit griping! Wallow in your beloved illegal alien filth!
Just by "accident", I "fixed" the 2nd BR's blind, and called-off Tammi's trip from Ephrata (Lancaster). I also temporarily "fixed" the bed slats on the 2nd BR's 1892 Brass Bed. Kevin called to bring his business partner Joe to lift-off the large Serta mattress, re-cut the boards to fit inside the inverted rails and reinstall the mattress. He does this work on Sundays, so we have a date to get it done. That's "tow-in-a-row". Heh. I listened to the "Chris Plante Show" LIVE from DC, until 12, had lunch and fell asleep on the LR couch. Another crappy morning.
What a mess we're in. America wants to ban Bibles in libraries, put child porn books into libraries for kids, keep killing babies by overturning SCOTUS' recent abortion decision, a list of 400 subhuman GOP scumbags, etc etc etc... do you think God's *angry* with us? I do.
After getting-up at 5a, doing 3 loads of laundry, 2 loads of dishes, the cleaning lady turmoil, so many changes in my usual daily and weekly routine, I was exhausted but couldn't fall asleep on the couch. I tried again, but gave-up, made us Chicken Cordon Bleu w/ Hollandaise, and we had an ice cream sandwich fo dessert. I managed to make it thru "Tucker", and q uit for the night, at 9p.
Tomorrow starts a new week here in the "Journal", and there's a "garage sale" at the 40 condo units Friday and Saturday, which will turn this nice peaceful place into a hellhole. So be it. I'm staying inside for the two days.
Eiffel Tower to go dark earlier at night in response to energy crisis.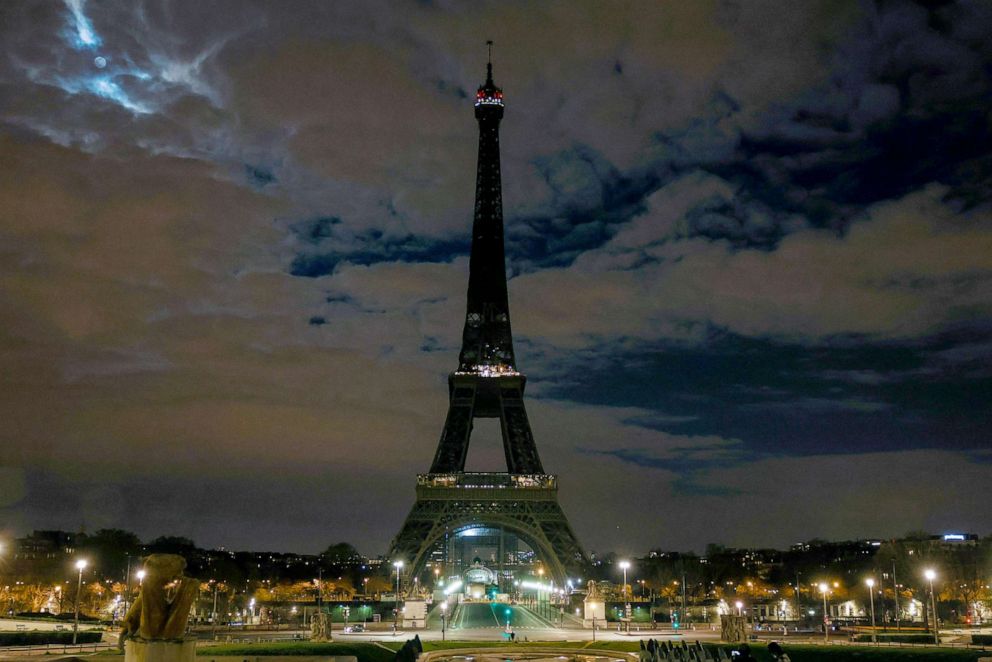 The landmark will turn the lights off starting at 11:45 p.m., officials said.
The Eiffel Tower will go dark earlier than usual each night in response to the energy crisis in Europe, officials announced Tuesday.
The illumination of the Eiffel Tour will end at 11:45 p.m., which is when the tower closes to visitors, starting Sept. 21, Paris Mayor Anne Hidalgo said. The iconic landmark is usually lit until 1 a.m.
Additionally, the lighting on the exterior facades of all municipal buildings and monuments, including borough town halls, will be turned off at 10 p.m. starting on the same date, she said.
Public lighting will be maintained to ensure the safety of Parisians, the mayor said.
The lighting changes are among "sobriety" measures the French capital is enacting in the colder months to address the energy crisis spurred by Russia's war in Ukraine and to prevent energy shortages.
Other actions include postponing when the city turns on the heat in public buildings by a month and lowering the temperature in those buildings by 1 degree to 18 degrees Celsius (about 64 degrees Fahrenheit) during office hours and even lower after office hours and on weekends.
The city aims to reduce its energy use by 10% this winter -- a target set in July by French President Emmanuel Macron to conserve energy nationwide. The actions come after Europe saw its hottest summer in recorded history, according to the Copernicus Climate Change Service, and energy prices at the end of August were 12 times higher than they were at that time last year, Hidalgo's office said.
It is unclear how long the changes will be in effect.
A Russian squeeze on natural gas supplies in response to Western sanctions imposed over its actions in Ukraine has sent gas and electricity prices soaring in Europe. The crisis is expected to only get worse during the winter.
The European Commission last week put forth new measures to continue to address the crisis, including proposing a mandatory target for reducing electricity use at peak hours and a price cap on Russian gas.
© 9.14.2022 by abc News.