pretending covid is an emergency
friday, september 17
th

, 2021
The Western world is living a massive COVID lie. That lie is strangling the life out of liberty, and it will destroy our constitutional order if we do not end this horrifying charade.
[FULL TITLE: "Pretending COVID Is An Emergency Is Killing America."]
A recent article in The Guardian discussing France's vaccine passport unconsciously provides the perfect example. It describes the Great Plague that struck Marseille in 1720 (the final contortion of the Black Death), noting that it "kill[ed] more than half of the city's population."
"Struggling to find a delicate balance between halting the spread of the disease and damaging vital commerce," the city authorities, The Guardian tells us, ordered travelers "to carry a 'bill of health' and ships arriving at the Mediterranean port underwent a 40-day cordon sanitaire or quarantine."
♪ ♫ Toast to the ones here today; toast to the ones that we lost on the way. The drinks bring back all the memories, of the things that we've been through. Cheers to the wish that you were here today, but you're not. The drinks bring back all the memories, of the things that we've been through.♪ ♫
"Three hundred years on," The Guardian seriously intones, "President Emmanuel Macron is walking an equally tricky tightrope... "Hopefully, you spotted the glaring problem with this comparison. In 1720, the Great Plague in Marseille killed more than half the city's population.
We have gotten to the point in this "pandemic" where government leaders and a worryingly high percentage of the American people are acting like COVID is a crisis on par with Marseille's Great Plague. We have been buried in facts, figures, mountains of data, constantly shifting information, misinformation, and more. We are relentlessly briefed by the media about rising infection rates or the current capacity of local ICUs.
But cut through it all and ask – how many Americans are dying? According to Johns Hopkins, the fatality rate of COVID in the United States is 1.7 percent, which means that 98.3 percent survive. That takes into account all deaths, including people who had underlying conditions and the elderly. Excluding those who are obviously high-risk, the survival rate is close to 100 percent.
If COVID ever were an emergency, it is no longer one now, and it has not been for a long time. It is a nasty disease, to be sure, but it is one that we are going to have to live with and learn to treat.
Instead, we have all assumed roles in a live rendition of Hans Christian Andersen's folktale "The Emperor's New Clothes." The government plays the lying emperor, whose hubris resulted in him parading naked in public while declaring he wore clothes. The American people play the silly subjects who disregarded reality to humor the monarch's farce.
If we do not say the truth and end this false emergency, we will lose our liberty forever. In March 2020, we foolishly locked down and ceded our constitutional system of government (three independent branches with checks and balances) to rule by the executive. The executives and attendant bureaucrats assumed the powers of the legislature, issuing lockdown orders, mask mandates, and now vaccine passports.
♪ ♫ There's a time that I remember, when I did not know no pain. When I believed in forever, and that everything would stay the same. The drinks bring back all the memories, of the things that we've been through. Drinks bring back all the memories, bring back the memories, which bring back you. ♪ ♫
Many courts have all but rubber-stamped their actions. James Madison straightforwardly warned in Federalist 47, "the accumulation of all powers, legislative, executive and judicial, in the same hands... may justly be pronounced the very definition of tyranny." In short, we have been living under intolerable and unjustified tyranny for close to a year and a half.
Despite the reality, our governing class is using the pretense of an ongoing crisis (on par with the final onslaught of the bubonic plague, they ridiculously assert) to maintain and exercise power outside the American constitutional order. They have taken from us our most precious gift as Americans – our unique form of government that assures our liberty.
Just as shocking, countless underinformed and careless Americans, either from ignorance or fear, see no issue with the current extra-constitutional arrangement. They berate us to "trust the [ever-changing and politicized] science," but the death rate tells the tale. We must restore the proper allocation of power.
It is imperative that any state or jurisdiction still operating under emergency authority terminate that state of emergency immediately. According to multistate.us, more than half of the 50 states remain under emergency orders and executive rule. Even in some states, like New York, that have ended their statewide emergency orders, large jurisdictions remain in states of emergency, continuing to abuse American citizens' freedom (see New York City and its vaccine-passport program).
State legislatures should pass laws that forbid any business or government entity from mandating masks, and vaccine passports must be absolutely forbidden. The Alabama legislature passed a law banning COVID vaccine passports, and North Dakota enacted legislation that would largely block businesses from requiring proof of vaccination.
Your state legislatures have enormous power in our constitutional system, power that we the people have ignored for too long. It is high time to activate grassroots influence and self-govern via our legislatures.
COVID is not an emergency. People are not dying in droves. There is no justification for the continued suspension of the American form of self-government that secures all our individual rights and liberties.
In "The Emperor's New Clothes", it was the honesty of a child that finally exposed the emperor and the people for fools when he cried out, "but he hasn't got anything on!" It is long past time to speak the truth: there is no true COVID emergency.
Enough is enough. Return America to its proper Constitutional order and insist on consent of the governed.
© August 30, 2021 by Molly McCann.
A Day In The Life.
Up at 9a on Friday, I went thru my finger stick to check my BSL (Blood Sugar Level) and recorded it on my Diabetes 2 chart, made coffee and breakfast, had a couple smokes in the cool garage and checked to leftover errands list. It was only 61°, very sunny and cool. While listening to the "Chris Plante Show" from 9-12, I had lunch and sunned myself on the front porch while having a smoke, and waiting for Sherry to arrive. She did and we visited 2 of Springettsbury Township's 16 Parks, settling for a walk in Penn Oaks Park. We had a nice day together, until she left at 6:45p.
After dinner, I had some chores to do and watched "Gold Rush" until all the 9-11 remembrance shows came on. They'll be on all weekend, so that we, who saw America attacked by subhuman, lowlife, murderous, blood-soaked, troglodytes-from-hell muslims(SPIT!), NEVER ★ FORGET. It was another tough weekend for me, remembering that awful day. After a few Fox News shows, I unplugged around 12 midnight.
Up at 8:30a on Saturday, 9-11, I had coffee and breakfast, a smoke in the cold garage and a shower. I checked the news and weather, and my errands list for the day. I had a load of shirts to go to the cleaners south in Red Lion, a NASCAR race on at 2:30p, and I wanted to help a neighbor prune his 10' Weeping Blue Atlas Cedar's dead limbs, before Winter arrives. We can prune the live branches in early Summer. As usual, his wife didn't want it touched, so I wrote that off.
All day, Discovery, History had 9-11 shows on, and I had a difficult time watching them. I got very upset, angry and full of hatred for muslims(SPIT!) and pity and anguish for my fellow Americans in those Twin Towers, Pentagon and in Shanksville, PA. Teary-eyed, I watched as much as I could, until a NASCAR xfinity 250 mile Race came on at 2:30p. President Trump released a tribute, the day before.
I get up every day and don't let the "old man" in.
The main memory, the feeling that sticks with me from 20 years ago is anger, hate and rage. I wasn't scared or even sad, I was pissed off. I knew, years ago, several people who worked in Windows On The World Restaurant, lost that day, and I was mad. Over the next couple of days, I slept at some point, for at least a while, but I have no memory of consciously deciding to do so. I ate, too, I assume. I was just angry. The anger, hate and rage came back and smolders to this day. It burns deeper watching this idiot occupant of the Oval Office toss away, in a matter of weeks, all the progress made over these last 20 years because he's too senile or stupid to have recognized the error of his ways and do anything about it. So yes, it was 20 years ago today that 20 years ago yesterday became real, when shock and disbelief gave way to anger, hate and rage. That anger seems to have gone away for too many, enough to empower a buffoon like Joe Biden and his fellow demonKKKrats to dishonor the memories of those taken from us that day, by comparing it to a few hours of unrest on January 6th, where the only life taken was an unarmed woman shot by police. That is a shame I'll never understand, but have to stop there before I go off on an obscenity-laced rant about how I really feel on the subject.
Back on 9-11-01, in between the 1st and 2nd planes hitting the 2 Towers, I raced from my Garden Center & Nursery office, to nearby Walmart, bought their last portable TV, and raced back to the GC&N to set it up at the front retail counters, for Dad, all 25 employees, 17 customers and myself to watch the Towers, Pentagon and Shanksville being attacked. Many were crying and scared. I sent all employees home to be with their families, but many customers stayed until 2p, when Dad & I closed the place for the day. I drove over to Freedom Armory, my FFL (Federal Firearm Licensed) Dealer, bought some AR-15s, ordered an AR-10, an AR-50cal, 2 special Remy shotguns (750 Pump & 1100 Semi-Auto Police Special), and ordered-in a pallet of ammo to cover those calibers.
Okay, back to today. After a Bacon, Double-Roast Beef, Grilled Cheese Sandwich for dinner, I watched Mecum Auto Auctions, and then the NASCAR Cup Race until 11p, and quit for the sad day's night.
The alarm went off at 6a on Sunday, so I got up and moving to get ready for the F-1 Italian Grand Prix at Monza, from 9-11a. After coffee, breakfast and a long shower, I settled-in for the F-1 race. Amazing race, as usual at Monza. I started loads of dishes and laundry, relaxed outside in 65°, before it hits 75-80°. It was a good race. After lunch, I did some outdoor gardening work, and watched an IndyCar Race at the Portland road course, and then an IMSA (Int'l Motor Sports Ass'n) sports car race at Monterey/ Laguna Seca. After a late dinner, I tuned into Fox News for their Sunday line-up until 11p, and called it Yankee Doodle for the night.
Up at 8a on Monday, and it was a cloudy, 81° and very humid day. Summer's back! I was gratefully over my anger, hate and rage from 9-11, over the weekend. I had coffee, a couple smokes and breakfast, checked the weather and news. I listened to the "CP Show" from 9-12, did a couple errands and had lunch. I watched early reruns of "American Pickers", had dinner, turned the drip irrigations back on in the large front garden, and watched "Iron Resurrection" on Discovery, and new episodes of "AP" on History until 11p. Lights out.
Awake at 8:30a on Tuesday, I had a couple of smokes in the garage while the Kona Coffee brewed, had breakfast and a quick shower, and listened to the "CP Show", until several calls came in from Rite Aid about more waiting Rxs. Lots of smoke in the upper atmosphere from the Western wildfires, so air quality is "very poor". Sherry called to tell me that possibly she and her daughter had been exposed to Covid, and that we'd have to cancel our day's walk, until they quarrantine and know more. I can't take the chance with my 5 co-morbidities. I'll miss her this week.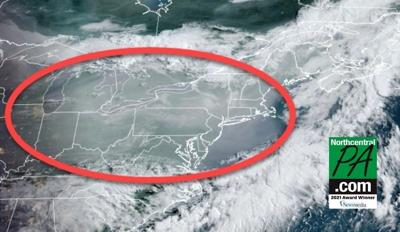 High for the day was 90°, humid and hazy. Nephrology Associates of York called and 1:45p to confirm tomorrow's app't with one of their drs, and asked if I'd gotten the lab work done. WTF? I have no "standing orders" on my Wellspan Portal. But then, on the phone, they tell me that they're not part of Wellspan, so HTF would I even know about any needed labwork? She sent the Lab Requisition to nearby Wellspan's Stony Brook Labs, but they closed at 2p today, so I'll have to go in tomorrow 6a-6p, and get it done for the Thursday app't. Good grief, I'm so sick of all this medical shit. Life was so much simpler, easier and nicer, many years ago.
After dinner, I watched some car-related shows on TV, until "Tucker", "Hannity" and "Laura" came on Fox News, and quit at 11p. I've got to get to the Stony Brook Labs, tomorrow morning, and get bloodwork done for Thursday's Nephrology Dept app't.
Up at 0'Dark Thirty on Wednesday, I had some smokes, coffee and breakfast, and got ready to go to get some bloodwork done at the Wellspan Stony Brook Labs. That done, I decided to come home and get out of the 92° heat and humidity. Becky stopped by to visit, while running some errands. I called Sherry to chat, and see how she and her daughter were doing. Bad news: Holly has Covid, but is recuperating and isolating. Sherry shows no signs of anything, yet.
The morning's nephrology test results came in from Wellspan's website, and I'll have to wait until tomorrow's app't to find out what all that gobbledegook means. Then, this notice popped-up on all local stations:
---

Severe Thunderstorm Watch

Wednesday, September 15, 11:50 AM EDT
to
Wednesday, September 15, 8:00 PM EDT
Source: U.S. National Weather Service, State College, PA
Strong thunderstorms will impact portions of northwestern York and southeastern Dauphin Counties through 7:15 PM EDT
At 6:41 PM EDT, Doppler radar was tracking strong thunderstorms along a line extending from Steelton to near Siddonsburg. Movement was northeast at 20 mph.
HAZARD...Wind gusts up to 50 mph and pea size hail.
SOURCE: Radar indicated.
IMPACT Gusty winds could knock down tree limbs and blow around unsecured objects. Minor damage to outdoor objects is possible.
PRECAUTIONARY/PREPAREDNESS ACTIONS:
If outdoors, consider seeking shelter inside a building.
Very heavy rainfall is also occurring with these storms and may lead to localized flooding. Do not drive your vehicle through flooded roadways.
These storms may intensify, so be certain to monitor local radio stations and available television stations for additional information and possible warnings from the National Weather Service.
PENNSYLVANIA COUNTIES INCLUDED ARE:
ADAMS, BEDFORD, BERKS, BLAIR, BRADFORD, CAMBRIA, CARBON, CENTRE, CLEARFIELD, CLINTON, COLUMBIA, CUMBERLAND, DAUPHIN, FRANKLIN, FULTON, HUNTINGDON, JUNIATA, LACKAWANNA, LANCASTER, LEBANON, LEHIGH, LUZERNE, LYCOMING, MIFFLIN, MONROE, MONTOUR, NORTHAMPTON, NORTHUMBERLAND, PERRY, PIKE, SCHUYLKILL, SNYDER, SOMERSET, SULLIVAN, SUSQUEHANNA, TIOGA, UNION, WAYNE, WYOMING, YORK.


---
After dinner, I could see the massive t-storm line coming at the York area from the southwest, on the AccuWeather.com weather maps, and it really hit us around 7:15p. And again around 8 and 9p. The rain continued until after 11, but at least we didn't have any damaging hail, and my Jeep was safely stowed in the garage. I watch Fox News shows until 11, and quit for the night. My now one cleaning lady, is due in at 8:30a, and I have a nephrology dr's app't tomorrow, at 11.
My alarm went off at 6a on Thursday, again at 0'Dark Thirty, and I had coffee, breakfast and a couple smokes in the garage w/ my coffee. I had some paperwork – yesterday's kidney test results – to print out for my 11a spp't, get the Jeep out of the driveway and moved to a visitor's parking spot, and my cleaning lady arrived at 8:30. I left at 10;20 for the app't, and after running into construction choke points, I'm glad I did. The dr's app't went well, and I'm doing better. Home by 12:30p, with a bag of Crunchy Taco Supremes I bought on the way, I had four for lunch, and laid down for a 3hr nap on the LR couch.
After dinner, I watched "Iron Resurrection" and Fantom Works" car shows, "Tucker" and reset some Anti-Virus and Anti-Malware scans with specialized software that I've used for years, and they found and destroyed some potentially nasty intruders. After "Hannity" and "Laura", I was nodding-off, and closed down for the night. I'm sleeping-in in the morning. Tomorrow starts a new week here in the "Journal".